Want to support my blog? Clear your cookies, click the banner and shop!

Don't miss these great sex toy sales.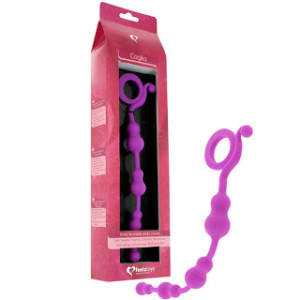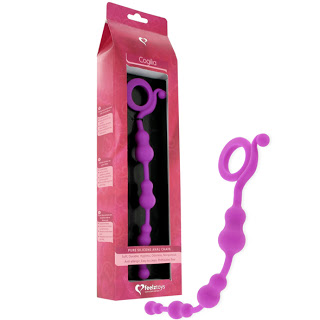 I've lost my anal beads virginity to the FeelzToys Cogilia and I couldn't have asked for a nicer, gentler experience.  These are your basic beads with a little twist.  Instead of spherical beads it has four sort of lop sided peanut shaped beads.  One half of each bead is larger than the other half.  The larger half of each bead goes in first and they graduate in size from 5/8" to 1" in diameter.  The entire chain is 7 ½" of insertable length, ending with a soft, flexible ring that serves the purpose of a handle and a base that stops the chain from getting lost inside the rectum.
The Cogilia is made of Platinum Silicone ("platinum" refers to the curing process), which is one of the best materials for sex toys.  It is both body safe and hygienic, as it can be sterilized.  Considering where you'll be shoving these, that's a must.  You can use a 10% bleach solution to sterilize them or boil them for about five minutes.  I'm pretty comfortable washing them with antibacterial soap but if I were inclined to put them in my vagina (I'm not) or share them, they would definitely need to be sterilized.
The silicone has a matte finish and feels velvety against the skin.  I don't notice them picking up excessive amounts of lint.    These beads aren't seamless and the largest bead has a raised FeelzToys logo.  I felt neither when inserted.   The Cogilia only comes in one color and it's a bright, can't miss it, puplish fuschia.
FeelzToys specifies the use of water based lubricant only.  This is pretty standard for silicone toys.  It's best to never use silicone lube with silicone toys.  The silicone lube breaks down the silicone of the toy and it becomes gooey and sticky and ruins the toy.  You also want to store these beads away from other silicone toys.
The packaging is fairly simple and not discreet.  The beads can be seen through the cellophane window of the box.  They do not come with a storage bag but I just use Ziplock bags for my silicone toys that have no pouch of their own.
FeelzToys is based in the Netherlands and has this to say, on their website, about their products:
"A part of our philosophy is to put good things in the world. This means that we only sell innovative, environmentally friendly, extremely high quality and neutral packed products. We want everybody to be happy with our products.

FeelzToys does not carry jellies, cyber skins, or other potentially toxic materials that are dangerous to the human body and to the environment. FeelzToys are completely phthalates free that is tested by one of the biggest independent testing laboratory in the world."
So was it good for me?  Yeah, they were pleasant enough and I have no complaints.  Now, I know that their main purpose is to enhance orgasm by pulling them out right at that glorious moment.  Unfortunately, my lady parts can be fickle.  It seems as though conditions have to be exactly right and Venus retrograde, for me to get off.  So, trying to get myself there while preparing to pull the beads is kind of awkward.  This has nothing to do with the performance of the beads.  It's just something unique to me.  I liked having them inserted while having sex, doggy style, where my husband could easily jiggle them back and forth.  The beads are a little on the small side, which makes them perfect for a beginner but for those needing more girth, you might want to pass on these.
I enjoyed popping my anal beads cherry with the FeelzToys Cogilia.  I'm sure that I'll keep them in my repertoire and I'm happy to have them in my modest toy collection.
Like this? Want more of it? Subscribe!
| | | |
| --- | --- | --- |
| Get new posts sent to your inbox! | | |
| Get my sporadic newsletter filled with exlclusive deals, the latest sales and secret bonus giveaway codes. | | |