Want to support my blog? Clear your cookies, click the banner and shop!

Don't miss these great sex toy sales.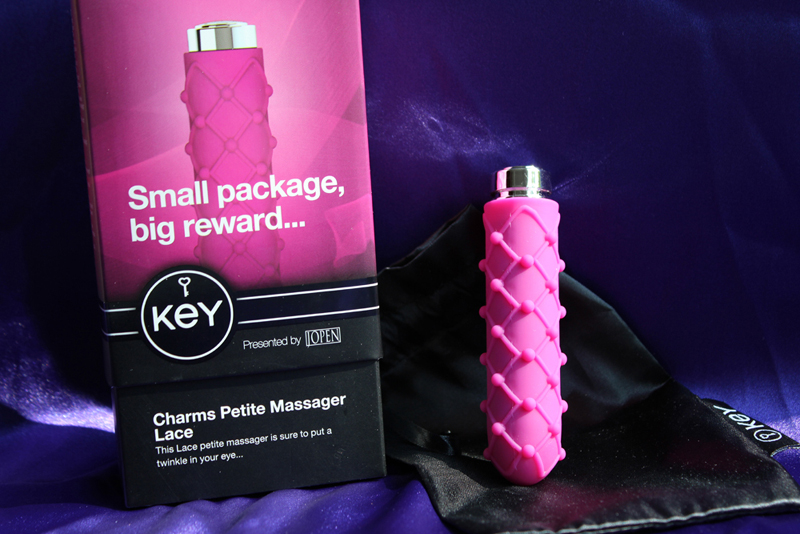 It's stupid how much I like this thing.  It's buzzy and bumpy and forces me to rethink what I thought I knew about my clit.  The good news here is, my clit isn't nearly as finicky as I presumed it to be.
The Key Charms Petite Lace is so named for its texture which isn't much like lace at all.  The description that comes to mind is "warty fishnets." The silicone sleeve is covered in a fishnet stocking pattern, adorned at the intersections with small nubs. Appearances suggest, to me at least, an unpleasant texture but to my surprise, this isn't the case at all.  I didn't think my clit liked texture but this vibe proved me wrong.
I also believed that my clit didn't like buzzy, high rpm vibration and the Charms Petite Lace is decidedly so.  In fact, this vibe is the antithesis of my beloved Salsa and yet the first time I played with it, I achieved orgasmic success with very little effort.  Even more surprising still is that the orgasm came while on one of the patterns.  What?  My clit likes patterns?  Apparently so, or at least it likes the patterns of this particular vibe.  Since the vibrations are rather buzzy, I think the patterns work better for me than the steady vibration because there is less of a numbing effect.  I found the easiest route to orgasm by aligning the vibe in parallel with and directly above my clit and then sliding the vibe up and down while sampling the various patterns until I land on one that my clit responds to.  And I'm happy to say that it seems to respond to all of them quite well.  Stroking the Charms Petite Lace up and down my clit maximizes the sensations achieved via the textured goodness.
Obviously, I enjoy this vibrator very much, even though I didn't expect to.  The lesson I learn is that, keeping an open mind and trying new things can bring many erotic possibilities.  And would you believe that I have reached for the Charms Petite Lace instead of my Salsa?  It's not that it's necessarily better than the Salsa by any means. It's just different… and variety is the spice of life.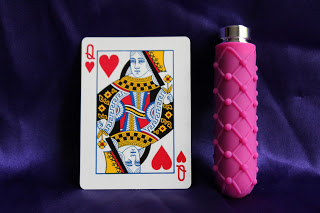 The Charms Petite Lace is 3 ¾" long, 1" in diameter with the sleeve and about 7/8" in diameter without the sleeve.  I tried putting the sleeve on my Salsa and it loosely fits.  You could probably use it this way but the Salsa vibrating inside the sleeve, makes a lot of noise.  The sleeve is silicone and so it is only reliably compatible with water based lube and the manual specifies it.  The vibrator itself is made of ABS plastic with a PU cote, which has a soft silky feel. It has a single (stainless alloy) push button control that scrolls through the vibration modes with each press and turns the vibrator off when held for 3 seconds. It does not have a lock feature and I find that the button is very sensitive.  It seems like every time I handle it, I accidentally turn it on.  This vibe does not remember the mode you were in when you shut it off so it will always start on High vibration.  The modes are as follows: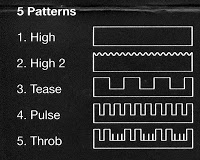 High is a steady vibration somewhat comparable to the Salsa's highest steady vibration but feels buzzier.  High 2 is about the same intensity of High but modulated with a slight ripple. Tease feels more like a saw tooth pattern to me.  Pulse is just what you'd expect.   Throb kind of reminds me of Salsa's Cha-cha only, it's a faster pace and my clit likes it.
This vibrator uses one AA battery which supplies 1.5-2 hours of play time.  Key Pleasure Toys claims that it is waterproof.  So far, that claim holds true but one thing I've noticed is that after I soap it up, rinse it off and towel dry it (the silicone doesn't seem to attract lint), a little moisture can be seen seeping up around the button when I push it.  I don't know if there is a seal that keeps this moisture from getting into the electronics but so far, so good.   Also, it's best to remove the sleeve to let it and the vibe dry out, as moisture can seep up under the sleeve and get trapped there, potentially leading to mold growth.  Still, it's quite easy to clean this vibe using antibacterial soap and the sleeve can be removed and boiled or, cleaned with a 10% bleach solution when sterilization is desired.  The vibrator is relatively quiet and most likely wouldn't be heard outside a closed door.  This is an external vibrator and is not suitable for anal play.  It comes with a black satiny storage pouch and the batteries should be removed for storage unless, this is something you're reaching for on a regular basis.  Key provides a one year warranty.
The price point seems reasonable to me but here comes my gripe.  Key offers 5 sleeves with different textures and since it turns out that my clit unexpectedly enjoys the Lace texture, I would really like to have the ability to switch out the sleeves for some variety.  Unfortunately, to get each sleeve you have to purchase the vibrator with it so, you'd end up with 5 identical vibrators.  I think it would have been nice if Key sold these as a package with one vibrator and the various sleeves included.  The price would no doubt be higher and I really couldn't justify paying too much more, simply to include a few sleeves.  But I also can't justify buying duplicate vibrators to experience the different textures.  This vibe would have been perfect if it was rechargeable and included all the various sleeves.  I think Key would have knocked it out of park if the vibe was offered in that configuration.
Overall, I've enjoyed the Key Charms Petite Lace and I can easily recommend it to those who enjoy texture and buzzier vibrations.  If you definitely know that those things don't work for you then I certainly don't want you to waste your money but if you're on the fence then this little vibe might just surprise you, as it did me.
Like this? Want more of it? Subscribe!
| | | |
| --- | --- | --- |
| Get new posts sent to your inbox! | | |
| Get my sporadic newsletter filled with exlclusive deals, the latest sales and secret bonus giveaway codes. | | |