Want to support my blog? Clear your cookies, click the banner and shop!

Don't miss these great sex toy sales.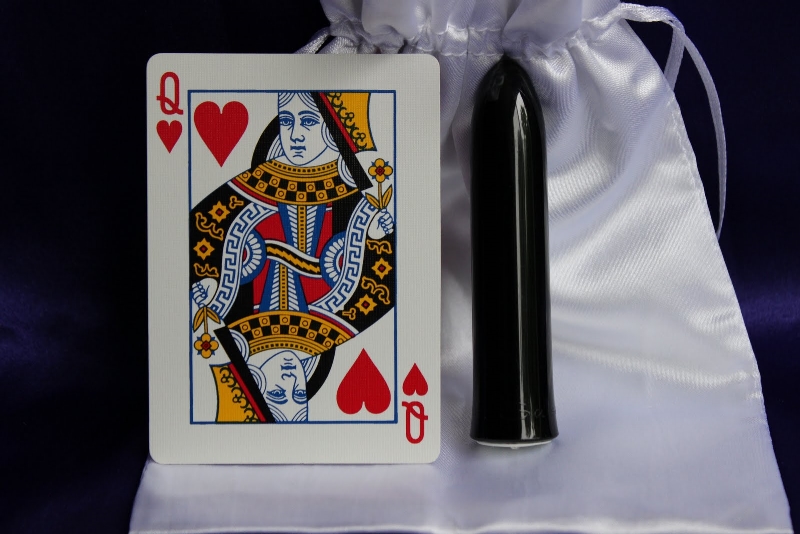 When I read the first overwhelmingly positive review of the We-Vibe Slasa, I had my doubts.  I figured a small, rechargeable vibrator like that couldn't possibly have enough power and rumble to get me off.  It just had to be a weak, buzzy little thing.  I kept running across one stellar review after another and finally I convinced myself to take a chance on the Salsa… and I am so happy that I was wrong.
When it arrived, I immediately plugged it in to charge for the 90 minutes suggested in the manual.  It seemed to take forever because I was so eager to find out what all the fuss was about.  When I first pushed the button and it came on, it startled me a bit.  I really wasn't expecting that kind of power.  On low, I laid it on the table and it spun around, doing donuts.
I started out on low at first and then cycled through the modes.  Low is a very rumbly vibration.  The four steady vibration modes (3000, 3600, 4200, 4800rpm) get a little buzzy as you go up but it's still more rumbly that most bullet vibes.  I usually don't get much out of patterns but of course I played around with them:
The Tease pattern did just that.  The Wave felt like a roller coaster and it would have been so much better if it didn't bottom out coming down.  To me it feels like it hesitates for just a second before ramping back up again and that was enough to frustrate me.  The Pulse kind of makes my clit throb (in a good way) but isn't something I could get off on.  The Cha-cha feels sort of… all over the place.  Of course it has a rhythm but it made my clit crazy (not in a good way).
The patterns are fun to play with but when it's time to get down to business, I need steady, consistent vibration.  So, I cycled back to low and went to work, and to my pleasant surprise, after just a short amount of time… I had an orgasm. On low.  You're thinking: well no shit, that's the point, right?  But you don't know what this means.  I had an orgasm and it was easy.  It really just kind of snuck up on me because I didn't anticipate being able to get off without a lot of effort, using a high vibration mode.  But I didn't have to go there.  I can't tell you the sense of relief I felt, knowing that this thing could give me such effortless, predictable orgasms.  I know I mentioned before that it isn't always easy for me to get off.  At times it can be so frustrating.  I couldn't be happier about what this vibrator has done for me.
So yeah, very pleased with the Salsa.  Wish I would have bought 5 of them.  Why 5?  Because We-Vibe, in all it's infinite wisdom, decided to discontinue the Salsa so, when mine finally gives up the ghost (let's hope that's not for a very long time) I'm not going to be able to get a replacement.  It'll be like losing a dear friend.
There is some good news though.  We-Vibe makes an almost identical vibrator called the Tango.  It shares the same motor and construction of the Salsa but the tip is shaped differently.  The tip of the Tango is flat on one side so it resembles a tube of lipstick whereas; the Salsa comes to a nice point.  And that point may just be part of why the Salsa is so good for me.  It seems that my clit responds more to pin point vibration than to broad.  So, I'm not sure if the Tango will be as good for me in that regard… but I will get one… when I have to.
That's my experience with the Salsa.  It reiterates what I've read in so many other positive reviews.  Now, for the specs.
The Salsa is 3 inches long, comes in three colors (red, white and black) and is constructed from PC-ABS (Polycarbonate/Acrylonitrile Butadiene Styrene) thermoplastic.  Silicone or water based lube can be used with the Salsa and I do prefer a little bit on the tip because the glossy plastic has just a little drag.
It takes 90 minutes for a full charge and We-Vibe says that should give you 2 hours of play time.  I've not let it run long enough to find out.  After I use it I put it back on the charger.  I've heard that you get less time out of a charge, the more you use the higher vibration modes and I guess that makes sense.  One strange thing I can't figure out is that the charger comes in two pieces.  The cord unplugs from the small round charging unit.  I imagine this could make it easy to lose one or the other.  If you do lose it, you can get a replacement from We-Vibe's website.
The Salsa is waterproof so you can take it into the shower or bath.  This also makes it easy to clean.  I just lather it up really well with antibacterial soap and rinse.  Operation is simple, with one button that is held for 3 seconds to turn it off.  It also remembers which mode you were in.  This vibe is surprisingly quiet, considering the power it has.  In the same room it can be heard.  Outside a closed door, it is not.  Its size and shape reportedly make it compatible with toys that accommodate a RO-80 bullet vibrator.  I haven't tried this yet but it's nice to know that I have that option later on.  I'm not one to care much about packaging but I'll just mention that the box isn't discreet.  I guess the box could be used for storage but it comes with a nice white satin pouch that fits the vibe and the charger.  We-vibe stands behind their products by offering a one year warranty.  So if my Salsa should die in the next 11 months they will take care of it.  If they decided to send me a replacement, it would likely be a Tango since they don't make the Salsa anymore.
Finally, the Salsa is intended to be used externally.  Its size doesn't really make it good for vaginal insertion and it wasn't made for that.  Definitely do not insert this vibrator anally.  It has no base to stop it from slipping up into the rectum, where you can't reach it.  And you know what that means?  One very embarrassing trip to the ER.
It's a shame that We-Vibe discontinued the Salsa.  If you look around maybe you can still find a place that has a few and if you do I say, grab it.  If you can't find one then I suggest you take a chance on the Tango. Everything I've said here holds true for the Tango, with the exception of the shape of the tip and color choices.
Like this? Want more of it? Subscribe!
| | | |
| --- | --- | --- |
| Get new posts sent to your inbox! | | |
| Get my sporadic newsletter filled with exlclusive deals, the latest sales and secret bonus giveaway codes. | | |