Want to support my blog? Clear your cookies, click the banner and shop!

Don't miss these great sex toy sales.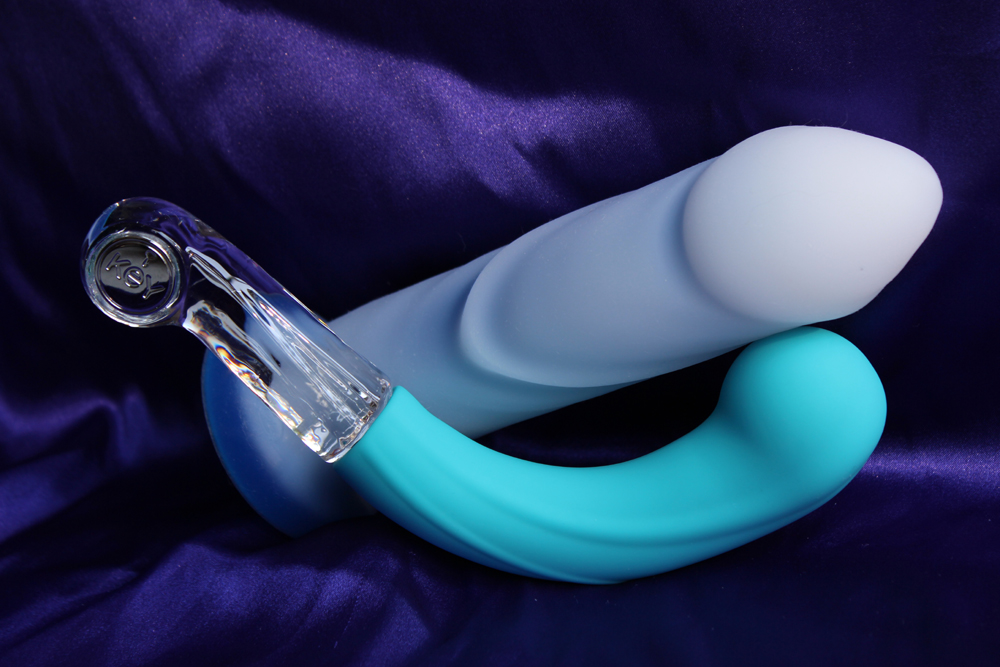 Whew… I'm still feeling a little bit woozy. Yes woozy. Like, lightheaded and drained of energy. My Tantus Cush O2 and Key Comet G Spot Wand arrived today from SheVibe. I placed my order on Sunday and the dildos got here today. So, I'm very satisfied with their quick order processing and shipping.
Of course I couldn't wait to tear open the packaging and try them out, though it may have been a little ambitious to try them both out in one session. But that's what I did and it might just account for this wiped out feeling I have now. I'll write proper reviews on both of them later on but for now, I just wanted to sort out my overall first impressions.
I was immediately impressed with the quality of both dildos as I held and inspected them… getting to know them. The Comet was a bit smaller than I'd imagined but I would find out that this is not an issue. The Cush was a little larger than I expected but this wouldn't be an issue either. I took them to the sink and gave them a proper wash, then set up the bed.
I laid a towel beneath me and another to my side where the dildos, Salsa and Grizzly Slide H2O would sit. I don't normally prepare with a towel for underneath me but I've heard some pretty amazing things about the Comet so I didn't want to take any chances on squirting all over my clean sheets.
I decided to start with the Comet. Having slathered it well with lube, I tried to insert it and found some difficulty. It wasn't so much about the size of it, as it's not girthy. It had more to do with the curved shape. I found I had to sort of rotate it in from the top, feeding it's curve into me. I couldn't just shove this one straight in.
Once inside I started poking around. The only other dildo I've played with is the njoy Fun Wand and I never had much luck with it. So, I had to find my technique with this g spot dildo. I tried thrusting it straight in and out. Not in long strokes but just a small amount of in and out motion. That felt OK but wasn't really working for me. Then I started to sort of rock it while thrusting in one fluid rock/thrust motion. This seemed to work better. I felt like I was getting somewhere. Intermittently I would feel the knob of the Comet hit a spot within me that felt… different. I tried to hone in on the spot and eventually I got the hang of targeting it.
I stayed with that rock/thrust motion for awhile, applying varying amounts of pressure. I could feel the vague sensation of needing to urinate. It wasn't unpleasant so I kept on for a bit. Not really getting any additional stimulation beyond that and not feeling anything start to build, I decided to add the Salsa to the mix and began sliding it up and down my clit while giving the Comet the rock/thrust motion. That was starting to feel pretty good and the tension building within was different than if I had been using the Salsa alone.
But coordinating the two movements simultaneously seemed to be distracting me from the vibrations on my clit. So, I stopped moving the Comet and just firmly pushed down on its handle, putting strong pressure on that spot that I'd found. Holding it there, I resumed the stimulation to my clit with the Salsa and that's when things started happening.
I felt the inner tension growing in a way that I knew meant impending orgasm but it felt different with that firm pressure on the front wall of my vagina. I don't entirely know if I can describe the sensation in a way that will do it justice. I felt as though something was going to erupt. I fought it for just a short while and the pressure grew, then fell back, and increased again but stronger than before. This happened a few times until it had grown so strong that I couldn't hold it back anymore and I let it burst forth and all that energy came spilling out. It was then that I felt the moisture on my hand. I paused a moment and caught my breath then withdrew the Comet. It had a lot of moisture around the handle that didn't feel like lube. I suspect that I may have squirted just a small amount but it wasn't enough to wet the towel underneath me.
I lay there all tingly and buzzing and I felt as though it was a very successful first run with a toy. Especially when you consider that up until now, I haven't had an orgasm with g spot involvement. The dual stimulation of the Comet and the Salsa definitely delivered an orgasm that felt quite different from the pure clitoral orgasms I'm used to. And I come away with the feeling that with practice, I can only get better at this.
Well, you'd think all that would have been enough for one day, never mind one session. But I looked over at the Cush laying there on the bed next to me and after a short breather, I couldn't resist slathering it up with lube and shoving it inside myself. It may have been a good thing that I started with the Comet. This might have warmed me up for the girth of the Cush. It slid into me with no hesitation but the girth certainly got my attention. It will be interesting to see if it enters so easily when I haven't warmed up first.
I had underestimated the size of the Cush but I felt nicely filled, not uncomfortably stretched. I thrust it in and out for awhile, varying the depth. The first ridge was definitely rubbing something on the front wall of my vagina. The second ridge would just enter me when I had it thrust deeply. It wasn't as intensely stimulating to my g spot as the Comet but it was sort of grazing it with each thrust.
Just as with the Comet, I didn't feel like I would climax from thrusting the Cush alone so, I started using the Salsa on my clit again. The simultaneous stimulation was quite enjoyable but like before, I felt a little distracted by the thrusting. So, I shoved the Cush deeply inside me and left it there while I teased my clit to orgasm with the Salsa. I came so hard that the contractions shot the Cush right out, which made me giggle. It did feel pretty awesome to come like that with so much girth inside me.
So I can happily say that I had a wonderful first encounter with the Comet and the Cush. And since getting the most out of a sex toy usually takes a little practice, I can just imagine how much fun I'll be having with these dildos. They have both made overwhelmingly great first impressions.
Update:
So, I've spent some time with the Comet and OMG this thing is amazing.  I found my technique with it and it blew my fucking mind.  I insert it somewhat shallowly and then just use that ergonomic perfectly bent handle like a lever; pumping it up and down.  Faster, slower, wide range of motion or short little pumps, this dildo showed me where my G spot is and I was rewarded handsomely for finding it.  I've never had orgasms (yes more than one per session) like this.  Absolutely an astounding buy!  I didn't know a sex toy without a motor could be so damn good.  Worth every penny!
Like this? Want more of it? Subscribe!
| | | |
| --- | --- | --- |
| Get new posts sent to your inbox! | | |
| Get my sporadic newsletter filled with exlclusive deals, the latest sales and secret bonus giveaway codes. | | |