Want to support my blog? Clear your cookies, click the banner and shop!

Don't miss these great sex toy sales.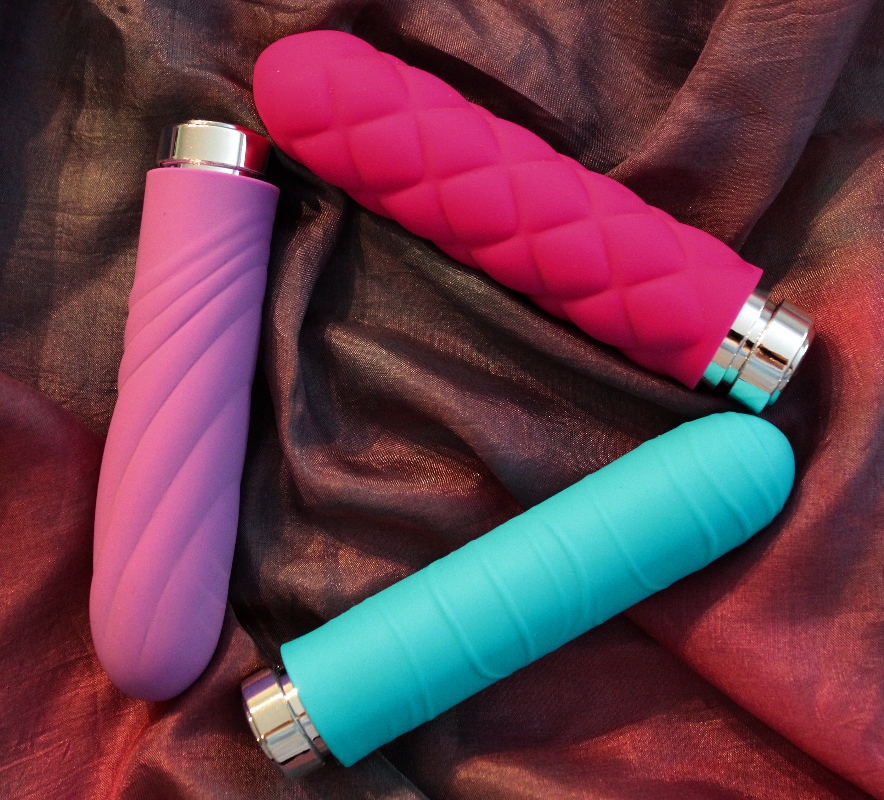 I've now had the opportunity to play with three more of the Key Charms Petite vibrators.  I have already reviewed the Lace and much of the same information in that review will apply here since all of them use the same vibrator with the same functions. The difference between them is the texture of the silicone sleeve.
These are nicely priced, fun little vibrators. I've found that I enjoy having the four different textures to choose from, depending on my mood. I do have a favorite though and that's the Lace. The Lace has the most pronounced texture out of the four with Velvet being the smoothest. In terms of texture from most to least I would list them as: Lace, Silk, Plush, Velvet. So, which one to choose really just depends on what your clit responds to.
Lace has a distinct, nubby texture. Silk has much less texture than Lace in the form of a slightly raised ridge that swirls around the silicone sleeve. Plush has a much smoother surface than Lace and Silk. It feels like little raised pillows of silicone against my clit. Velvet is the smoothest of the four and really does have a soft velvety feel. If you don't enjoy texture at all, Velvet is the one you'd want.
The Charms Petite vibrators are waterproof and easy to clean. I use antibacterial soap but the silicone sleeve can be removed and boiled for a couple of minutes to sterilize. A 10% bleach solution can also be used. Just be sure to remove the sleeve and let it and the vibe dry out since during cleaning, moisture gets under the sleeve and can get trapped there, potentially leading to mold growth. These vibrators use one AA battery and I'm getting some good run time out of it. Key states that one battery should supply 1.5-2 hours of play time. The manual specifies water based lube so to be safe, it's best to stick with it. However you can read my STMSDS for more information about lube compatibility. These vibrators are 3 ¾" long, about 1" in diameter with the sleeve and 7/8" in diameter without the sleeve. The vibrator itself is made of ABS plastic with a PU cote, which has a soft silky feel.
The single push button operation is simple but very sensitive. I accidentally turn it on every time I pick it up. If you're traveling with it or are otherwise worried about it turning on then leave the batteries out until it's time to use it. The button will scroll through the five modes with each push and will shut off the vibe when held for three seconds. Of the four I own, they all seem relatively quiet. I wouldn't call them whisper quiet but then, I don't really like using that phrase anyway. I'd say if you were in a room with the door closed, someone on the other side probably couldn't hear it. I would consider these to be external vibrators and not suitable for anal play.  They come with a black satiny storage pouch and Key provides a one year warranty.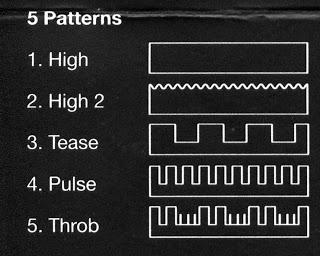 I would classify the vibrations as more buzzy than rumbly. The vibrations are moderately strong in intensity. I have no problem at all reaching orgasm with these vibrators. The five modes of operation are all enjoyable and I don't really have a favorite. I've gotten off on all of them. Of the five modes there is one steady vibration (High) and four patterns (High2, Tease, Pulse and Throb). High 2 is about the same intensity of High but modulated with a slight ripple. Tease feels more like a saw tooth pattern to me as it ramps up in intensity then falls quickly to ramp back up once again. Pulse is just what you'd expect, evenly spaced bursts of vibration. If you're familiar with the We-Vibe Salsa's Cha-Cha pattern, the Charms' Throb kind of reminds me of that only faster paced. It's two pulses followed by three shorter ones. It was good for teasing my clit to a point where I could finish with the steady vibration.
I think these vibrators are a good buy but I still wish Key would have sold these as a package with one vibrator plus the various sleeves. They don't have all the bells and whistles but they have more features than a basic bullet. I would have preferred it if they were rechargeable but the price point reflects the lack of this feature. Overall, I enjoy the Charms Petite vibrators and I can recommend them to anyone who responds to vibrations that are a bit more on the buzzy side. The four, from the Lace to the Velvet, offer a wide range of texture and feel so there's likely to be one to satisfy the needs of every clit.
SheVibe carries all five of the Charms Petite vibrators.  They have great prices and a huge selection. Next time you're looking for a new toy, be sure to pay them a visit.
This product was provided in exchange for an unbiased review.
Like this? Want more of it? Subscribe!
| | | |
| --- | --- | --- |
| Get new posts sent to your inbox! | | |
| Get my sporadic newsletter filled with exlclusive deals, the latest sales and secret bonus giveaway codes. | | |