Want to support my blog? Clear your cookies, click the banner and shop!

Don't miss these great sex toy sales.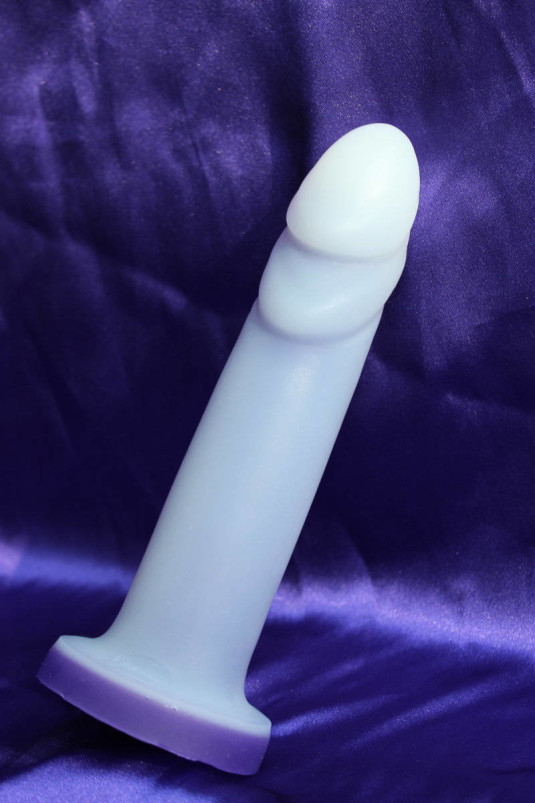 I recently purchased the Tantus Cush O2 (my first silicone dildo) and after spending some time with it, I have realized that bigger is not necessarily better. The Cush is a thick dildo and while I have no problems with insertion, it really does fill me up. I have to be in just the right mood to enjoy the girth of the Cush.
So, I was excited when Tantus sent me the Flurry O2. I think of it as the Cush's little (or more slender) brother. It's made out of the same dual density silicone, which has a firm inner core surrounded by a squishier outer layer. Like the Cush, it has two prominent ridges but the second one is located much closer to the head. They both come in the same colors which are Candy (pink), Ice (blue) and Twilight (purple). I was hoping that the Flurry would be all the things that are good about the Cush but just a little more slender and that's exactly what it is.
I have a much easier time thrusting with the Flurry since, with it's smaller girth, there is room to spare. I can't say that for the Cush. My body gives much more resistance thrusting with the Cush. The Flurry, on the other hand, glides with very little resistance. Don't get me wrong, it has plenty of girth to be pleasurable, I just don't get stretched like I do with the Cush.
Flurry's ridges give me some g spot stimulation. I tend to require more pressure against my g spot than I can get from the Flurry but the ridge does graze my g spot and provides a bit of added sensation. There is a delightful little pop that occurs with long strokes, as the ridge comes out of me and enters once again. I like to pair up this dildo with my Salsa. That combination definitely delivers.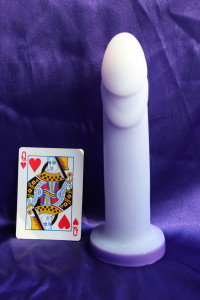 The dual density silicone really is a wonderful balance between firmness and squish. The texture of the silicone is soft and satiny. It does have some drag and so I have to use lube. I personally only use water based lube with my silicone toys but some say that silicone lube can be used with Tantus' silicone toys. If you want to try it, I suggest that you spot test an area first. Cleaning the Flurry is as simple as it gets. Just a bath in antibacterial soap and warm water works for me but if I were so inclined, I could boil it or put in the top rack of the dishwasher (no detergent).  The silicone does attract quite a bit of lint so it's best to store it in a lint free pouch (not included) or ziplock bag.
The Flurry is 8" long with 6 7/8" insertable and 1 5/8" in diameter (including the ridges). The 2 3/4″ wide flared base makes it safe for anal play and it is harness compatible. Sadly, I can't speak to how well it works in a harness since dizzyguy has absolutely no interest in pegging. So, if you really go for girth, I'd recommend you pass on the Flurry and get the Cush but I think the Flurry would be more universally appealing. Of course, if you can swing it, get both. It's nice to have them to choose from depending on your mood. And that brings me to the price point. I find them both to be very reasonably priced. Especially for the superior quality in materials and workmanship that you get from Tantus. Sure you could always get a gross, toxic jelly dildo for less but, why? I say when it comes to sex toys, treat yourself right. Save up a bit and get better toys. A Tantus toy will give you many good years of enjoyment with minimal care. It really is worth choosing quality toys made of body safe materials and that's the only kind that Tantus makes. The Flurry is definitely a dildo worth having (as is the Cush for that matter) and I am happy to have it in my arsenal.
Be sure to stop by Tantus and check out their O2 dual density line. They have awesome deals in the closeout section and you can take an additional 25% off those low prices through the end of this month. Also check out the grab bag. You choose the shape of the toy you want and the color will be a surprise.

The friendly bunch at Tantus gave me the Flurry O2 in exchange for my honest opinion.
To see my cat bombed dildo picture outtake click here.
Like this? Want more of it? Subscribe!
| | | |
| --- | --- | --- |
| Get new posts sent to your inbox! | | |
| Get my sporadic newsletter filled with exlclusive deals, the latest sales and secret bonus giveaway codes. | | |