Want to support my blog? Clear your cookies, click the banner and shop!

Don't miss these great sex toy sales.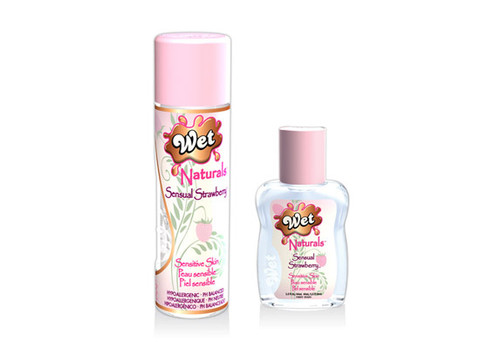 For me, lube is one of those things where you find one you like and you stick with it. My go to lube for intercourse is Wet Platinum Bodyglide. I always use silicone lube for intercourse but I am often on the lookout for good water based lubes that I can use with my silicone sex toys. So, when Nitetime Toys offered to send me a bottle of Wet Naturals Sensual Strawberry water based lube in exchange for my honest opinion, I was happy to take them up on the offer.
When it comes to water based lubes there are two things I look for. I want them to be free of glycerin and parabens. Wet Naturals Sensual Strawberry contains neither. For reasons why we should avoid lubes that contain these ingredients, see my STMSDS. I'm usually not looking for flavored lube but just because it's flavored doesn't mean it won't work well for lubing up my sex toys. Plus there are times when, probably due to medication, my mouth is really dry and I can't give the wet sloppy blow jobs I'd like to. Flavored lube can come in handy on those occasions.
Wet Naturals Sensual Strawberry has more of a scent than a taste and it does smell quite nice. I actually, don't mind that it doesn't have a strong flavor. It tastes very slightly of strawberry with a light sweetness. It is a somewhat thinner lube, meaning that it's kind of runny and watery, which can be a good thing depending on what you're looking for. If you don't like the feeling of a thick gloppy lube (most of the time, I don't) then the consistency of this lube should work well for you.
However, if you're looking for a water based lube to use for anal play then this probably wouldn't be the best choice. Generally, when it comes to anal play, you want a lube that has more substance and staying power; something that will provide more cushioning for the delicate tissues. That said, for lubing up dildos for vaginal insertion or for my clit vibes, it works just fine. It doesn't get sticky or dry up too soon and since it's water based, cleanup is very easy. Its flavoring is subtle and the fragrance is nice. If you're looking for a flavored lube or just want something water based for your toys then I don't think you can go wrong with this.
You can help me thank NiteTimeToys by stopping by and browsing their selection and you can take 10% off your order when you use the code DizzyGirl.
Update: Since I reviewed this lube, I've had the opportunity to learn a lot more about lube and which ingredients/brands are compatible with the body.  I'm not sure if I'd still recommend this lube.  Wet lubricants are generally hyper-osmotic but this is from their "Naturals" line and I don't see the ingredients that would make this particular lube hyper-osmotic.  That doesn't mean it isn't though. To learn what this means, read this post.
Like this? Want more of it? Subscribe!
| | | |
| --- | --- | --- |
| Get new posts sent to your inbox! | | |
| Get my sporadic newsletter filled with exlclusive deals, the latest sales and secret bonus giveaway codes. | | |