Want to support my blog? Clear your cookies, click the banner and shop!

Don't miss these great sex toy sales.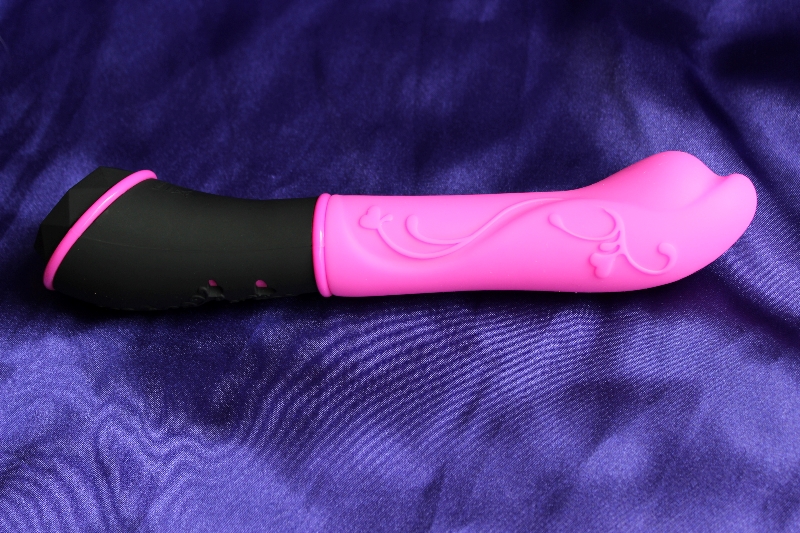 The California Exotic Novelties Tantric Aura Massager is my first encounter with internal vibration. Since successfully finding and stimulating my G spot with the Key Comet G Wand, I've wondered how it would feel to target my G spot with vibration. So I was excited when I got the chance to review this vibrator.
The Tantric Aura Massager is made of silicone and plastic with a PU cote. The insertable silicone portion is decorated with a raised scroll design and heart shapes on each side. It has a matte finish and doesn't seem to attract a lot of lint. The plastic handle is adorned with pretty heart shaped cutouts and more scrolling. This vibrator comes in two colors, pink and purple. It is 6 1/2" long with about 4 1/4" insertable and 1 1/4" in diameter at the widest with a very slightly up-curved bulbous end. The push button is very large and makes up the entire base of the toy. Each push of the button takes you to the next vibration function and holding it for a few seconds turns it off. When you turn the vibrator back on, it will start in the mode that comes after the one you were in when you shut it off. This vibrator requires two AAA batteries. It is fairly quiet. With it under a thick blanket, I could still hear it in the same room but not outside the closed door.
The vibrations are moderately strong and are rather buzzy. I would have preferred more intensity. My fingers do get a little numb from holding it.There are 10 functions, 3 levels of steady vibration and 7 patterns. Cal Exotics has named the patterns: Gradient Burst, Intermittent, Surge, Inta-Surge, Even Step, Roller Coaster Spurt and Pulsate. Out of the patterns, I like the Gradient Burst the most. All the others are pulses of varying duration.
The packaging warns against submersing the vibrator in water so, you can't take this into the tub. I am assuming that it is splash proof and I haven't yet had any problem getting it wet enough to clean. The cutout heart design on the handle, while pretty, makes cleaning a little more involved. Body fluids and lube can get down in it and you'll need an old toothbrush to thoroughly clean it out. You can use antibacterial soap, a 10% bleach solution or toy cleaner. Cal Exotics recommends the use of water based lube.
I was looking forward to trying internal vibrations for the first time. However, using the Tantric Aura Massager didn't knock my socks off. I can have fun with this toy but it's not something I see myself reaching for on a regular basis. My main complaints are the buzzy vibrations and the raised scroll design on the sides, which I found very uncomfortable when thrusting. Since thrusting wasn't comfortable, I could really only insert the vibrator and push it against my G spot, not moving it in and out. If you're not overly sensitive to textures, the design on the sides of this vibe might not bother you but I would have preferred it to be completely smooth.
I couldn't reach orgasm vaginally with this vibe but I don't blame it for that. I have yet to climax from any kind of internal stimulation alone. Even with the incredible G spot stimulation from the Key Comet Wand, it still takes the Salsa on my clit to bring me to orgasm and the same is true for this toy. When I pair it up with clitoral stimulation I do climax easily and I think the internal vibrations from the Tantric Aura Massager do enhance the orgasm. This vibrator can also give me orgasms if I rub it against my clit.
So like I said before, I can enjoy myself with this vibe. It's just not something that I'd put on my must have toys list but if you can enjoy buzzier vibrations and you don't think that the scroll design would irritate you then this could be right for you. It was hard for me to write this review because I neither loved nor hated this vibrator. It didn't wow me but that doesn't mean it wouldn't work great for someone else. I do think that for the price point, Cal Exotics could have made this vibe waterproof. For internal vibration and G spot stimulation I have my eye on the Lelo Mona 2 but admittedly, that vibrator is in a completely different price range.
If you're thinking of buying a new vibrator please consider purchasing it from my sponsor, NiteTimeToys.  You can use the code DIZZYGIRL to get 10% off your order.

NiteTimeToys provided the Tantric Aura Massager in exchange for my honest opinion.
Like this? Want more of it? Subscribe!
| | | |
| --- | --- | --- |
| Get new posts sent to your inbox! | | |
| Get my sporadic newsletter filled with exlclusive deals, the latest sales and secret bonus giveaway codes. | | |