Want to support my blog? Clear your cookies, click the banner and shop!

Don't miss these great sex toy sales.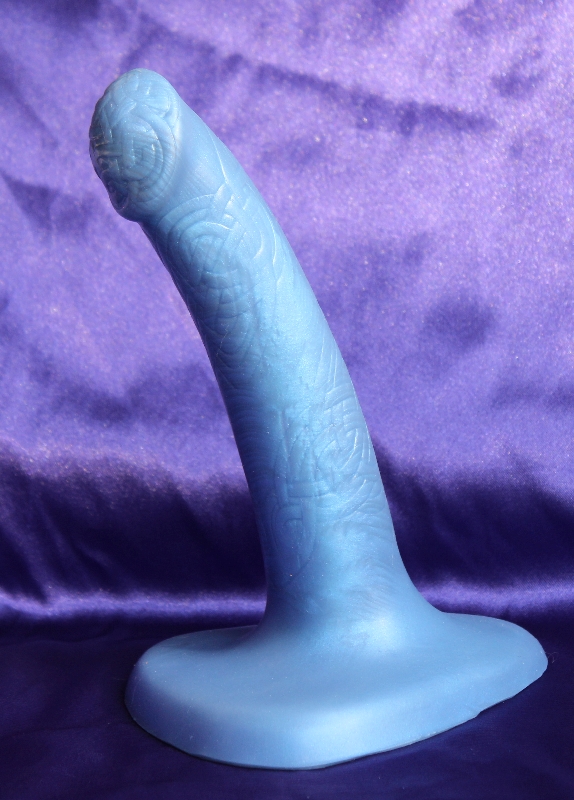 They have the Jackhammer Jesus dildo, Virgin Mary dildo and Baby Jesus Butt Plug. It's true, Divine Interventions' sex toys aren't going to be everyone's cup of tea. But beyond the shock value, you'll find artisan crafted toys made of the highest quality, premium silicone. And if the irreverent religious themed toys are just a little too crazy for you, they also have a selection of Non-Denominational sex toys, like The Celtic Wonder Rod.
The Celtic Wonder Rod is a beautifully crafted silicone dildo that comes in your choice of slightly marbled blue or red that has a very subtle iridescent quality. The silicone finish is somewhere in between glossy and matte and a moderate amount of drag is produced but with a decent amount of lube this dildo glides quite well. I really love the density and firmness of this silicone. It bends and squishes readily yet, it's stiff enough for effortless thrusting.
The dildo is wrapped in a maze of Celtic knot designs that swirl around the shaft and up onto the head. The design provides a very gentle texture that I noticed but wasn't distracted by. I enjoyed the texture as it grazed past my vaginal entrance, which is where I felt it the most. I was surprised by how much g spot stimulation I got from this dildo. I wasn't expecting that because it's definitely not a rigid toy and it doesn't have a severe curve, which is what I usually need to hit my g spot.
The Celtic Wonder Rod is slightly up-curved with a subtly defined head. It is 6 1/2″ of insertable length and 1 1/4″ in diameter at the head , 1 3/8″ mid-shaft and 1 1/2″ at the base. The base is triangular and very broad and I love how easy it is to hold onto.  The wide base also makes this dildo safe for anal insertion. The dimensions look like they would be compatible with use in a harness but since there's no pegging going on around here, I can't say for certain that it will work.  The base can also suction to smooth surfaces but I haven't tried that yet so, I can't say just how vigorously it can be used that way.
The silicone that this dildo is made of is among the safest sex toy materials. It is nonporous (which means it can be completely sterilized) and is phthalate free. You can clean it easily by washing well with antibacterial soap and water or you can use a toy cleaner. If you need to sterilize it, (which you should do if you're sharing it or using it anally) you can boil it for three minutes or wash it in a 10% bleach solution.
This silicone picks up a bit of lint and dust but it's not the worst I've seen. Just let it air dry on a paper towel and once completely dry, you can store it in a zip lock bag or some other lint free pouch. Divine Interventions recommends the use of water based lube only. I tested some Sliquid Silk hybrid lube on the base and noticed no reaction between the lube and the silicone toy. If you need a good water based lube, Divine Interventions has its own Holy Water Lube which is glycerin and paraben free (the best kind) and comes in a 4 oz bottle. This lube performs well as it's not sticky and doesn't dry out quickly.
I was honestly surprised by how much I like The Celtic Wonder Rod. I really enjoy the density of the silicone and it's just an all around good basic dildo. The Celtic knot design makes it pretty to look at and provides a very gentle texture. Its girth might not be enough for some but I found it to be a nice balance between comfortable and stimulating. I think this dildo would be a good choice for a beginner because its size isn't threatening and the texture isn't overwhelming. I really don't have anything negative to say about the Celtic Wonder Rod. I'm enjoying everything about it.
Their sex toys might not appeal to everyone but it's clear that Divine Interventions produces a quality product made of premium materials and the attention to detail is impeccable. But before you write them off as a bunch of godless heathens, I'd like to tell you about a project they're working on called Inches For Charity.
INCHES FOR CHARITY is a documentary film that explores the subject of human sexuality, focusing on penis size, with an end goal of raising money for AIDS and children's organizations in South Africa.

The documentary (or cockumentary) will examine the various penis enhancement products on the market: the creams, the pills, the pumps, the snake oil, the surgeries, the things that actually work and the things that don't. We will interview men and women on the street as well as professionals, from sex therapists to porn stars to create a colorful backdrop to the story. Companies, as well as individuals, will be invited to pledge money to the INCHES FOR CHARITY men. The group's collective growth will raise money inch by inch (or any fraction thereof) in a STRETCH-A-THON. The money raised will be presented to AIDS and children's organizations in South Africa. The man who gains the most during the regime will travel to South Africa for this presentation. Our INCHES FOR CHARITY winner will also receive a special gift pack of in-kind contributions that will include a variety of fun exotic gifts.

Our cause is a very specific one: to raise money for AIDS and children's organizations in South Africa. For example, the Boomerang Project is an Australian based, South African started charity that raises money for a children's AIDS orphanage in Durban, South Africa. And if we have to wrap our dicks across the globe to get them what they need, we'll do it.

Our Goal is 250,000 USD. Help us either by sponsoring one of our bravehearts or simply donate a small (bigger is better) amount via paypal. All donors large or small will be noted on our site unless you're feeling shy.

 Divine Interventions sent me The Celtic Wonder Rod in exchange for my unbiased opinion.
Like this? Want more of it? Subscribe!
| | | |
| --- | --- | --- |
| Get new posts sent to your inbox! | | |
| Get my sporadic newsletter filled with exlclusive deals, the latest sales and secret bonus giveaway codes. | | |