Want to support my blog? Clear your cookies, click the banner and shop!

Don't miss these great sex toy sales.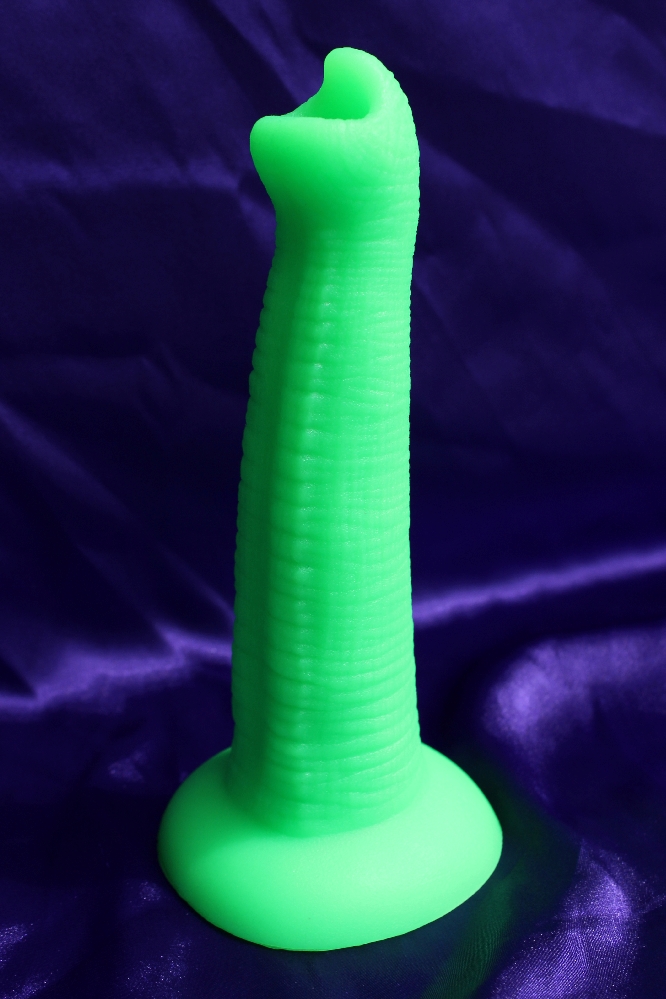 The Elephant Trunk dildo is a unique beast. It's one of many fabulously unconventional dildos made by Exotic-Erotics. They specialize in crafting high quality silicone dildos, unusual enough to satisfy the discerning eccentric in all of us, whether you're looking for something fantastical or remarkably lifelike. Their dildos come in a range of sizes, that tend to run larger than average, and are highly customizable. They allow you to choose from a range of colors and the silicone comes in three levels of firmness.
I ordered my Elephant Trunk in small which is plenty large enough for me at 7 3/8" insertable length and a girth that ranges from 1.5" in diameter at the tip to 2" at the base (the base itself is a very broad 3 5/8" wide). The medium ranges in size from 2.15" in diameter to 3", tip to base and is 11" of insertable length. The large boasts 15" insertable with a girth of 3.1" to 4.2". Attention size queens and kings, Exotic-Erotics has you covered!
I had many great colors to choose from including gray, which might have been more expected for an elephant trunk, but I chose neon green because… well, where else are you going to find a neon green elephant trunk shaped dildo? Not having any prior personal experience with their range of silicone, I settled on the medium firmness. The turnaround from placing my order to receiving it was incredibly quick. I placed the order on a Thursday and had the dildo in my hands on that Saturday. Truly impressive when you consider that this was custom made just for me.
Upon removing the Elephant Trunk from its sealed plastic bag, I was initially impressed with the quality of craftsmanship. The dildo just felt really well made. The next thing I noticed was just how incredibly squishy the silicone was. I can easily squeeze and bend it. The medium silicone feels like it would make the perfectly comfortable squishy butt plug. Having used the dildo, I now think I may have preferred it in the firm silicone or maybe the "cored" option, which I imagine is similar in concept to other dual density silicone dildos on the market. The Elephant Trunk in medium silicone was just a little too soft and bendy for me. It is firm enough for thrusting but I just think I would have enjoyed a more rigid silicone. They actually recommend the "cored" option for this toy on the web page but I didn't listen.  The Elephant Trunk is very heavily textured. Its surface is wrinkly and crackled; mimicking the skin of an elephant. For me, I think it's a bit too much texture. It really produces quite of bit of drag and I needed a lot of lube. That said, this dildo would probably be perfect for the texture connoisseur.
The silicone has a matte finish and attracts a moderate amount of lint. The tip of the dildo ends with perfectly formed nostrils that need a bit of extra care when cleaning and the texture of the dildo requires a little more attention to thoroughly cleanse. It's nothing terribly burdensome but you might just want to use a wash cloth with antibacterial soap to really get into all the grooves. And since this dildo is silicone, you can wash it in a 10% bleach solution or boil it for complete sanitation.  Exotic-Erotics recommends the use of water based lube. The dildo comes sealed in a plastic bag and includes a drawstring pouch and care instructions.
So, while my personal experience with the Elephant Trunk in medium silicone wasn't the best, I imagine that I might have enjoyed it more in the firm (or cored) silicone. Still, I think the texture is more than I can handle but it is a truly unique sensation so, those who really love texture should consider getting this dildo. Personal experience aside, it is obvious that Exotic-Erotics produces a top notch, quality product and the attention to detail is impeccable. And if I had anyone, other than my husband, to converse with about dildos… my neon green Elephant Trunk would certainly be a conversation piece.
I have my eye on another Exotic-Erotics dildo, the Hippocampus, and I suspect that it might be more compatible with my anatomy and preferences. I hope to have the chance to tell you all about it. Until then, make sure to stop by Exotic-Erotics. You're sure to find something that suits your wild side.

Like this? Want more of it? Subscribe!
| | | |
| --- | --- | --- |
| Get new posts sent to your inbox! | | |
| Get my sporadic newsletter filled with exlclusive deals, the latest sales and secret bonus giveaway codes. | | |