Want to support my blog? Clear your cookies, click the banner and shop!

Don't miss these great sex toy sales.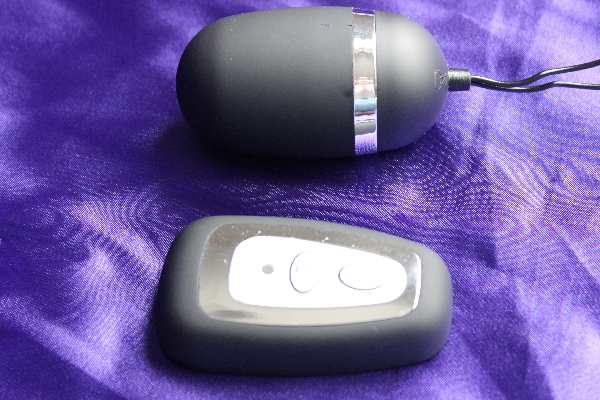 In the short time I've been reviewing sex toys, this is the first that I was truly disappointed with. I really didn't know what to expect from a vibrating egg. I guess I imagined that inserting this thing and having it buzz away inside me, while my hands were free to stimulate my clit, would lead to a more intense orgasm. It didn't.
The Tracey Cox Love Egg's vibrations are quite weak and buzzy. In my hand, they felt a lot stronger than they did once it was inside me. I could barely feel the vibration at all. In fact, it was more distracting than anything else. I think I was concentrating on trying to feel the egg's vibrations and that made it a bit harder for me to reach orgasm. I always try to keep in mind that just because something didn't work out for me, it doesn't mean that someone else wouldn't like it. But with this egg, it's hard for me to recommend it to anyone, unless you are really quite sensitive to internal vibration. Then you might actually like that this egg is rather weak. I will say that it was comfortable to have the egg inside me and I had no problem with insertion and removal.
Since this is my first time using a vibrating egg, I had a chat with another reviewer about my experience. She said that she finds most eggs to be generally on the weak side. So, it may not be that this is a bad egg but that it's just not my thing.  It's not a total loss, I am able to use the egg on my clit and reach orgasm that way but I really wanted it for internal stimulation. Then again, if I'm going to use something on my clit then I prefer a more rumbly vibrator. Sure, I can get off from the buzzy vibrations of this egg but the deep rumble of something like my Salsa feels so much better. Here again, it's a totally individual thing and you really never know how you're going to like something until you try it. That's why I'm not totally against trying other vibrating eggs in the future. There could always be one out there that I'll like.
The Tracey Cox Love Egg is 2 1/2" long and about 1 3/8″ in diameter. It has 7 functions, three levels of steady vibration and four patterns. The remote control has a pretty good range (over 10′). There are two buttons on the remote, one that turns it on and off. The other cycles through the functions. The remote requires one 23A battery and the egg uses two N batteries. The package includes all three batteries but they didn't last very long and it might be hard to find replacements.
The egg is made of ABS plastic which is nonporous and free of latex and phthalates. The packaging states that the egg is watertight. I don't know if this means that it's splash proof or submergible. It comes in one color, black and has a silver band around it. The package recommends using water based lube but I don't see why silicone lube couldn't be used since it is plastic. This egg is fairly quiet. Under a thick blanket it could be heard in the same room but not outside a closed door. You can clean the egg with antibacterial soap, a 10% bleach solution or toy cleaner. I would not consider this toy safe for anal play. Even though it does have a retrieval cord, it's probably not long enough to reach it if the egg moved up into the rectum.
If you're extremely sensitive to internal vibration and other insertable vibrators have been too strong for you then maybe, the Tracey Cox Love Egg would work for you. If you know you need strong, rumbly internal vibration then you should pass on this. As with all things in life that you try, when it comes to sex toys, you win some and you lose some. There will be those that totally rock your world, others you'll be somewhat indifferent about and yes, some that are disappointments. The fun part is trying new things and discovering what you like. That's why it's so great to shop for toys at Lovehoney. You can have the confidence to try toys you're not sure about because with their awesome return policy, you can always send it back within 100 days of purchase.

Lovehoney provided the Tracey Cox Love Egg in exchange for my honest opinion.
Like this? Want more of it? Subscribe!
| | | |
| --- | --- | --- |
| Get new posts sent to your inbox! | | |
| Get my sporadic newsletter filled with exlclusive deals, the latest sales and secret bonus giveaway codes. | | |