Want to support my blog? Clear your cookies, click the banner and shop!

Don't miss these great sex toy sales.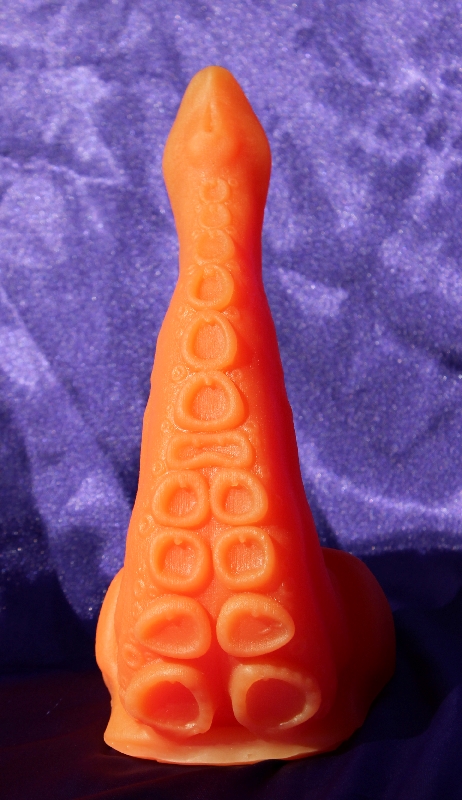 Ever fantasize about having sex with a dragon?1 I don't but I still think Bad Dragon's dildos are awesome. They specialize in fantasy dildos crafted from premium silicone with meticulous attention to detail. You don't have to be into the fantasy aspect of it to appreciate the artistry displayed in their toys. And if you're just plain bored with run of the mill average everyday dildos, Bad Dragon is sure to have something that will excite you. I found several dildos that look like they would be a lot of fun to try and it was hard to decide but I ended up choosing The Tentacle because it looked like one of the most unusual.
Bad Dragon's dildos are highly customizable and they offer a range of sizes, colors and silicone densities for each toy. Some toys even come with an optional cum tube. I ordered the medium size Tentacle in firm silicone and citrus orange color. The Tentacle comes in three sizes and you can choose from three levels of firmness. You can take your pick of 10 solid colors (or have them surprise you), a toy exclusive striped option or three custom colors.
The Tentacle is one heavy chunk of silicone. Seriously, the base on this thing is massive. It gets a little hard to hold onto and my arm got tired after awhile. First, I used The Tentacle with the suckers facing up (toward my g spot). I found that I couldn't get this thing all the way in. It gets pretty wide toward the base and my vagina just said, "nope, that's enough". But it was fine because I enjoyed shallow thrusting more than going deep with it. Now, I don't know if I'm finding my g spot easier these days (because I seem to be able to hit it with toys that I didn't think could) but when I used shallow thrusts, sucker side up, I actually got a little g spot action.
I was enjoying myself for awhile that way when my arm started to give out and I found it hard to keep a grip on the base. I tried flipping The Tentacle around and thrusting with the suckers facing down (toward my butt) and that really didn't do anything for me, though it was much easier to hold onto. Even in firm silicone, The Tentacle gets soft, squishy and bendy toward the tip since it does taper down to a smaller size but that didn't make it hard to insert at all. The Tentacle is covered in texture all around, the detail is amazing and you feel it but it's not unpleasant.
The suckers are what I felt the most and that was mainly at my vaginal entrance. It was quite a unique sensation. I can definitely say that if you're bored with "mainstream" dildos, you really need to try one from Bad Dragon. It won't feel like anything else you've tried. The textured matte finish didn't have a lot of drag and it stayed slippery and glided quite well for a long time without needing more lube. One thing I should warn you about is how noisy this toy is. Yeah, a noisy dildo. I don't know, maybe it's just how I'm built but this thing made all kinds of crazy sloshing and sucking sounds. Not a big deal unless you're trying to be discreet.
When I straighten out The Tentacle and measure from tip to base it's 8 ½" long and about 6 ½" of that is insertable (if you can handle the girth toward the base). At the tip it's 3 ¼" around, 5" mid-shaft and 7" where it meets the base. The base is 4" front to back and 3" side to side through the middle. This thing is seriously hefty and I wish I had something to weigh it on. I was thinking about smuggling it into the grocery store and putting it on one of the produce scales. I wonder if anyone would know what it is and what I do with it.
Since Bad Dragon's toys are made from premium silicone they are nonporous and body safe. They contain no latex or phthalates and they can be completely sterilized by boiling for about three minutes or washing in a 10% bleach solution. Routine cleaning is as simple as washing in antibacterial soap and water but you'll want to take extra care to clean around and in the suckers, where lube and body fluids could collect. The safest lube to use with this toy is water based lube. Some silicone lubes can react with the silicone toy and damage the finish. I tested a small amount of Sliquid Silk hybrid lube on the underside of the base and there was no reaction.
I would definitely recommend Bad Dragon toys to anyone looking for something different. They might not appeal to everyone but if it's not your thing, I would urge you not to focus so much on the fact that they're fantasy dildos and just think of them as really cool custom dildos with amazing shapes that produce sensations that no typical dildo can. They are incredibly well made and so gorgeous you'll want to leave them out on display so, why not step outside the norm and try something totally new and unique?
I can't wait to try my next Bad Dragon dildo but I can't decide between Duke and The Anthro Dragon.  Which one do would you like me to review?
A word of caution… make sure you really pay attention to the dimensions and understand the scale of what you're ordering. It can be a little confusing and difficult to visualize the size of these dildos because they are so different from what you're familiar with. I learned that the hard way and made the mistake of ordering The Tentacle in the small. When I received it I was surprised by just how small it is. I mean, it was perfect in every way and Bad Dragon did absolutely nothing wrong. I just ordered something that was going to be too small for me to use in the way I wanted. That's not saying the small wouldn't be a good fit for someone else. In fact, I think it would make a pretty awesome anal toy but I was looking for a vaginal toy.
That put me in a difficult spot for reviewing it. How was I going to review something that was too small and yet still write the positive review that I felt Bad Dragon deserves? Well I contacted them, rather embarrassed actually, and explained the situation. And because they're such an awesome company to work with they agreed to make another Tentacle in medium for me and I'm so thankful that they did because it's an incredible dildo. They have a strict policy of not accepting returns, even if the sealed plastic bag has not been opened and that's why you need to be very careful about determining the size that you want. That's how I ended up with a small citrus orange Tentacle in medium firmness that now needs a good home. So with Bad Dragon's blessing I am running a contest to win the small Tentacle. Enter here.

Bad Dragon provided The Tentacle in exchange for my unbiased opinion.
If you do fantasize about having sex with dragons that's totally cool too. ↩
Like this? Want more of it? Subscribe!
| | | |
| --- | --- | --- |
| Get new posts sent to your inbox! | | |
| Get my sporadic newsletter filled with exlclusive deals, the latest sales and secret bonus giveaway codes. | | |