Want to support my blog? Clear your cookies, click the banner and shop!

Don't miss these great sex toy sales.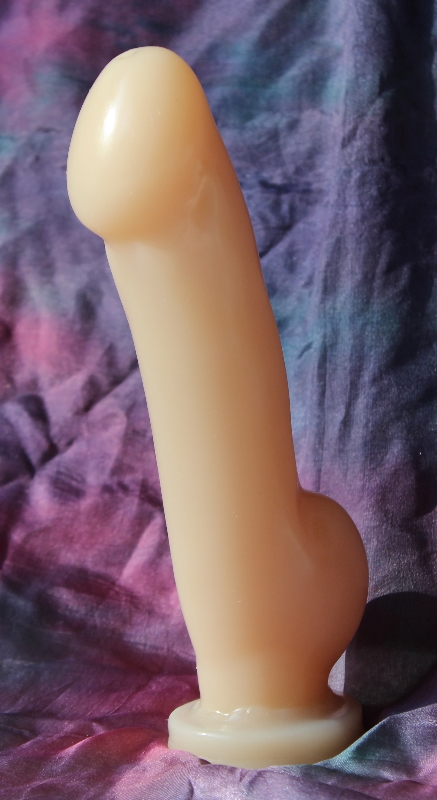 Blush Noveties has released Real Nude, their brand new line of dual density silicone dildos. They call their dual density technology Sensa Feel and it's constructed with a firm inner core surrounded by a soft squishy outer layer. This is similar in concept to other dual density lines on the market and it's purported to provide a more realistic sensation. I have had the opportunity to try out the Ergo and there are some things I really like about it but I do have one complaint.
There are six dildos in the Real Nude line and they have all been hand sculpted. They come in two color choices, almond and toffee. They're all available in purple. They have suction cup bases and I have to say, they are pretty damn strong. If I had a good place to suction it to, I'd definitely be using it that way.
I chose the Ergo because out of all of them, its shape and dimensions seemed to be the most compatible with my anatomy. Ergo is 8 ½ inches tip to base. From tip to balls it is 5 ½ inches of insertable length. It has a nice girth of 1 5/8 inches in diameter through the shaft and 1 ¾ inches in diameter at the head. It's not so big that it stretches me uncomfortably but it is enough to fill me up nicely. This dildo is modestly phallic and the head is a good large size. It gives a pretty strong pop as I push it in and pull it all the way out. As I insert the Ergo my vagina really grabs onto that head and pulls the dildo into me.
The base is easy and comfortable to hold on to. I'm not sure I really need this dildo to have balls but they don't get in the way and it gave me a good place to spot test various lubes. I love how pliable and squishy the outer layer of silicone is. I find myself just wanting to squeeze it every time I pick it up. The firm inner core gives this dildo a good backbone. The firm core stops just before you reach the head, leaving it deliciously squishy. It reminds me of those stress relieving squish balls that you squeeze to release tension.
The medical grade silicone is smooth with a shiny finish. Silicone is among the best materials for sex toys because it's nonporous (meaning it can be sanitized) and free of latex and phthalates. Cleaning this dildo is easy. You can wash it in antibacterial soap and water or use toy cleaner. To sanitize, bathe it in a 10% bleach solution or boil it for about three minutes. I don't really recommend cleaning sex toys in the dishwasher but that is an option with this toy. The thing about using the dishwasher is that the toy truly isn't sanitized unless your dishwasher has a sanitize cycle. If you decide to use your dishwasher, do not add any detergent and the dildo should go on the top rack. The packaging for this dildo is basic and transparent (not discreet) and includes a storage pouch.
There is so much I like about the Ergo and just one thing I don't. It has a tremendous amount of drag and eats lube for breakfast.1 I'm starting to notice a pattern here with silicone. It seems like the glossy, shiny finishes produce the most drag. Now, I don't self lubricate well at all and I always need lube for anything that's going into my vagina but still, the drag of this silicone is significant. The first time I used the Ergo I started with water based lube, which is recommended for silicone toys. I had to keep reapplying many times. It's like the lube would just vanish. I'd pull the dildo out and it would be dry. The drag of the silicone around my vaginal entrance got uncomfortable so I switched to a different dildo to finish off my session.
Later, I decided to test some Sliquid Silk hybrid lube because I thought it might last longer. I put a small amount of the lube on the balls and rubbed it in for a good long time to make sure there wasn't going to be a reaction. Some silicone lubes can react negatively with some silicone toys and it damages the finish, making it gooey and sticky. Seeing no evidence of incompatibility, I proceeded to use the dildo covered in the hybrid lube. It was quite a bit better than the water based lube, lasting longer and reducing the drag. I didn't need to reapply as often but still had to more than I like.
So the next time I used the Ergo I tested some Wet Platinum silicone based lube on the balls and again, I observed no reaction. I slathered it up well with the silicone lube and had a much more pleasant experience. The dildo glided better and the lube lasted a lot longer. And that's pretty much the only way I can completely enjoy using this dildo. If you decide to use silicone lube on this or any silicone toy, make sure to do a spot test first. If the two are incompatible the finish of the toy will start to get gummy and sticky. If this happens you can scrape the area off with a fingernail and then wash it really well. Make sure you test it on the base or somewhere else where it won't interfere with use of the toy if a reaction occurs.
There is a lot I like about Ergo and Blush's Sensa Feel dual density silicone. I wish there was a way to cut down on the drag. Maybe if these dildos had a silky matte finish, they would glide better. I have no idea if the wonderful squish of the Sensa Feel silicone could be retained while giving it a matte finish but if it could be done, I think Blush could achieve perfection. If you're willing to experiment with silicone lube and/or you self lubricate well, the Ergo could work out quite well for you. If Ergo's dimensions aren't right for you, there are seven other Real Nude dildos to choose from so you can find a perfect fit.

 Thanks to Blush Novelties for sending the Ergo in exchange for my unbiased review.
I am updating this review to reflect the fact that I have now received a dildo from another well known manufacturer that has a similar shiny finish. And to compare the amount of drag between the Ergo and this other dildo, I'd say it's about the same. This leads me to believe that the Ergo doesn't necessarily have an excessive amount of drag but more likely, it's pretty average for shiny silicone. That said, in my personal experience if feels like a lot of drag but for anyone else who is happy with shiny silicone from other manufacturers, I think they would be just as happy with Ergo. ↩
Like this? Want more of it? Subscribe!
| | | |
| --- | --- | --- |
| Get new posts sent to your inbox! | | |
| Get my sporadic newsletter filled with exlclusive deals, the latest sales and secret bonus giveaway codes. | | |