Want to support my blog? Clear your cookies, click the banner and shop!

Don't miss these great sex toy sales.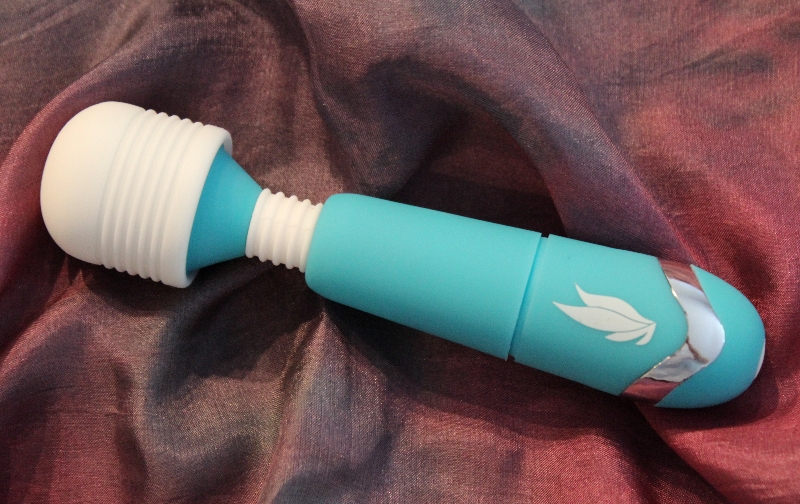 The Wish by Blush Novelties is a miniature wand massager with 3 levels of steady vibration and 4 patterns of pulsation and escalation. It requires 4 LR44 watch batteries and includes three sets. It is waterproof (the packaging says "waterproof" but the care pamphlet warns against submerging) and constructed from ABS Plastic and Silicone. The body is plastic and the massage head is silicone. These materials are some of the best to make sex toys from for a couple of reasons. First, they are nonporous materials. This means that there are no microscopic holes for bacteria to grow in. This allows you to completely sanitize the vibrator by bathing it in a 10% bleach solution. You can also use antibacterial soap and water or toy cleaner for routine cleaning. The other thing that makes these materials good for sex toys is that they are latex and phthalates free. The plastic handle has an almost velvety feel to it and the silicone massage head has a matte finish and feels silky soft against the skin.
The Wish is operated by a single button that is pressed to turn it on and to cycle through the modes. The vibrator starts in a low steady vibration, next to medium and then high. Following high are the four patterns. You must cycle all the way through the modes to shut it off. The quality of the vibration is more on the buzzier end of the scale and it isn't all that powerful but I was surprised by the strength considering this vibrator runs on watch batteries.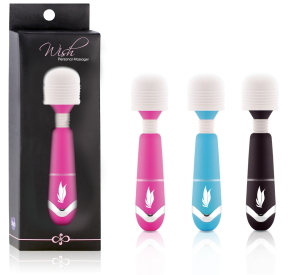 This vibrator comes in three colors: blue, fuchsia and black and they all have a white massage head. There is a bit of white on the neck and on the handle there is a white embellishment and a silver colored band. There is a small seam where the handle screws together that might need a quick pass with a toothbrush while cleaning. The massage head is ribbed all the way around and this provides very subtle texture.  The Wish is 4 3/8″ long,  the massage head is about 1″ in diameter and the handle is an inch in diameter at the widest point.
Being powered by watch batteries, I wasn't expecting very strong vibration but it wasn't as weak as I assumed it would be.  On steady vibration I really need the highest intensity. The patterns have rhythms that are unique and stimulating. I think I like the last pattern the most. It feels hurried and frantic. The patterns aren't quite the stimulation I need to reach orgasm but they were good for teasing my clit to a point where I could finish with steady vibration. The neck on this vibrator is flexible so is bends when you push against it. This could make it hard to use for those who require pressure.
This is the kind of quiet little vibrator that's good to tuck into your purse for emergencies though you might want to carry the batteries separately so it doesn't accidentally turn on.  It's small enough that it would pack easily when traveling and with its wand shape, it doesn't scream sex toy. The Wish is at a very affordable price point so, if you're sensitive and don't require a lot of power, this vibrator might be an option.

Thanks to Blush Novelties for sending me the Wish in exchange for my unbiased opinion.
Like this? Want more of it? Subscribe!
| | | |
| --- | --- | --- |
| Get new posts sent to your inbox! | | |
| Get my sporadic newsletter filled with exlclusive deals, the latest sales and secret bonus giveaway codes. | | |