Want to support my blog? Clear your cookies, click the banner and shop!

Don't miss these great sex toy sales.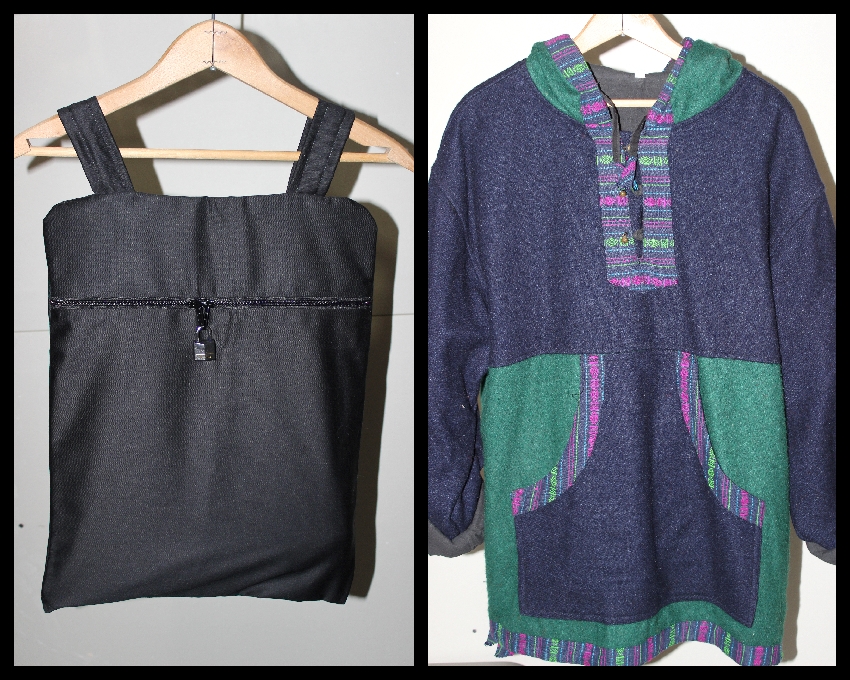 The Sneaky Sack by Holistic Wisdom is one of those, "Why didn't I think of that" things. It's so simple and yet it serves its purpose perfectly. Since I don't have kids and rarely company, I don't have the need to find sneaky little hiding places as much as most people but I still loved the idea of the Sneaky Sack and I think the concept would appeal to a lot of people. You can use it to hide all kinds of things, not just sex toys.

I took the biggest sex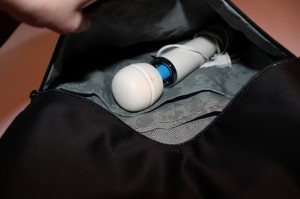 toy I own, the Hitachi Magic Wand and put it in the back pocket of the Sneaky Sack and not only did it fit with plenty of room lengthwise but it settled and lay horizontally at the bottom of the sack, leaving a lot of room for other things. The Sneaky Sack has three storage areas:
main compartment 17.25" X 12.5"
front pocket 12" X 12"
back pocket 13" X 12.25"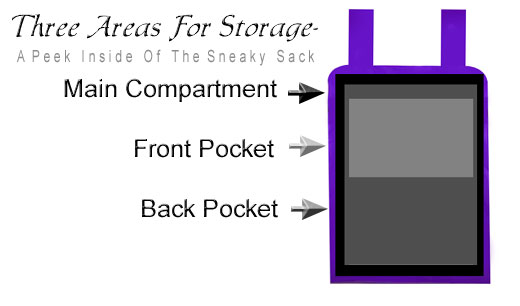 That gives you quite a bit of space to hide stuff. The front pocket looks like it would be good for stashing some lube bottles and I personally would put the bottles in a zip lock bag but Holistic Wisdom claims that the Sneaky Sack is fluid proof and washable (on cold, hang to dry). Still, if your lube leaked it would get all over everything else in the sack so, better safe than sorry.
I can see how you could really load this thing up with toys but if you do and it gets heavy, you'll need to make sure to use a sturdy hanger, like the wooden one I'm using. Of course, the more things you have in there, the lumpier it will appear so, you'll need a heavy, dark article of clothing to hang over it. Put it under a coat or sweatshirt and tuck it into the back of your closet and nobody is going to know it's there. Plus you can put a little lock (not included) on it, like I have.  Someone nosy enough to feel around on it might be able to identify what's inside but in theory, they should never find it in the first place. I would never think to look in someone's closet and go feeling around on all their clothes looking for hidden sex toys.
The Sneaky Sack is constructed from a fabric called Lustra (a cotton blend) on the outside. It picks up cat hair like crazy but if it's going to be under a sweatshirt hanging in your closet, that shouldn't be a problem. The interior is made with a material called SOFlux which is waterproof, breathable, cleanable and doesn't crack like other vinyl fabrics and Holistic Wisdom claims that their bags are resistant to bacteria growth. The material that the Sneaky Sack is made from doesn't make crackling noises when clothes are moved around.
I think the Sneaky Sack is a great idea and I can definitely recommend it to anyone who needs to stash some private items away from prying eyes. It looks and feels well made and has plenty of room inside. I also think the price point is reasonable and it's made in the USA. If you want to get your own Sneaky Sack click the banner below.

 Holistic Wisdom sent me the Sneaky Sack in exchange for my unbiased opinion.
Like this? Want more of it? Subscribe!
| | | |
| --- | --- | --- |
| Get new posts sent to your inbox! | | |
| Get my sporadic newsletter filled with exlclusive deals, the latest sales and secret bonus giveaway codes. | | |