Want to support my blog? Clear your cookies, click the banner and shop!

Don't miss these great sex toy sales.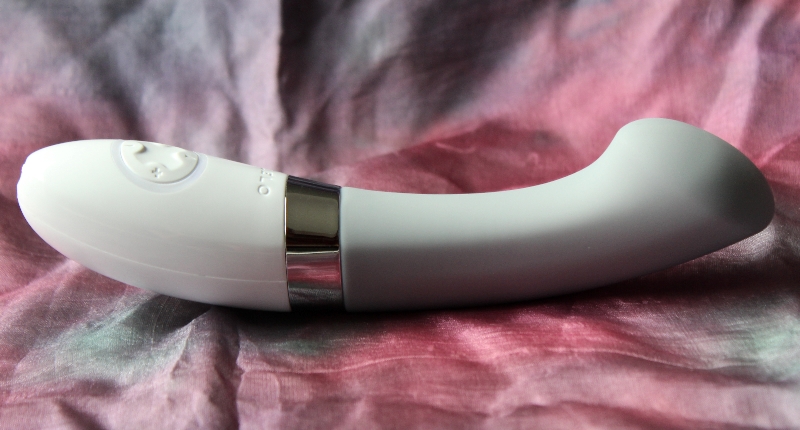 LELO is a Swedish luxury sex toy company that is well known for the quality of their products. Their sex toys, or pleasure objects as they like to call them, are widely well received so, it might come as a bit of surprise that they would go back to the drawing board to improve the products that so many have already been satisfied with. Several of their very popular vibrators have been redesigned into second generation models, like the GIGI 2. The original GIGI was already a best seller but LELO thought they could improve on the original design by making it completely waterproof and equipping it with a more powerful motor. I've had the opportunity to try the GIGI 2 and I am loving this G spot stimulating vibrator.
I don't have the original GIGI so I can't say for certain that GIGI 2 is 100% more powerful, as LELO claims but I am impressed with the strength of its vibrations. This is probably the most powerful G spot vibrator that I've tried so far with the somewhat similar PicoBong Moka a very close second. The main difference I notice between the GIGI 2 and the Moka's vibrations is the quality. By that I mean, how the vibrations feel. Is it rumbly, where you feel it deep down into the internal clitoris or, is it buzzy and mainly felt on the surface? While I wouldn't classify either of these vibrators as buzzy, I do feel as though GIGI 2's vibrations are a touch more rumbly and I feel it deeper.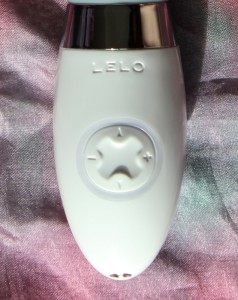 I like the controls on this vibrator. I thought that their location, right where your thumb naturally rests while gripping the handle, would have me inadvertently hitting them but that hasn't been the case. The controls are in the form of a dial with – and + functions east to west and up and down arrows north to south. To turn GIGI 2 on you press and hold the + side of the dial. As you continue to hold down the +, the vibration increases in intensity. To turn it off you can press and hold the – or, press straight down on the center of the circle. To scroll through the 7 patterns you press the arrow that points toward the embossed "LELO" on the handle. To scroll back down through the patterns and return to steady vibration, you press the arrow that points away from the embossed "LELO". One thing that I really like about the controls, that you don't normally find on many vibrators but is standard for most LELO toys, is that you can vary the intensity of the patterns. I always prefer the strongest vibration I can get so, I crank it to high and leave it there but if you're more sensitive than I am or, you like a slow build up, it's great to have the ability to lower the intensity of the patterns. The controls can be locked by pressing down on the center of the dial for five seconds and to unlock, do the same.
LELO improved on the original GIGI by making the GIGI 2 fully waterproof. I don't know how they've done it because the socket where you connect the charger is exposed. It's not charged though a magnetic connection like many other rechargeable waterproof vibrators. But I have gotten water in there and have had no problems with this vibe. I do however, like to let it thoroughly dry out before I plug the charger back in. I've been getting all the run time I could want out of the GIGI 2 and LELO states that it should run for 2 hours on a single charge. When you plug in the charger, the control dial illuminates around the outside edge and it blinks while it is in the process of charging. When charging is complete, it glows steadily.
I absolutely adore GIGI 2's silky soft FDA approved matte silicone. It makes me wish that all my silicone sex toys could feel as good. It just glides over my skin with minimal drag. I always have to use lube for any vaginal toy but the fact that there is hardly any drag means that I don't have to reapply as often. The ABS plastic and silicone construction of this vibrator means that it is latex and phthalates free. It also means that this vibrator can be sanitized in a 10% bleach solution or for routine cleaning, a thorough wash in antibacterial soap and water will do.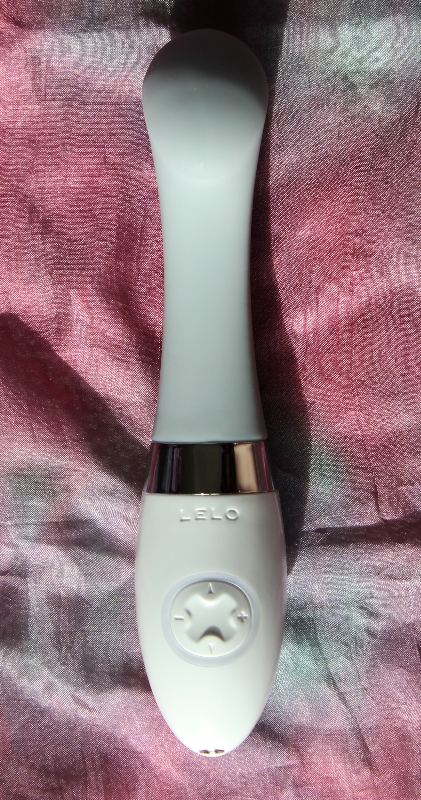 You can get the GIGI 2 in one of four colors: Cool Gray, Pink, Turquoise Blue and Deep Rose. It's the silicone portion of the vibrator that will be in one of those colors. They all have a white handle and a metallic silver colored band between the handle and the silicone. GIGI 2 is about 6 ¾ inches along the outside curve with 4 ¼ inches insertable. The oval shaped head is 4 inches around and the shaft is 3 inches. The packaging is fairly nice and sturdy enough for storage, though it will take up more room than storing the vibrator in the included satin pouch.  This vibrator is very quiet.  Under a thick blanket it could barely be heard.  You can have confidence in your purchase because LELO covers the GIGI 2 with a one year warranty.
So, do I like it? Absolutely. The vibrations are powerful enough to satisfy me. I've heard other reviewers say that LELO's MONA 2 is more powerful. So if you're a power queen the MONA 2 might be a better choice. Personally though, GIGI 2 has all the power I need to feel it resonate within me. The shape of this G spot targeting vibrator is perfect. Its upturned flattened head finds my G spot effortlessly. I like to thrust this vibrator with a simultaneous rocking motion but I also enjoy holding it steady while pushing the handle toward my rear. This forces the head up against my G spot and I can achieve the pressure that I require. I have yet to experience an orgasm from G spot stimulation alone but when I use the GIGI 2 in conjunction with one of my favorite clit vibes, the orgasms are amazing. The GIGI 2 isn't just great for G spotting, it also makes a fabulous clitoral vibrator. That flat head of silky silicone is perfect for stroking across my clit. I can easily have orgasms from using it this way as well.
I am really enjoying myself with this vibrator and I have to look really hard to find anything I would change but there is one thing. It would be great if the GIGI 2 was a bit longer. To reach my G spot I need it inserted all the way to the handle. This doesn't leave a lot to hold onto. I suppose I have average length arms and it's a stretch for me to reach that handle. If LELO ever decides to make a GIGI 3 I would love to see it made longer. That would give me more to grip and I could get more leverage to force the head up into my G spot. Not only that but a little more length would make it compatible for those whose G spot is located deeper. Other than that one little complaint, I think the GIGI 2 is nearly perfect and I am very happy with it. Its strength and shape together work amazingly well to stimulate my G spot and I have no hesitation in recommending this vibrator. Those with a short reach, deep G spot or power queens might be better off choosing the MONA 2 but whichever one you choose, you'll be getting LELO's superb engineering and quality.
Thanks to LELO for sending me the GIGI 2 in exchange for my honest opinion.
Like this? Want more of it? Subscribe!
| | | |
| --- | --- | --- |
| Get new posts sent to your inbox! | | |
| Get my sporadic newsletter filled with exlclusive deals, the latest sales and secret bonus giveaway codes. | | |