Want to support my blog? Clear your cookies, click the banner and shop!

Don't miss these great sex toy sales.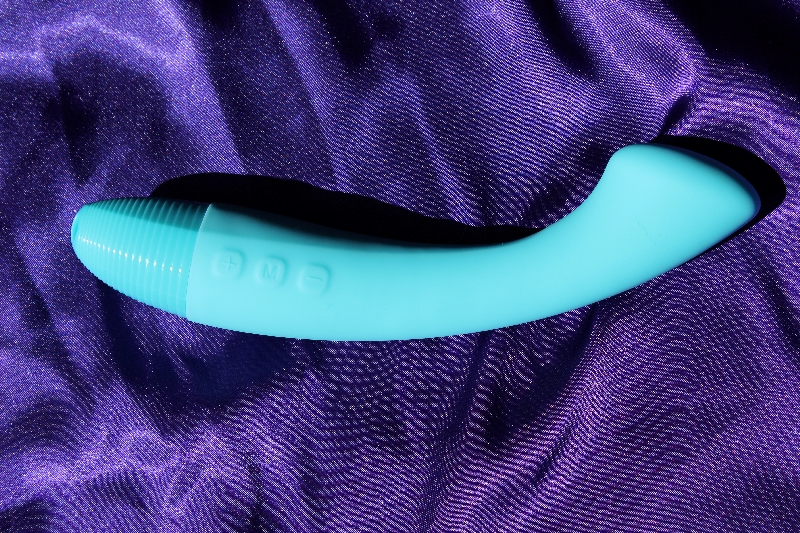 Since my last experiments with internal vibration, I've been really eager to find a G spot targeting vibrator with some rumble and oomph. I got the chance to try the PicoBong Moka G-Vibe and so far, it's living up to my expectations.
PicoBong is owned by Lelo and their toys are similar but the PicoBong toys are priced lower and are battery operated, rather than rechargeable like Lelo toys. This would lead you to expect a degree of quality that you don't find in many other sex toys. For the most part, I find that Lelo quality is reflected in the PicoBong Moka. There's one flaw that I really hate to have to mention because I do like this vibrator very much. More on that in a bit.
The Moka's design is reminiscent of Lelo's Gigi, with it's broad, flat, upturned, G spot targeting head. The Moka is a little bit longer than Gigi and that can make it easier to use for those with a short reach.  It is 8 1/4″ along the outside of the curve with about 5 1/4″ from the tip to the controls.  The oval shaped head is 4 3/8″ around.  It comes in three colors, purple, blue and cerise.  The name "PicoBong" is embossed on the side opposite the controls.  Unlike Gigi, Moka's controls are located on the side of the body. I don't have Gigi1 but I've played with Billy and the controls are located in the same position on both toys. On those Lelo toys the location of the controls makes it easy to accidentally push the buttons so, the placement of Moka's controls actually works out better for me.
There are three buttons, +, – and M. To turn it on you press and hold the + button. By holding it you increase the intensity. The – button works the same way and you hold it to turn down the intensity and shut if off. The M button cycles through the 12 modes which consist of steady vibration plus 11 patterns. There are a couple of things I really like about these controls. First, when you increase or decrease intensity it ramps up or down continuously, rather than stepping up or down to preset levels. This gives you a lot of control and you can really fine tune the intensity for what works best. I like it turned all the way up on high. The other thing that I think sets Moka's controls apart from other toys, is that you can vary the intensity of the patterns. This allows you to really customize your experience.
Moka's food grade silicone has a matte finish and I just love the soft silky feel of it against my skin. This silicone has minimal drag. Moka is designed like Lelo toys in that the silicone covers rigid plastic. So there is no give or squish to the silicone, which I kind of prefer. The silicone and ABS plastic construction of this vibrator means that you can clean it with antibacterial soap or toy cleaner and a 10% bleach solution can be used to sanitize. The materials used in this toy are free of phthalates and latex so it is body safe, as are all PicoBong and Lelo sex toys.  It's probably best to use water based lube with this vibrator because some silicone lubes can react to some silicone toys and ruin the finish.  I tested Sliquid Silk hybrid lube on Moka's silicone and there was no reaction.
Moka requires two AAA batteries and I am enjoying pretty good run time. The manual states that one set of batteries will get you 2 hours of use. This vibrator isn't too loud. I can put it under a thick blanket and it can still be barely heard in the same room but not outside the closed door. The base of this toy has a little loop on the end of it and in the box you'll find a plastic PicoBong tag which is meant to hang from the loop. This is kind of silly and completely useless but Pico Bong seems to have an affinity for including little trinkets with their toys, such as the six sided die that comes with some of them.  PicoBong covers the Moka with a one year warranty.
I am really enjoying this vibrator… a lot. The shape of the Moka seeks out my G spot and puts a decent amount of pressure against it when I angle the handle toward my butt. I tend to require a good amount of hard pressure to really stimulate my G spot and the Moka is doing a satisfactory job of supplying it. The vibrations of the Moka are significantly more rumbly than the last G spot vibrator I tried and my body responds much better to them. The intensity of the vibrations is a good deal stronger as well. Some of the vibration patterns are simple pulsations and others are very unique combinations of pulses and ramps of intensity. The last pattern is pretty crazy and feels completely random to me. I really enjoy the 7th and 8th patterns, which kind of remind me of going up and down hills on a roller coaster.  PicoBong illustrates the patterns in this diagram:

I'm enjoying this vibrator so much that it pains me to have to point out its flaw and yes, I can find only one. The cap to the battery compartment goes on a little like the cap to a medicine bottle, where you push and turn. But you only twist the cap a very slight amount and from the minute I took it out of the box and put the batteries in, I felt like the cap wasn't secure and that it was going to cause problems. And sure enough several times now during use, I'll grab the base a certain way and twist it (like you're prone to do when you're rooting around in your vagina, hunting for your G spot) and the cap pops right off. Of course your hands are covered in lube and getting the thing back on there can be a huge distraction. But probably worse than popping off during use, I've had the cap twist open while cleaning and this can easily get water into the battery compartment, where a circuit board is also located. PicoBong states that this vibrator is waterproof and so far, I've not had a problem but I am wary of that cap. I've been willing to put up with this annoyance. I just have to be aware of how I hold it while using and cleaning it. It's such a shame because everything else about this toy really has been done right. I would like to see the Moka redesigned with a cap that has a few threads and you have to give it a couple of good twists to tighten it down.
I wish I could give the Moka five stars.  The shape works for me, as does the quality and intensity of the vibrations. The problem with the cap is an annoyance but I enjoy using this vibrator so much that I'm trying to overlook it.  I've read several other reviews of the Moka that don't mention problems with the cap so, I don't know, maybe it's just me.  I am good at breaking stuff.  If you've been curious about the Lelo Gigi but the price point is too high for you, it could be worth checking out the Moka. Or if you're just looking for a mid priced G spot vibrator, the Moka G-Vibe might work for you.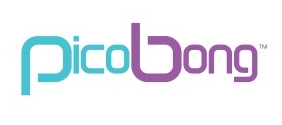 Thanks to PicoBong for sending me the Moka G-Vibe in exchange for my unbiased opinion.
Like this? Want more of it? Subscribe!
| | | |
| --- | --- | --- |
| Get new posts sent to your inbox! | | |
| Get my sporadic newsletter filled with exlclusive deals, the latest sales and secret bonus giveaway codes. | | |