Want to support my blog? Clear your cookies, click the banner and shop!

Don't miss these great sex toy sales.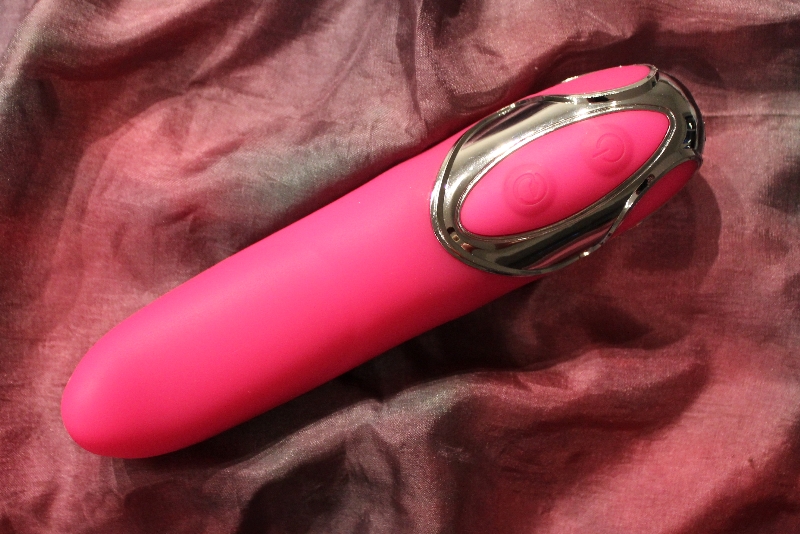 The Closet Collection Toys Roberta Pleaser is a vibrator that can be used for G spot or clitoral stimulation. It works best for me as a clitoral vibrator but I was able to hit my G spot with it as well. It's made of silicone and plastic, has 3 levels of steady vibration and 7 patterns and is powered by two AAA batteries. There is one color, Barbie pink with silver colored plastic. Two buttons control the Roberta. One for power, which illuminates and the other cycles through the modes. A satiny storage pouch is included and Closet Collection Toys provide a one year warranty.
I guess you could say that I'm lukewarm on the Roberta. I don't love it and I don't hate it. I just can't get excited about it. However, it can give me clitoral orgasms. For G spot stimulation is was just OK. I didn't like it for thrusting but it did hit my G spot with the rocking motion that I've found works best for me. It comes to a rounded point that curves upward and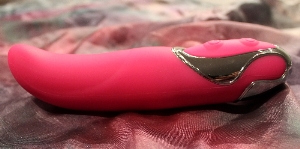 it pokes at the G spot. For me, this isn't as bad as it sounds but if you don't like your G spot being poked at then this vibrator wouldn't be for you. I was actually surprised by how rumbly the vibrations are. I expected the Roberta to be buzzy but it really isn't. I could always ask for more power but for two AAA batteries, it's not bad. I could easily reach orgasm using the steady vibration on my clit but I'm not thrilled with the patterns. Those can be hit or miss for me anyway. The patterns on the Roberta are just weird. It's like the rhythm or the tempo is off and I just couldn't get into them.
This vibrator is kind of loud. I think it's the cover of the battery compartment that's rattling. Closet Collection claims that it is waterproof but I don't think I'd feel comfortable submerging it. There is no seal around the battery compartment itself and when I washed it, moisture did get in there but there is a gasket that sits against the batteries when the cap is on. I would just prefer it if water didn't get in there at all. The silicone has a matte finish with very little drag and there is a noticeable seam that runs all the way around the vibrator. Since this vibrator is made of silicone and plastic, it can be sanitized in a 10% bleach solution. Routine cleaning can be done with antibacterial soap and water or toy cleaner. Silicone is nonporous, latex and phthalates free and is hypoallergenic. It's probably best to stick with water based lube. This vibe measures 6 ¾ inches long with 3 ¾ inches insertable and it is 1 ½ inches in diameter
This vibrator isn't terrible but for the price point, I would expect better quality. The plastic battery compartment cap feels cheap and the rattling noise is distracting. The vibrations feel pretty good and I can have orgasms with it but that's not enough to make me love it. I can't really give this vibrator a great recommendation and I think better vibrators can be found in this price range.

 Many thanks to TabuToys.com for graciously providing the Roberta Pleaser in exchange for my honest opinion.
Like this? Want more of it? Subscribe!
| | | |
| --- | --- | --- |
| Get new posts sent to your inbox! | | |
| Get my sporadic newsletter filled with exlclusive deals, the latest sales and secret bonus giveaway codes. | | |