Want to support my blog? Clear your cookies, click the banner and shop!

Don't miss these great sex toy sales.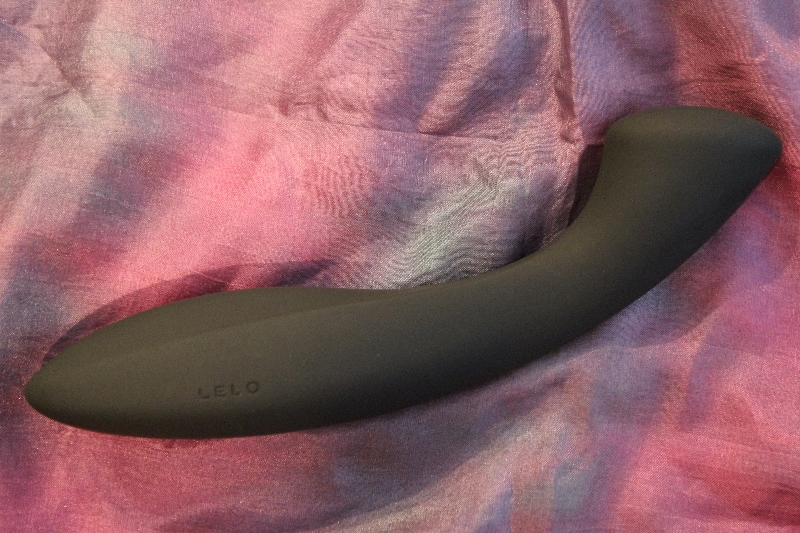 The Swedish company, LELO makes some incredible sex toys, uhm… I mean, pleasure objects. Not the least of which is ELLA. She's easily overlooked though because she has none of the whiz-bangs and do-dads that their other products have. But don't dismiss her so easily. Sometimes, simplicity is exactly what's needed. I know she's stolen my heart and the first time I used her, I squirted for the third time in my life.
ELLA is a G spot targeting dildo and wow, does it ever target. It looks a lot like the LELO GIGI 2 that I recently reviewed but of course ELLA doesn't vibrate. Despite the fact that it doesn't vibrate, it still gave me one of the most powerful squirting orgasms I've ever had. Well, I should clarify that ELLA didn't do that all by herself. I haven't been able to have pure G spot orgasms so, I need simultaneous clitoral stimulation to reach orgasm. My We-Vibe Touch fills that position nicely.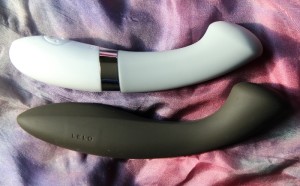 I absolutely adore the GIGI 2 and I wasn't sure what I would think about ELLA but she's definitely turned out to be a sleeper. I use ELLA in much the same way that I use GIGI 2. I get the most stimulation, the kind that leads to crazy strong orgasms, by inserting it rather deeply and pushing the handle toward my rear. That forces the head up into my G spot and gives me the pressure against it that I need. Sometimes I'll give it a slight rocking motion from this position and sometimes, I'll just hold it there, pressing against my G spot. Thrusting the ELLA straight in and out feels OK but it's not exactly the stimulation I need to have orgasms with it.
The first time I used ELLA ended up being the second day in a row that I squirted all over my bed (and just the third time I've ever squirted). You'd best believe I've got a Liberator Throe on its way to me right now. Because apparently, this squirting thing is going to happen a lot more often now that I have amazing toys like the ELLA. The orgasms I have with this dildo in conjunction with a clit vibe are hard to describe. It feels so different from my purely clitoral orgasms. The pressure I feel as I'm nearing orgasm is stronger and a lot more enjoyable. And then the release is explosive… and wet.
I like the ELLA because it is so simple. There's really nothing to worry about as far as care and maintenance. The one stipulation is that water based lube should be used. If you want to experiment with a silicone lube please test a spot on the handle with just a tiny amount. I've experimented this way with many of my silicone toys and have yet to encounter a problem and I've had great success with Sliquid Silk hybrid lube.  If it turns out that the silicone toy and the silicone lube are incompatible, the surface of the test spot will become tacky. If this happens, scrape the area off and wash well. With the ELLA however, you might not want to risk it because the shape of the handle is also perfect for insertion. I haven't used it this way but other reviewers have and it sounds as though they enjoy it. The ELLA is 7 ¼ inches along the outside curve. The flattened upturned head is 4 ½ inches around. The thinnest part of the shaft is 2 ½ inches around and the widest part of the handle is 4 inches around.
Cleaning couldn't be more simple. Antibacterial soap and water always works as does a toy cleaner. If you need to sanitize it you can do so by boiling for a few minutes or bathing in a 10% bleach solution. It's thanks to the nonporous nature of LELO's FDA approved silicone, that it can be completely sterilized. The other great thing about silicone is that it's phthalates free and hypoallergenic. The feel of it is luscious and silky against the skin and there's practically no drag which means the lube tends to last longer. And even though ELLA is made of pure silicone, it's not squishy at all. It's very solid and rigid and I think it's just perfect for applying pressure to the G spot. You can get this dildo in three colors: black, white and rose. I think the black looks elegant. As with all LELO toys, it comes with its own satiny storage pouch. And while there's not a lot that can go wrong with this toy, LELO still provides a one year warranty.
The ELLA is one of those toys that makes me glad that I got into reviewing sex toys. It's taught me things about my body that I've gone my whole life not knowing. I'll admit, at first I wasn't overly excited about this dildo. I thought for sure that I needed vibration, like that of GIGI 2, to have an orgasm but this is delightfully not true. I think ELLA is a workhorse of a sex toy. It's durable, simplistic in design and gets the job done. If internal vibration does nothing for you then the ELLA is an even better choice because you'll get the same G spotting shape of the GIGI 2 but for a lot less money. And even if you enjoy internal vibration, you might just be surprised by the ELLA, like I was. If you're interested in learning how to squirt I wholeheartedly recommend this dildo but remember, just because it makes me squirt that doesn't mean it will for every woman. But I've read a few other reviews about the ELLA which claim that it led to squirting for the first time. So, for the price and performance of this dildo I can enthusiastically say, it's a must have.

 Sensual Intelligence graciously sent me the ELLA in exchange for my honest opinion. I encourage you to stop by their site and take a look around. Their philosophy is definitely one that I can support. When you shop there you can be confident that the sex toys are safe and environmentally friendly because every item on their site meets their eco-friendly and body-safe criteria. The toys are phthalates-free and latex-free so they are body-safe. All vibrators on their site are rechargeable and most of them are even RoHS certified, meaning none of their components contain metals that will further down the line contaminate our landfills.
Like this? Want more of it? Subscribe!
| | | |
| --- | --- | --- |
| Get new posts sent to your inbox! | | |
| Get my sporadic newsletter filled with exlclusive deals, the latest sales and secret bonus giveaway codes. | | |