Want to support my blog? Clear your cookies, click the banner and shop!

Don't miss these great sex toy sales.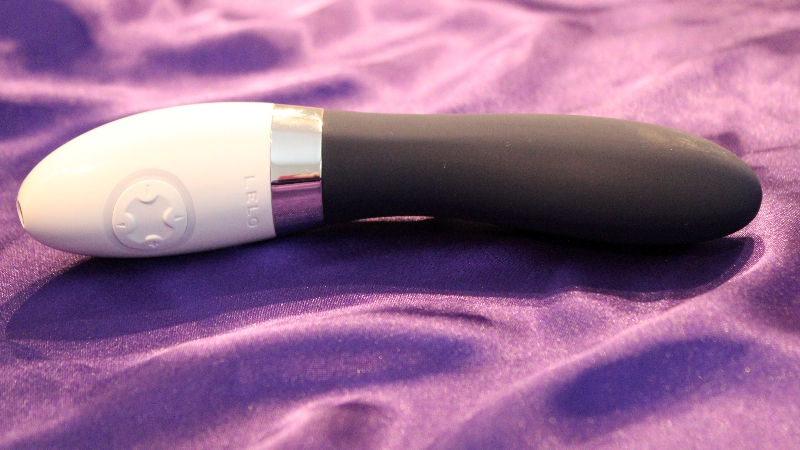 If you've read my recent review of the LELO GIGI 2 then you know how much I really like that vibrator. Now that I've had the chance to take the Liv 2 for a test drive, I'm thinking I like it more. The Liv 2 is another redesigned second generation vibrator by LELO. They've taken several of their popular vibrators and improved them with more powerful motors (so, they claim) and made them fully waterproof. I haven't tried any of those first generation toys so I can't say for certain that the new ones are more powerful but subjectively, they feel moderately powerful to me. Many of the things I love about the GIGI 2 also apply to Liv 2 but I find myself reaching for the Liv 2 more often.
Why do I like it more? Oddly enough, I feel like I get more G spot stimulation from Liv 2 than I do from GIGI 2. It's kind of surprising to me because GIGI 2 is supposed to be optimally designed to target the G spot and while it does a good job of it, the Liv 2 seems to be even more compatible with my anatomy. It's probably all going to boil down to personal preferences when choosing between the two. The Liv 2 fills me up a bit more than GIGI 2. It feels more substantial and Liv 2 targets my G spot best with more of a thrusting motion whereas, GIGI 2 worked better with stationary rocking. So, with the Liv 2 I get to enjoy more sensation while its thicker form works itself into and against my G spot as I thrust. I can still push the handle toward my butt and force the head of it into my G spot, just like I do with GIGI 2 but Liv 2 feels like it covers more ground. I guess what I'm trying to say is that GIGI 2 feels more directed and focused while Liv 2's stimulation is more diffuse. I thoroughly enjoy the sensations achieved with both vibrators but I like the feeling of Liv 2 just a little bit more. I don't think you can go wrong with either of these vibrators though. And just like GIGI 2 it feels incredible when I use Liv 2 on my clitoris.
The Liv 2 operates the same as GIGI 2 and will have the same functions. The intensity of the vibrations feel the same to me as well. It really is the form that sets these two apart. My opinion is that the vibration from both of these toys is moderately strong. I could always ask for more power but as it stands the Liv 2 is strong enough for me to enjoy. I've read several other reviews of these vibrators that claim that they aren't powerful enough or the intensity is not impressive. Many of those reviewers recommend the Mona 2 for more powerful vibration so, if you're a power queen, I just want to warn you that you might be disappointed with the Liv 2. But if you don't need super powerful vibration then I think the Liv 2 could serve you quite well.
I like the controls on the Liv 2. They're intuitive and despite the location, I'm not inadvertently hitting them. The single dial controller has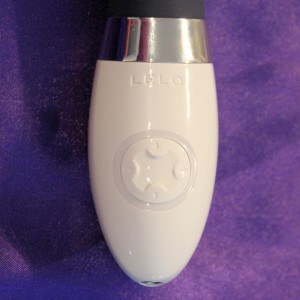 on (+) and off (-) at the east and west locations and up and down arrows north to south. To turn it on, you press and hold the on (+) button and the intensity increases as you continue to hold it. To turn it off you press and hold the off (-) button which decreases intensity as it is held. The arrow pointing toward the embossed "LELO" will scroll up through the various modes and the arrow pointing away, scrolls back down. A nice feature of these vibrators is that you have the ability to vary the intensity of the 7 patterns which is an option you don't often find. The Liv 2 is also travel friendly because you can lock the controls by pushing the center of the dial for a few seconds. The dial flashes while charging and glows steady when fully charged. LELO claims that 2 hours of playtime can be achieved on a full charge.  Since LELO has made the new Liv 2 waterproof you can take it into the tub or shower and it makes cleaning it a lot easier. I still feel kind of uneasy about that charging port getting water into it but so far, I've had no problems. Just make sure it's completely dried out before you connect the charger. I would prefer it if LELO used a magnetic charging connection like so many other manufacturers are doing with their rechargeables. Cleaning the Liv 2 is pretty simple. Antibacterial soap and water is usually all that's needed but if you want to sanitize it, a 10% bleach solution can be used.
I love LELO's silky soft, minimally draggy silicone. I really do wish some of my other favorite silicone sex toys were made of the same material. The FDA approved silicone is a safe and hygienic material because it's nonporous and free of latex and phthalates (as is the ABS plastic handle). The silicone portion of the vibrator is not solid silicone. It's layered over a rigid plastic core so, there won't be the kind of squish that you get with other silicone toys. I actually appreciate this characteristic because it allows me to apply firm pressure against my G spot. You can get Liv 2 in four colors: Cerise, Lime Green, Blue and Plum. It is about 7 inches total with 4 1/8 inches insertable and it's about 1 inch in diameter at the widest point.  LELO includes a storage pouch and one year warranty.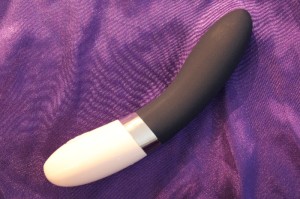 The difference in form really is the only thing that has me choosing the Liv 2 over the GIGI 2 because all other specs are the same. And while Liv 2 is more filling, I still find myself wanting more girth and like I said, I could always use more power. That's where I think the Mona 2 likely comes out ahead. So if you need a larger vibrator with more power, go with the Mona 2. If on the other hand, Liv 2's proportions are suitable and you are satisfied with moderately strong vibration then I think it's a vibrator you'll be happy with. If you're thinking of getting the Liv 2, or any other LELO toy please consider purchasing it from my affiliate, SheVibe.
This product was provided in exchange for an unbiased review.
Like this? Want more of it? Subscribe!
| | | |
| --- | --- | --- |
| Get new posts sent to your inbox! | | |
| Get my sporadic newsletter filled with exlclusive deals, the latest sales and secret bonus giveaway codes. | | |