Want to support my blog? Clear your cookies, click the banner and shop!

Don't miss these great sex toy sales.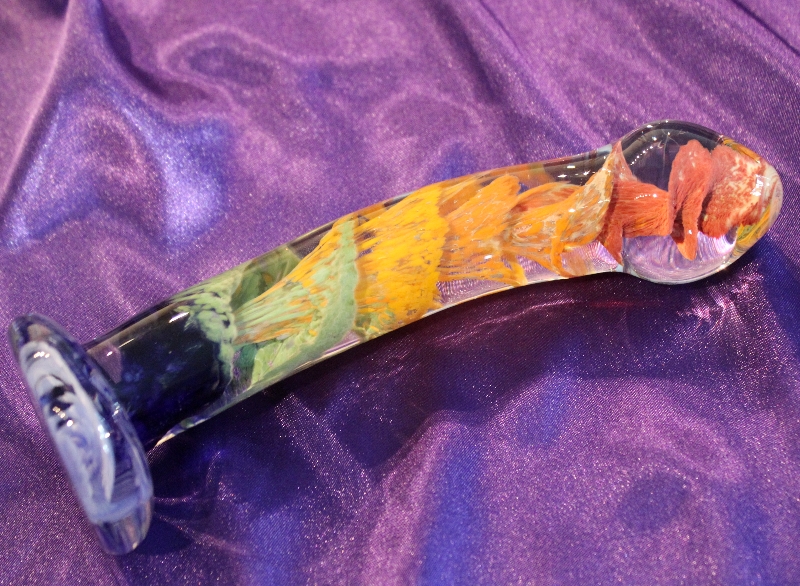 Did you know that you can find sex toys on Etsy?  That's where I found this beautiful psychedelic handmade glass dildo. It looks like something I might have picked up at a Dead show, except I never saw sex toys for sale at the shows… but maybe there should have been. This stunning one of kind G spot dildo was lovingly handcrafted by glass artist, Matthew Healy. No two of his custom sex toys are exactly alike so, you know you have something that was made just for you. He creates dildos and butt plugs of all shapes and sizes, with just about any color combination you can imagine.
Looking over Matthew's collection, it was difficult to choose which one I wanted to review. They are all so beautiful. But the Twisted Rainbow Curved Dildo caught my eye for its subtle G spotting curve and amazing ethereal internal rainbow swirl. I love knowing that this piece was not mass produced and I enthusiastically believe in supporting true artists like Matthew.
Matthew crafts his glass sex toys from borosilicate glass which is the same strong material that Pyrex cookware is made from. He uses an oxygen-propane torch that reaches well over 2,000 degrees Fahrenheit to mold the molten glass into varied erotic forms. When I asked him to describe the process this is what he said:
I start out with 4′ x 38.1mm x 4mm tubing for my colored pieces. The tubing is then melted with a torch into smaller manageable tubes, the spot heated by the torch is stretched into a long hollow handle before being melted off of the main piece. This prep piece is then heated in a kiln to 1,165 degrees or so with the handle sticking out the doors, when heated I grab the handle and heat the tubing in a huge flame of oxygen and propane(It is hot). This tube is between 8 and 13 inches, my wrists are strong because the process requires much stamina considering it takes 20 to 45 minutes to make most pieces in front of a torch.

I use minimal tools, usually graphite tipped rod like tools to flare out the glass I have heated. The color is crushed glass with different chemicals and precious metals added to make all sorts of color, this is added to the inside of the clear tubing with special shaped spoons, I then lightly mist inside additional silver vapors for added color. After the glass is heated up I open the handle end and close the flared open end with a heated clear glass rod which becomes a second handle after it has sealed all the colors on the inside. I then heat the entire piece red hot while spinning, always spinning, especially spinning now, until I have gathered the whole piece into one massive blob slowly sucking excess air out of the open handle.

At this point I have the material required to make any shape I want. Which is a process of using heat to manipulate the mass of the object with spinning and gravity. Think of the glass as thick honey. After the piece is shaped I kiln it for the remainder of the evening, I make a couple of adult toys in the beginning of my day, then move onto less temperamental projects while the toys safely anneal in the back of the kiln for 4-5 hours at least.
My Twisted Rainbow Curved Dildo is 6 7/8 inches long with about 6 1/2 inches insertable.  The diamter of the shaft is mostly consistent and is right around 1 inch.  The head is just under 1 1/2 inches in diameter.  Keep in mind that because these are handmade, the dimensions will vary from one piece to the next.  I lik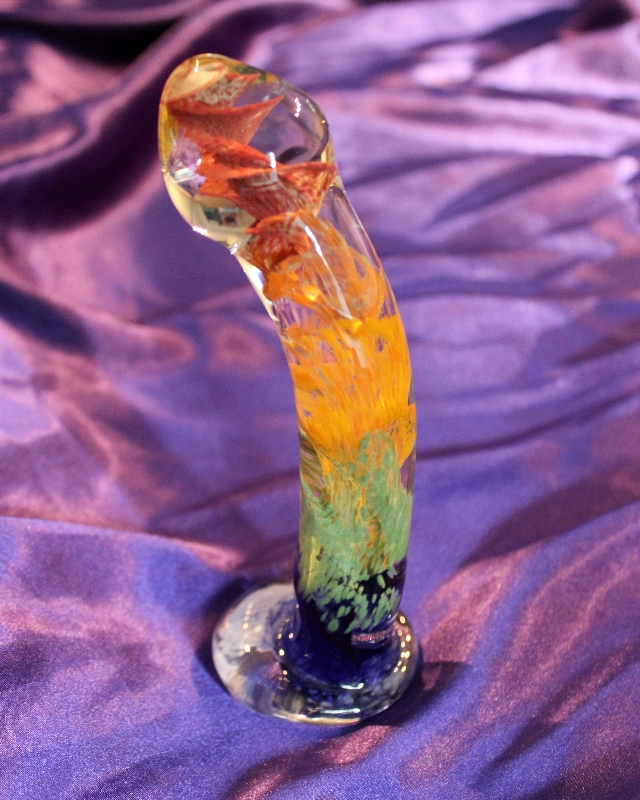 e the base on this dildo. It allows it to stand proudly, which it does on my dresser because it's just too pretty to hide away. The base makes it easy to hold and maintain the curve in an upward position. This might just be a weird thing unique to me but sometimes, when a G spot dildo has a perfectly round base, it can start to turn inside me and miss my G spot. But when the base is an irregular shape, it's easier to keep the curve facing my G spot. This dildo has a bulbous head that comes to an ever so subtle rounded point that gently massages my G spot. Since it's wonderfully rigid, I can push the base toward my butt and force the head up into my G spot allowing me to achieve the pressure I need to really stimulate it.
Borosilicate glass is among the best materials for sex toys. It is nonporous, meaning there are no microscopic holes in which bacteria can breed. Because of this trait, Matthew's glass dildos can be sanitized by boiling for a few minutes or bathing in a 10% bleach solution. I usually just use antibacterial soap and water. A toy cleaner could also be used. One word of warning, take off your rings while you soap up your glass dildos. Once when I cleaned this beautiful dildo, I forgot to take off my wedding band and I ended up putting several scratches on it. I was pretty heartbroken about it so, don't make the same mistake I did. Always inspect your glass toys for chips or cracks before you use them. It's really difficult to break borosilicate glass but it can be chipped if you drop it. Another great advantage of glass toys is that you can use any kind of lube you want. Silicone, water based, or oil based will all work. And due to the sleek surface of glass, you need very little lube to keep it gliding smoothly. I think this dildo is perfect for vaginal G spot stimulation but it could also be used anally because its 2 inch wide base would prevent it from slipping into the rectum.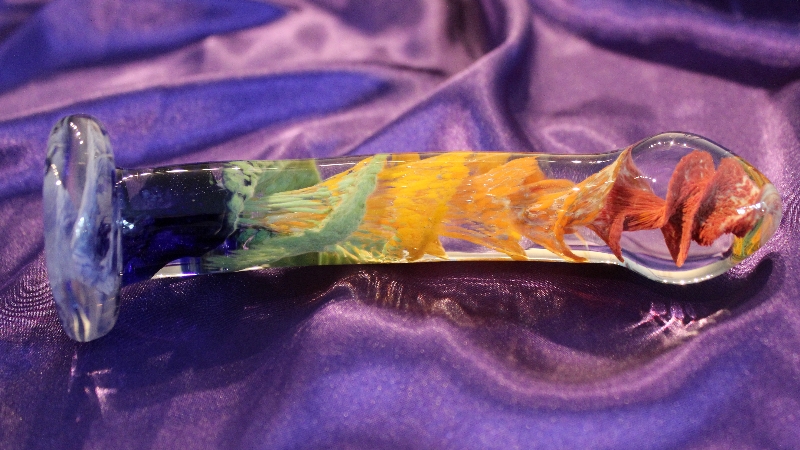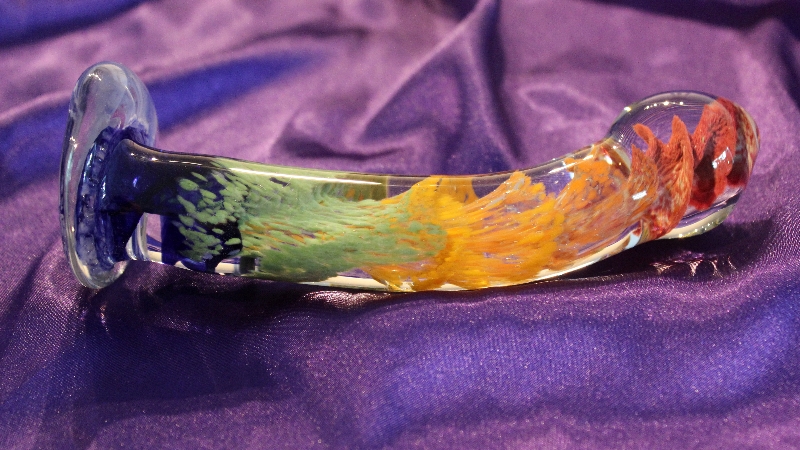 So if you're looking for something truly unique that nobody else will have and you believe in supporting artists and small businesses, I encourage you to stop by Matthew's Etsy shop. I can't imagine anyone not finding something they love. The prices are reasonable, especially when you consider you're getting a custom piece and if you don't see something that's perfect for you, talk to Matthew about what you have in mind.  And while you're there check out his Smiley dildos. If you're a fan of the njoy Pure Wand then you're sure to fall in love with his glass interpretation.
Like this? Want more of it? Subscribe!
| | | |
| --- | --- | --- |
| Get new posts sent to your inbox! | | |
| Get my sporadic newsletter filled with exlclusive deals, the latest sales and secret bonus giveaway codes. | | |