Want to support my blog? Clear your cookies, click the banner and shop!

Don't miss these great sex toy sales.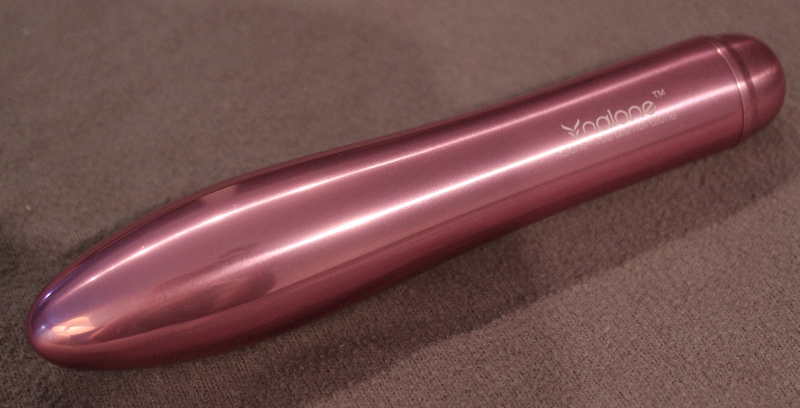 From the moment I saw the Nalone Amore, I was intrigued by the idea of an aluminium vibrator. I have one other sex toy made of aluminium and I love it but it doesn't vibrate. There is a large sex toy manufacturer that is set to release a line of aluminium vibes very soon but the Nalone Amore has hit the market first and I was excited to get my hands on one. I really like this vibrator and reach for it often. It's not something I've thrown in a drawer and forgotten about. However, there are a couple of things I would change.
Aluminium toys have all the great characteristics of stainless steel toys, without all the weight. It's nonporous and body safe, containing no latex or phthalates. Because it is nonporous, it can be sanitized in a 10% bleach solution. For quick and easy cleaning, antibacterial soap and water works well, as does toy cleaner. For insertable toys, Aluminium is great if you love rigid dildos with no give. But I had no idea if it would be a good material for vibrators. Having spent some quality time with the Amore I can tell you that aluminium is a fabulous material that carries vibration amazingly well.
I love the sleek, cool rounded tip of the Amore against my clit. With very little lube it glides with absolutely no drag. The vibration is concentrated toward the tip, where it should be and feels amazing when I stroke it against my clit. I like how the Amore gets wider just before the tip because the cool aluminium brushes against my labia. It stimulates the entire area around my clit and easily brings me to orgasm. That said, only the highest steady vibration can get me there. Which is a shame because the two lower steady vibration modes are actually pretty rumbly. They just don't have enough intensity to get me off.
The Amore has 6 patterns and so far, they haven't done much for me but honestly, I've not spent too much time with them. I've been happy with setting it on high steady and leaving it there. This vibrator is nicely weighted, allowing me to gently hold the handle and let it lie against my clit so the weight applies all the pressure I need. I tried using the Amore for internal stimulation and that was a waste of time for me. It's just not large enough to give me any real satisfaction and it gets incredibly slippery and hard to hold onto for thrusting. But as a clit vibe I really enjoy it and I think it could be nearly perfect with a few changes.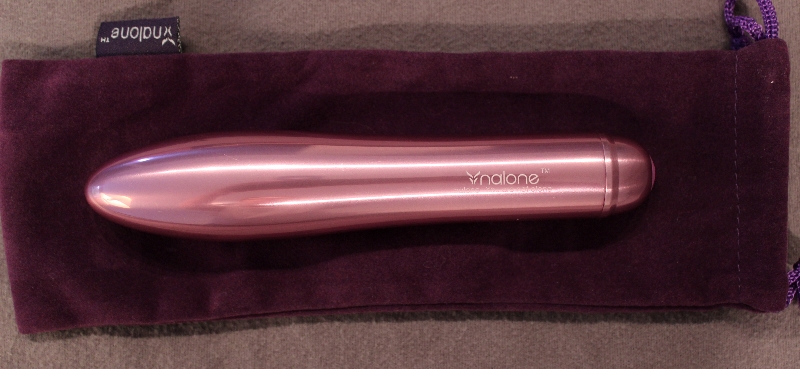 The first thing I'd change is to give it more power. This vibe would be outstanding with more intense vibration. Like I said, the low and medium steady vibration modes are on the rumbly side and would feel amazing if they were stronger. The highest steady vibration feels a bit buzzier but I still wouldn't consider this a very buzzy vibe. The aluminium does a fantastic job of transferring the vibration into my clit. I just keep yearning for more power.
I'm also not thrilled with how the batteries are inserted. The Amore uses three AAA batteries and they are inserted into a tray that is then inserted into the vibrator and the cap screws shut. It was a bit fiddly the first time I used it but I think I've mastered the technique at this point. The one nice thing about this tray is that it can be removed when you're not using the vibrator and if you're traveling, you won't have any accidental activations. The nice little padded, satin lined box even has a molded place for the vibe and another one for the battery tray.
This leads me to the biggest change that I think needs to be made to make the Amore an outstanding vibrator. For the price, it really should be rechargeable. I'm surprised that it costs as much as it does and uses batteries. Now some people may prefer batteries because as long as you have a spare set lying around, you're ready to play… instead of having to wait for a vibe to recharge. But for me personally, I think it needs to be rechargeable at this price poi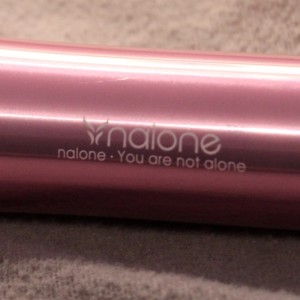 nt.
The Amore has a single push button that turns in on and off and cycles through the modes. You have to hold the button down for a couple of seconds to turn it on (it took me a minute to realize this) and you hold it for a few seconds to turn it off. There is no memory so it will always start at the lowest steady vibration. This vibe is waterproof so you can take it into the bath or shower and it makes cleaning it so much easier. It comes in one color, soft pink. So if you're one of the many out there who hate pink sex toys, you're outta luck. I would like to see this vibrator in some different colors but it's not a huge issue for me. "Nalone" is printed  near the end and under that it says, "You are not alone". This is kind of a strange thing to have printed on a vibrator. It sounds sort of pitiful. Like, as long as I have my beloved vibrator, I'll never be alone. It's not a big deal but I think it's kind of weird.
The packaging is nice and you'll have a pink box, lined in white satin to store your vibrator in. You'll also get a velvety purple pouch. The Amore is 6 3/8" end to end and it's 1 1/4" in diameter at the widest point.  This isn't the kind of vibrator that you want to stick in your ass.  It doesn't have a flared base and could slip up into the rectum and get lost.  This vibe isn't unusually loud and it's not going to be heard with the door closed. Since it's aluminium I think you can get away with using silicone lube but the manual specifies the use of water based lube. I can only assume that the membrane over the button is silicone, prompting the specification. As usual, if you want to play it safe, use water based lube only. The Amore comes with a one year warranty.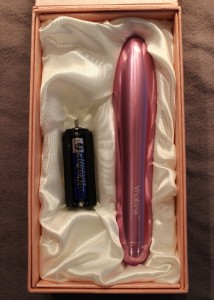 The Nalone Amore is a nice vibrator. It feels substantial and well made. It's good… but to make it great, I do feel that some changes need to be made. I enjoy it and use it regularly and I am happy to have it in my collection but I don't know if it is something I would have purchased because in that price range, I'd probably only be looking at rechargeable vibrators. The fact that it's aluminium and somewhat unique (for now, until that new line is released) lets me forgive it a little for using batteries. So, if you want an aluminium vibrator and you don't need very strong vibration, I'd say give the Amore a try. Right now, it's exclusive to Lovehoney and the great thing about shopping there is that they have the best return policy around. If you get it and absolutely don't like it (which I don't think would happen but ya never know), you can return it for a refund up to 100 days after the date of purchase.

Lovehoney sent the Nalone Amore in exchange for my honest opinion.
Like this? Want more of it? Subscribe!
| | | |
| --- | --- | --- |
| Get new posts sent to your inbox! | | |
| Get my sporadic newsletter filled with exlclusive deals, the latest sales and secret bonus giveaway codes. | | |