Want to support my blog? Clear your cookies, click the banner and shop!

Don't miss these great sex toy sales.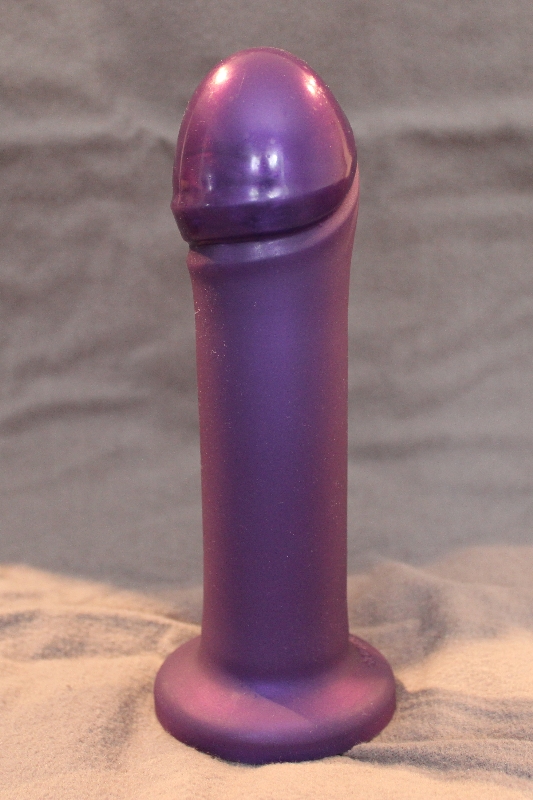 The Tantus Duke vibrating dildo (some call it a vibrator but it's really a dildo with the option to vibrate) is the largest I've tried so far and it's definitely pushing the limit of how much girth my vagina will accept. Honestly, I was a little apprehensive to try it because of its size but I just couldn't stop thinking about it and I finally gave in. I mean, it's just so alluring with that big fat head and that ridge, I just couldn't resist. It didn't take long to learn that I need to romance my vagina a little before I go shoving the Duke in there.
It goes in a lot easier if I warm up with something a little smaller first. I have gone straight to the Duke without warming up and getting the head in can be kind of uncomfortable for me. But once it's in and I proceed with some gentle thrusting, things get all kinds of better and before I know it, I'm thrusting with reckless abandon. And that's when I really start appreciating that imposing head. It leaves absolutely nowhere for my G spot to hide. It barges in on my G spot and roughs it up a bit, to show it who's boss. And then, just so I don't question its authority, Duke's ridge follows up with a one two punch.
If this sounds kind of aggressive that's because for me, it's exactly how the Duke feels. It doesn't make sweet love to me, it takes me forcefully and fucks the hell out of me. And sometimes, that's exactly what I'm looking for… but I really have to be in the mood for it. Otherwise, my vagina slams the door shut right in Duke's face. And even after I've been nicely loosened up from all that action, removing the Duke can still be a little uncomfortable. Getting that head past the threshold of my vagina is the real challenge, going both ways. I've mentioned before that certain dildos have a popping sensation as I insert and withdraw them. This is often enjoyable for me but that's mostly because the heads on those dildos aren't nearly as impressive as Duke's. But those couple quick moments of discomfort are totally worth it to me when I'm in the mood to really man handle my G spot.
All of this wonderfully aggressive G spot stimulation and I haven't even gotten to best part. You can make Duke vibrate if you want to. It has a cavity in the base that will fit an RO-80 sized bullet vibrator. It does come with a very basic 3 speed vibe that feels OK if you like buzzier vibration. But if you really want some knock your socks off G spot stimulation, I highly suggest you get either a We-Vibe Salsa (If you can find one. They've been discontinued.) or the equally awesome Tango. Tantus vibrating dildos and We-Vibe bullet vibes go together like peanut butter and jelly or Siegfried and Roy (OK, maybe not exactly like that). The We-Vibe Salsa (or Tango) is deliciously rumbly and more intense than the bullet vibe that comes with the Duke. Plus you'll have 4 patterns to play around with as well.  And I can't really describe how perfectly the vibration travels through Tantus' silicone. Many times when I'm using Duke (or the Tantus Purr, another vibrating dildo) internally, I just can't stop myself from taking it out, sliding it up to my clitoris and rubbing the vibrating head against it. It feels incredible and I'll want to keep going until I reach orgasm but then I'll stop myself put the Duke back in and continue with a vibe like the We-Vibe Touch simultaneously on my clit. Once I finally do reach orgasm with both of those toys in tandem, it's truly explosive.
Tantus toys are among the finest quality and safest sex toys you can get. They are so well made and will last you many years with proper care. Their platinum cure premium silicone is some of the best material you can stick in your body. It's nonporous, body safe and hypoallergenic. It contains no latex or phthalates and it can be sanitized by boiling for a few minutes (remember to remove the vibrator) or bathing in a 10% bleach solution. For quick and easy cleanup, antibacterial soap and water will work or you could use a toy cleaner.  And yes, that's lint you see in the photos.  Tantus toys tend to be lint magnets.
The hard and fast rule for silicone toys is that you should always use water based lube because some silicone lubes can damage some silicone toys. However, I've tested Sliquid Silk hybrid lube on Tantus toys and I haven't run into any problems. If you decide to experiment with silicone or hybrid lube, spot test an area on the base first to make sure that they are compatible. Oil based lube can also be used with silicone toys. It is generally advisable to keep oil based lube out of the vagina but it can be a very good option for anal toys. If you find that water based lube dries out too fast for long term butt plug wear, you could try coconut oil. I haven't done this yet but I plan to soon, with the Tantus Neo.
Duke comes in two gorgeous colors: Midnight Purple and the new Peacock. That large head I've been going on about is 2 inches in diameter, then the shaft tapers down to 1 5/8 inches in diameter. It is 7 ¼ inches long from tip to base and 6 ½ inches of that is insertable. The base is 2 ¾ inches across, which makes it safe for anal use (if you can handle that girth) and it's also harness compatible. The silicone has a matte finish up to the head, which has a glossy finish. There is some drag with this silicone, which is neither good nor bad, it just depends on what kind of sensation you prefer. Some women like grabby silicone pulling on their G spot. If you don't, just make sure to use a lot of lube.
I hope I've made the Duke sound like an awesome vibrating dildo because it really is. The size is a bit of a challenge for me but for some, the girth will be just right. It's versatile because you can use it as a basic dildo, or insert a bullet vibe and take the G spot stimulation to a whole new level. The Duke aggressively stimulates my G spot which isn't always what I'm looking for but when I am in the mood for it, damn it's good. I can absolutely recommend the Tantus Duke for anyone who thinks that the girth would not be problem for them. For those who know that it is too big, the Tantus Purr might be a good choice, if you enjoy texture.

Many thanks to SheVibe for sending me the Tantus Duke in exchange for my unbiased opinion.
Like this? Want more of it? Subscribe!
| | | |
| --- | --- | --- |
| Get new posts sent to your inbox! | | |
| Get my sporadic newsletter filled with exlclusive deals, the latest sales and secret bonus giveaway codes. | | |