Want to support my blog? Clear your cookies, click the banner and shop!

Don't miss these great sex toy sales.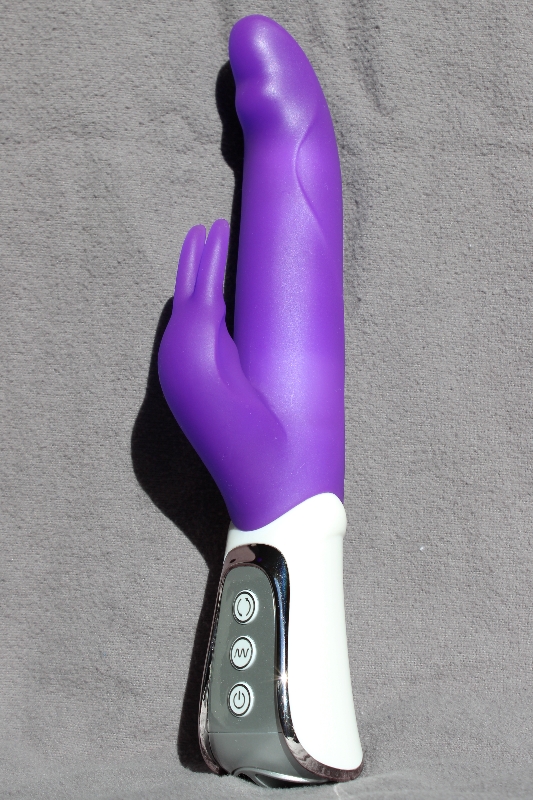 The Tracey Cox Dare Rabbit Massager was a total disaster for me. We were just not compatible in any way. Things didn't line up right, it assaulted my clit, the vibrations were buzzy and the rotating didn't quite rotate enough.
First off, getting the right rabbit style vibrator can be tough. Our vulvae are like snowflakes and no two are exactly alike so, you might end up with a rabbit that either overshoots too high or comes in too low and completely misses its mark. The Dare Rabbit's ears hit me just below my clitoral glans. It was very frustrating because there's not enough flex in the clitoral arm of the vibrator to bend it up where it might have comfortably rested where I needed it to. For my anatomy, I needed the clitoral arm angled upward quite a bit more. There's no way I can tell you if this vibrator will work for you because of the differences in anatomy. I think until manufacturers start giving the angle of the clitoral arm in relation to the shaft, it's going to be hit or miss when trying out rabbit vibrators. Alright, so the bunny ears didn't land on my clit but that wasn't the worst of it. The ears are a stiff silicone and they kept stabbing me just under my clit. It was not comfortable… at all. I think if the ears were made of a softer silicone, it might not have been so bad.
I barely restrained myself from hurling it across the room, finished my session with one of my favorite clit vibes, cleaned everything up and proceeded to amputate the rabbit's ears with the kitchen shears. This vibrator truly deserved to be mutilated and I wanted to see if it worked any better for me without those horrendous ears poking me and guess what… it did! Now I'm not gonna say I turned this vibrator into something that I'm going to reach for on a regular basis but at least now, it doesn't fucking hurt and yes, it did give me an orgasm but begrudgingly so.
The vibration in the clitoral arm is quite buzzy and while this might not be a problem for some, it's not what I really want in a vibrator. I can still get off on buzzy vibes but I don't enjoy it as much. I don't feel it down deep like I do with more rumbly, thuddy vibrators. But without its ears I could ease this rabbit vibe in deep enough where the head of the clitoral arm nuzzled up against my clitoris. It still hit me a little too low but now I could angle the handle of the vibrator up and get it to reach my clit better. Really though, masturbating should not be this much work and you shouldn't have to cut parts off modify your toys.
The vibrator in the clitoral arm has 3 levels of steady vibration and 4 patterns. The highest steady vibration is the only thing that really worked for me. The tip of the shaft rotates at three speeds but that was kind of a disappointment too because I barely felt anything. I think it would have been more stimulating if the tip rotated in a wider circle. It's just not really enough movement to do much for me.
The Dare Rabbit has three buttons. The bottom button turns it on and off. The middle button cycles through the vibration modes and the top button controls the three rotating speed settings. The packaging says that this vibrator is "water resistant" but warns against submerging it. It uses three AAA batteries and they are inserted into a tray that is then inserted into the vibrator and the cap twists shut. The silicone has a matte finish and not much drag. The Dare Rabbit is about 9" long and 3 ¾" of that is insertable down to the clitoral arm (this is after I cut off the ears). The head is 1 ¼" in diameter and it is 1 3/8" midshaft. This vibrator can be cleaned with antibacterial soap and water or with a toy cleaner. If you need to sanitize it, you could try wiping it down with a 10% bleach solution but you wouldn't be able to dip it since you can't submerge it. Your best bet is to use water based lube because some silicone lube can damage some silicone toys. This vibrator is relatively quiet but the rotating tip does make a bit more noise than I'd like. It does not come with a storage pouch but a ziplock bag works in a pinch.
I really don't know what to say to wrap up my review of the Tracey Cox Dare Rabbit Massager. I just didn't like it.  I appreciate that it was sent to me in exchange for my opinion but I would have been disappointed if I'd bought it. Part of the reason for this negative review is that the vibrator is not compatible with my anatomy and that's just a problem inherent to rabbit vibrators. Even if it weren't for the stabby ears, buzzy vibration and boring rotation, I'd still have a hard time recommending this vibrator because I don't know who it's going to fit and that's just how it goes with rabbit vibes. Even if I loved it and told everyone that they needed to have one, it still wouldn't be right for some because things wouldn't line up right. But all is not lost, you can still try out a rabbit vibe without worry because Lovehoney has the best return policy around. They accept returns up to 100 days after the date of purchase so that means you can go ahead and give one a try and get your money back if it's not right for you. So, if you're thinking about buying a rabbit vibrator, I can think of no better place to purchase it than Lovehoney.

Lovehoney sent me the Tracey Cox Dare Rabbit Massager in exchange for my unbiased opinion.
Like this? Want more of it? Subscribe!
| | | |
| --- | --- | --- |
| Get new posts sent to your inbox! | | |
| Get my sporadic newsletter filled with exlclusive deals, the latest sales and secret bonus giveaway codes. | | |