Want to support my blog? Clear your cookies, click the banner and shop!

Don't miss these great sex toy sales.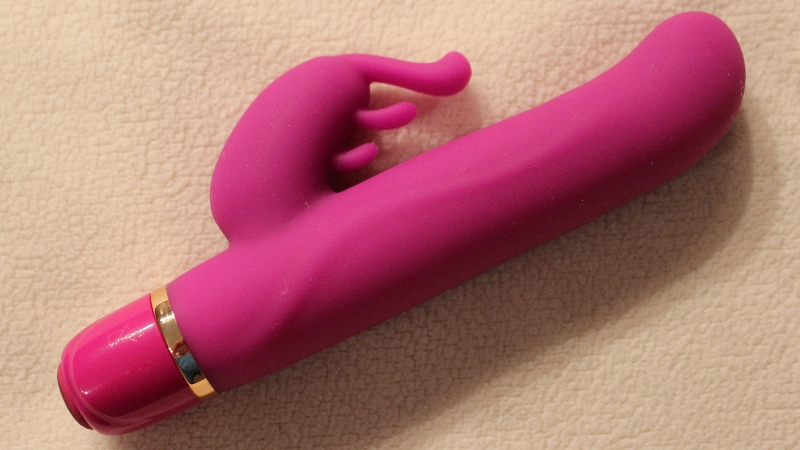 Using the Cal Exotics Entice Lillian is like déjà vu all over again. I'm running into the same problem I had with the last rabbit style vibrator I tried. The clitoral arm doesn't reach my clit. It hits me just below where I need it. So obviously, since it doesn't fit my body, I can't give it a glowing review but at the same time, I don't think it's all that bad either.
Getting a rabbit vibe that fits you can be tough. I assume that manufacturer's design them according to the measurements of the average vulva. Based on the experiences I've had so far, I'm led to believe that my clitoris sits a bit higher on my vulva than average (I'll have to investigate this further one day). So, whether or not a rabbit vibe fits you is going to depend a lot on the length of the clitoral arm and also its angle relative to the shaft of the vibrator. Pretty complicated things to try to figure out when all you want to do is buy a vibrator. And even if you did make measurements of your vulva, you usually can't have access to the vibe and don't have the chance to take it from its packaging to measure it. And who's going to take calipers and a protractor into a sex shop anyway? Well, I would actually but I'm a weirdo.
So, is it even worth bothering with rabbit vibes at all? I'm not sure about that myself. I keep thinking: maybe the next one will fit right and you never know until you try. That's all fine and good if you're getting them in exchange for reviews but it's a whole different story when you're spending your hard earned cash. I wish I had something more encouraging to tell you. But I really think the fact is, finding the right rabbit vibe is just going to be mostly trial and error.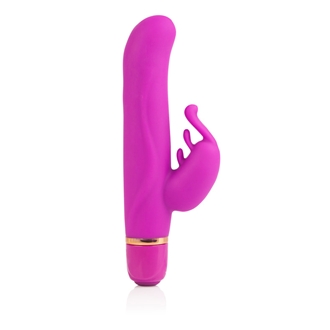 One thing that would help in my case is an adjustable clitoral arm. Since they hit me too low, it would be nice to have the ability to angle them up slightly. Then just push the shaft in a little deeper and voil`a, I'd have contact with my clit. But I have a sneaking suspicion that even if I could get the clit arm in place, the G spot location will be thrown off. Tedious business, these rabbit vibes. I'm thinking two separate toys are my best bet for dual stimulation. But maybe you shouldn't take my gloom and doom to heart. You might just hit the bulls eye with the first rabbit vibe you buy. It could happen like that. But I just want to share my perspective so women know that they can run into these problems. I have heard that there are some rabbit vibes on the market with adjustable clitoral arms and I'd be really interested in trying one of those.
So OK, enough with the complaining about fit. I think you get the point. Even though it didn't fit me, I think generally this is still a decent little vibrator. Now I'm not saying it compares to some of my more expensive, rechargeable luxury vibes but for what it is, it's not bad. I actually kind of like the tone of the vibration in the clitoral arm. The low and medium steady vibration modes are actually a bit rumbly but unfortunately not as intense as I'd like. But still when I turn this vibrator over, upside down to where the top of the clit arm is against my clit (the only way I can get this vibe to work for me), it feels quite nice. Speaking of the clit arm, I just have to say that I'm so glad it's not shaped like a bunny, dolphin or butterfly. I'm not really sure what it looks like, maybe something alien but I'm just happy that Cal Exotics recognized that it doesn't need to be a cutesy animal tickling my clit.
I love the very beginning of the first pattern. It's like thuddy…thump thump thump and I wish the entire rhythm stayed like that but it continues to ramp up in intensity and into a buzzy vibration, then it drops and repeats. It would be perfect if I could just lock in the beginning of that pattern and play it over and over. I've noticed that the strongest vibration is felt in the clit arm and it gets weaker out toward the tip of the shaft. The packaging says there are two motors but I still don't feel as much in the shaft as I do in the arm.
I think this vibrator is kind of loud. It has an interesting sound, especially on the high steady mode where you can hear it start to resonate. The geek in me thinks it's pretty cool but someone trying to be discreet might not appreciate it. The first time I turned the Lillian on, dizzyguy said it sounded like it was going to come apart. I wouldn't go quite that far but it does sound unusual.
I am strangely mesmerized by how the little clit ticklers move on the various patterns. I don't know why it amuses me but it does so, I thought I'd share and maybe if we're lucky, some of the sound will come through too.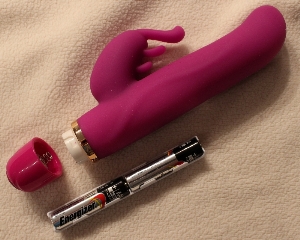 This vibrator uses 2 AAA batteries that are snapped into a small plastic tray that slides into the battery compartment and the cap twists shut. The Lillian is waterproof and made of body safe materials like silicone and plastic. They are safe because they're hypoallergenic, nonporous and contain no latex or phthalates. Being nonporous means you can sanitize this vibrator in a 10% bleach solution or for everyday cleaning, antibacterial soap and water work fine, as does a toy cleaner. The silicone has a matte finish and minimal drag on the skin. It feels kind of soft and velvety. As usual with silicone sex toys, it's advised that you use water based lube only because some silicone based lubes can damage some silicone toys. Notice, I said "some". I have successfully used silicone lube on silicone toys with no damage occurring. It's up to you if you want to risk it. If you do, just spot test a small, out of the way area to make sure the two are compatible.
The Lillian has a single push button that turns it on and cycles through the various functions: 4 patterns and 3 levels of steady vibration. You hold the button for a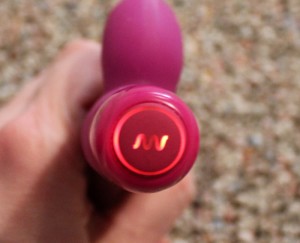 couple of seconds to turn it off. While in use, the cap illuminates and pulsates along with the vibration. You can get this vibrator in two colors: Purple and Raspberry. The packaging is very basic and not a great option for storage and it doesn't come with a pouch but ziplock bags work fine for me. As with all battery operated vibes, you should remove the batteries if you're not going to be using it for a long time. Left unused, batteries inside a vibe can corrode and ruin it. The Lillian is about 6" from end to end and only 2" from the tip to the first clit tickler finger thingy. The shaft is 1" in diameter.
The Entice Lillian doesn't work for me but so what? It might work for you. And there's no way that I can tell you whether it will or won't. But if you luck out and it fits, then I think you've got a decent little vibrator at a reasonable cost. It could stand to have a bit more length and girth on the shaft but if you have a shallow G spot and don't yearn to feel full then the dimensions might be just right for you.

California Exotic Novelties sent me the Entice Lillian in exchange for my honest opinion.
Like this? Want more of it? Subscribe!
| | | |
| --- | --- | --- |
| Get new posts sent to your inbox! | | |
| Get my sporadic newsletter filled with exlclusive deals, the latest sales and secret bonus giveaway codes. | | |