Want to support my blog? Clear your cookies, click the banner and shop!

Don't miss these great sex toy sales.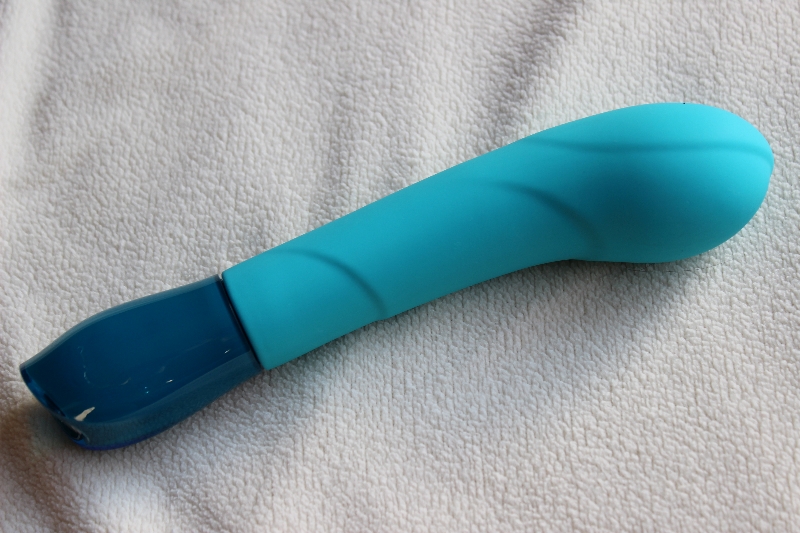 The Key Ceres G Massager surprised me, in a good way. It's not something that really caught my attention before but I was offered the opportunity to review it and since Key makes one of my favorite sex toys (the Key Comet Wand), I figured it was worth a try. I wasn't expecting much but it kind of impressed me once I used it.
Key makes the Ceres and Ceres G vibrators. The Ceres is shaped more like a traditional vibrator but they gave the Ceres G an enlarged bulbous head. And that head does a really good job of stimulating my G-spot. It vaguely reminds me of the Key Comet Wand, though it's not nearly as good at targeting my G-spot as the Comet. I think it's the silicone that feels similar. It has kind of a grabby sensation against my G-spot. This might not sound appealing but I really enjoy the feeling.
The head is large enough that it easily hits my G-spot. I don't have to go searching for it with this vibrator. I just insert it and it's there, right where it needs to be. It feels pretty good just using it as a dildo but then the vibration kicks things up a notch. It's hard not to compare every other G-spot vibrator to the amazing LELO Mona 2 but it really is the best and once you've had the best, it's difficult for anything else to wow you. So, I can't use words like "amazing" or "intense" to describe the Ceres G but it does feel good and if you don't need really strong vibration then you'll probably be satisfied with it. When paired with a clit vibe, it does give me blended orgasms.
The Ceres G has 7 vibration modes.  It starts on a steady vibration (High), then the next mode (High 2) feels like something in between steady vibration and a pattern. It's kind of a ripple and it's probably my favorite. The remaining 5 modes are varying patterns of escalation and pulsation. The Ceres G has the same modes as other Key vibrators I've tried, including the Charms vibrators and the Pyxis, plus 2 more modes: Wave and Flutter.  There is a single push button and you hold it for 3 seconds to turn it off.
The silicone has a matte finish and it feels silky against the skin. It's the same silicone that is used on my beloved Comet and it produces that pleasantly grabby sensation against the G-spot. The plastic and silicone construction of this vibrator means that it's nonporous, body safe and pththalates free. Antibacterial soap and water or a toy cleaner can be used to clean it.  There is a seam where the silicone meets the plastic and it might need to be scrubbed with an old toothbrush.  If you need to sanitize it, bathe it in a 10% bleach solution. Key specifies the use of water-based lube and that's probably a good idea since some silicone lubes can damage some silicone toys.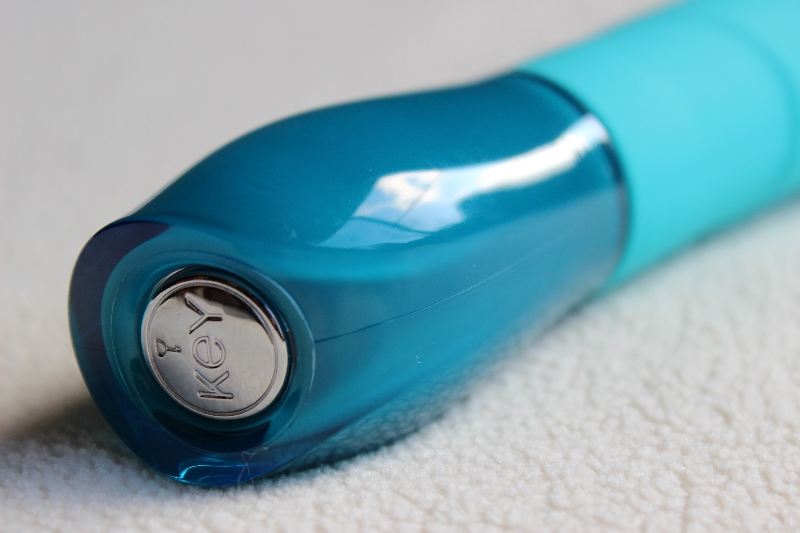 You'll need 2 AAA batteries for the Ceres G. There is a clear plastic sleeve in the battery compartment. Don't throw it away, it's meant to stay in there. It prevents the batteries from rattling. The batteries are kind of a tight fit and I had to give it a good shake to get them out. I really wish Key would have made this vibrator rechargeable and for the price point, I think they could have done it. Key states that a set of batteries should get you 1.5-2 hours of run time. Remove the batteries if you won't be using it for an extended period of time. This vibrator is pretty quiet and the sound is comparable to most other vibrators I have. It's not something that will be heard outside a room with the door closed. The Ceres is waterproof so feel free to take it with you into the bath or shower. It measures 8″ from end to end and 5.75″ is insertable. The maximum girth is 1.59″. It comes in three colors: pink, blue and lavender. A black satiny storage pouch is included and the Ceres G has a one year warranty.
The Ceres G doesn't rock my world but it is a nice vibrator and I do enjoy using it. It does a good job of stimulating my G-spot. If you don't need really strong vibration then I think this vibrator could work for you. It's not on the same level as the LELO Mona 2 but I doubt that many are. So, if you have that vibrator, I honestly can't say you need this one but then, the Ceres G might be perfect for you if you're new to sex toys and looking for a well made, mid-priced vibrator.

Good Vibrations provided the Key Ceres G in exchange for my opinion.
Like this? Want more of it? Subscribe!
| | | |
| --- | --- | --- |
| Get new posts sent to your inbox! | | |
| Get my sporadic newsletter filled with exlclusive deals, the latest sales and secret bonus giveaway codes. | | |