Want to support my blog? Clear your cookies, click the banner and shop!

Don't miss these great sex toy sales.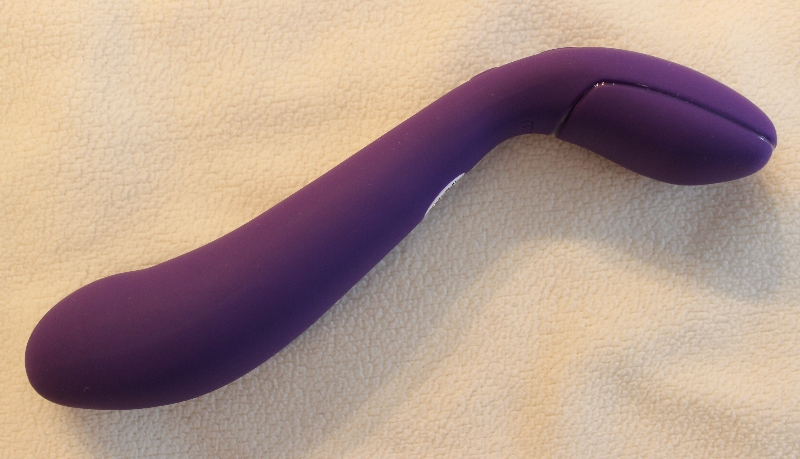 The Minna Life Ola definitely wins the award for most innovative vibrator. This thing is just down right cool. It's like a drum machine for your vagina. I love sitting around playing with it and masturbating with it is pretty awesome too. If you get bored with the patterns on other vibrators you have to try the Ola. You're only limited by your imagination.
So, the way this thing works is, you create your own rhythms and patterns, then the Ola plays them back to you, looping over and over again, until you decide you want to create a new one. Or, if you like the pattern you've created you can lock it in. The only thing it can't do is remember a pattern. So, if you created one that just sings to your vagina, you can't shut it off and keep it for when you use it next time. That would be an awesome feature to have and I bet it wouldn't be that difficult to implement.
The controls on the Ola are like nothing else you've seen. There are two buttons: one for power and the other controls recording… ok, that's not so unusual. But, the soft spot, or squeeze pad as I like to call it, is all kinds of cool. The end of the handle is like a little squishy pillow and you squeeze it to make Ola vibrate. So, you turn it on and start out in Free Style mode. That's where you can just squeeze the soft spot as much as you want in any pattern that you want but it doesn't lock anything in. It's very intuitive because the harder you squeeze it, the more intense the vibration becomes. But when you stop squeezing, Ola stops vibrating.
That's where the Loop Mode comes in. From Free Style mode, press the record button (it's the larger of the two). The button will continuously blink while you're in the Loop Mode. Now you can squeeze the soft spot in any kind of pattern you want, stop and wait a second and Ola will start playing your pattern back to you over and over, until you squeeze the soft spot again. Once you do that, you break the loop and it's ready for you to create another pattern.
If you come up with a pattern you really like and you want it to keep going without being interrupted by an accidental squeeze of the soft spot, you press the record button once more. Now your pattern is locked in and it just keeps playing over and over, even if you squeeze the soft spot. When you want out of the Lock Mode, you simply press the record button again and you're back in Free Style mode. Sound complicated? It's not really. You get the hang of it pretty quick.
There was one thing that I wasn't too happy about with the Ola. It doesn't vibrate unless you tell it to, by squeezing the soft spot. So I thought this meant that there was no way to have just a continuous steady vibration without squeezing the soft spot all the time, which gets annoying and uncomfortable with the way the handle is angled (more on that in a bit). But it turns out, I was wrong. You can lock in a continuous steady vibration. I found this out while I was discussing the Ola with other reviewers on twitter. To do this, you go into the Loop Mode and squeeze the soft spot, holding it at your desired intensity and at the same time, press the  record button and release.  It should then continue to vibrate steadily at the intensity that you held it at.  Then you can relax your hand and hold the Ola any way you want without interrupting the vibration. So, that's pretty cool and I like this vibrator a lot better now that I know you can do this.
So, I've mentioned that you have two buttons. The smaller one is for power and when you press it, Ola will vibrate, once, twice or three times. Three times means you have a full charge. One time, means it's time to recharge it. To turn it off, you hold the power button for a couple of seconds. The record button (the larger one) blinks while it's in Loop Mode and glows steady in Lock Mode. Those two buttons plus that incredibly innovative soft spot (squeeze pad) are all you have to fiddle with. Once you get the hang of it, operation is really very intuitive.
Now you know how Ola works but how does it feel? Absolutely incredible. This vibrator is not a technical gimmick. It really is a kick ass, G spot seeking vibrator with a nice rumbly vibration. The shape of the shaft just feels perfect and effortlessly finds its way to my G spot. The vibration at its highest intensity is between moderate and powerful, where powerful might be the LELO Mona 2. So, it's stronger than moderately powerful but I still wouldn't mind just a little more. Regardless, it's still awesome and like I mentioned, the vibration is refreshingly rumbly so it really travels through the entire pelvic area, stimulating the G spot and into the internal clitoris. I can't have orgasms from internal stimulation alone but when I use the Ola along with one of my favorite clit vibes the orgasms are out of this world good. My clit also loves the Ola when I pull it out and use it externally. It easily gives me orgasms that way as well.
I mentioned that the handle was kind of uncomfortable to hold. It's because of the angle at which it tilts down. I'm already reaching and stretching for the handle but I have to stretch just a bit more because it's slanted away from my hand. This is a complaint I have with many G spot dildos and vibrators where the handle is curved or angled down. For me, I get the best G spot stimulation from pushing down on the handle, forcing the head of the toy up into my G spot. When the handle is curved away from me, it's just that much farther I have to stretch to push it down. I wonder why more manufacturer's don't make G spot toys with a handle that curves up, kind of like the njoy Pure Wand. Then it would be easy to push down on it and get the pressure against the G spot that so many women need. So, that's one more little thing that I would change about the Ola. To make the ultimate Ola, I would change just a couple of things: 1. have memory so you can keep a pattern you like and 2. have a handle that angles up instead of down.
The Ola is made of body safe silicone with a matte finish that feels silky soft against the skin and there is very little drag. There is no squish to the Ola, it is completely rigid. Since it is made of silicone, that means it is hypoallergenic, nonporous and latex and phthalates free. You can wash it with antibacterial soap and water or use a toy cleaner. To sanitize it you can bathe it in a 10% bleach solution. It's waterproof so that makes cleaning easy and you can take it into the bath or shower. It's probably best to use water based lube since some silicone lubes can damage some silicone toys.
Ola has a USB charger with a magnetic connection. While it is charging the power light blinks and both lights blink when fully charged. Ola's innovative soft spot can become deflated when changing altitude so, if you've traveled with it on a plane and the soft spot doesn't feel right, you're supposed to push the plug end of the power adapter into the small travel vent on the handle. This will re-inflate the soft spot.
The Ola is 7 3/4″ long from end to end and about 4 1/2″ is insertable up to the location of the magnetic charger contacts. It is 1 1/2″ in diameter at the widest point and there is a subtle upward curve of the shaft. It comes in two colors: pink and violet. I usually don't care enough about packaging to mention it but I really do like Ola's packaging. Everything's round. The "box" is cylindrical, the manual is round and the base of the cylinder makes a nice stand for the Ola, if you wanted to use it that way. The charger also tucks away nicely inside the base. A storage pouch is included and Ola comes with a one year warranty.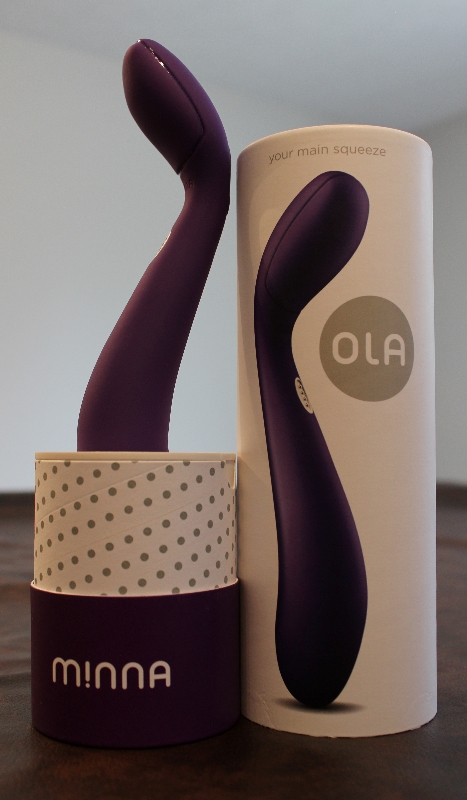 The Minna Life Ola absolutely sets itself apart as an innovative sex toy with technology and functions that aren't found elsewhere. It certainly delivers as a G spot vibrator and the vibration is strong enough to satisfy me. Despite my small complaints, the Ola is still the coolest sex toy I own and if you want something totally different than what you already have then I think you should definitely get one.  And if you decide to purchase the Ola within 30 days of this review's publishing date, you can get 10% off when you use the code DIZZYGIRL2013.

Minna Life sent me the Ola in exchange for my unbiased opinion.
Like this? Want more of it? Subscribe!
| | | |
| --- | --- | --- |
| Get new posts sent to your inbox! | | |
| Get my sporadic newsletter filled with exlclusive deals, the latest sales and secret bonus giveaway codes. | | |