Want to support my blog? Clear your cookies, click the banner and shop!

Don't miss these great sex toy sales.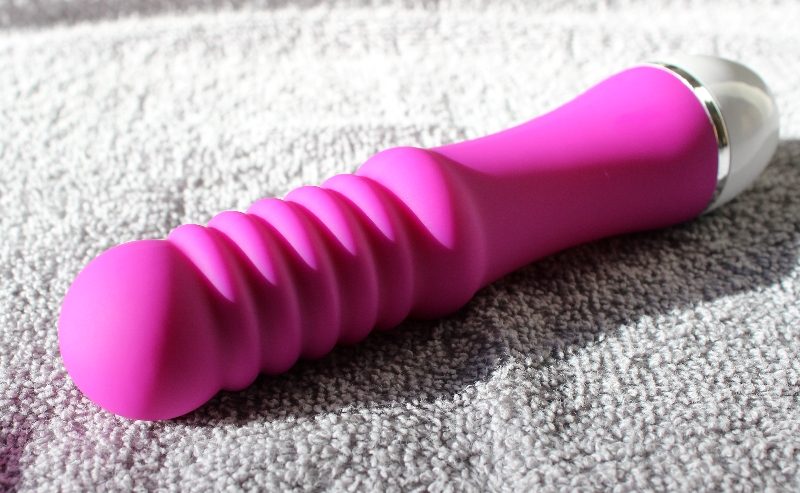 I think I'm becoming a sex toy snob. I sort of already was from the get go in terms of only selecting toys made of the highest quality, body safe materials (if that qualifies me as a snob). But now, it seems like it's getting harder to impress me… and I haven't been doing this reviewing thing very long. So, it makes it a little difficult when I review something that has absolutely nothing wrong with it but doesn't wow me. That's how I feel about the Pipedream Le Reve Jolie.
It's a solid, basic vibrator with no real faults that I can find yet, I'm a bit bored by it. That doesn't mean it's a bad toy. Is it possible that I'm becoming jaded already? Then again, as always, something might not be my thing but someone else could be perfectly happy with it and I think that applies to this vibrator.
The Jolie is a well built, affordable, basic vibrator. It doesn't have all the bells and whistles but if you're just starting out with sex toys or have no interest in patterns and such then the Jolie could be a good buy. The vibration is moderately strong. I'd say it's maybe a 3 out 5 in terms of strength. It has ridges on the shaft that add a little something extra, making it more special than other basic vibes in the same price range.
This vibrator has three speeds and they're not too overly buzzy. I actually like the way the vibration feels, I would just prefer more power. If you don't need a super strong vibrator then this one is perfect. It has a single push button in the base that cycles from low, medium, high to off. It runs on two AA batteries. It's waterproof which makes cleaning it really easy and you can take it into the tub or shower. The entire vibrator is made of solid ABS plastic and it feels substantial. It's heavier and sturdier than a lot of basic vibrators in the same price range. The shaft has a matte finish that is soft and velvety. Pipedream calls it Luv Touch and I really like this kind of finish on a plastic vibrator because it reduces drag quite a bit.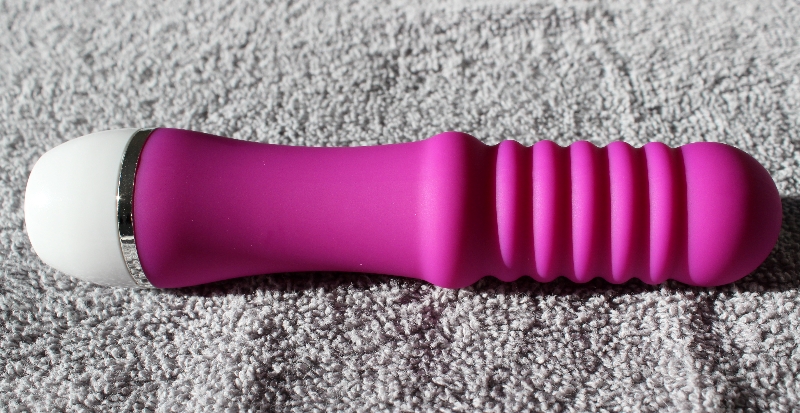 Since it's made of ABS plastic, it's safe for your body because it's nonporous and free of phthalates. It's easily cleaned up with some antibacterial soap and water or you could use toy cleaner and if you need to sanitize it, you can bathe it in a 10% bleach solution. You're free to use any kind of lube you prefer with this vibrator. The Jolie is fairly quiet and will probably not be heard outside a room with the door closed. The packaging is basic and it doesn't come with a storage pouch but ziplock bags work fine for me. As with all battery operated vibrators, if you're not going to use it for an extended period of time, remove the batteries. Otherwise, they could corrode and ruin your vibrator.
There are three Le Reve vibrators called Jolie and they're all shaped differently.  The pink Jolie has two ribs on the shaft. The dark pink Jolie has raised beads. This Jolie is the purple one and it has 5 ribs on the shaft. The head of this vibrator is perfectly rounded and then the shaft transitions into the series of ribs. Following the ribs, it bulges slightly then tapers a bit and flares back out toward the base. It is 6 1/2″ long end to end and 5 1/4″ down to the base. It is 1 3/8″ in diameter at the widest point. I don't recommend using this vibrator anally. It's not made for that and as such, it doesn't have a flared base that would prevent it from slipping into the rectum.
The packaging for the Jolie claims that it's "perfect for beginners". That phrase is thrown around quite a bit but in this case, I think it's appropriate. It's not a huge investment and yet, it feels solidly built. This vibrator just didn't do much to excite me. I think I'm getting spoiled by G spot vibrators and I couldn't get that kind of stimulation from this one. I was kind of bored using this vibrator internally but it did feel good on my clit. And that's just my take on this vibrator. It doesn't mean that someone else wouldn't be perfectly satisfied with it.
Update: Before you consider buying Pipedream products, please take a moment to read this.

Pipedream sent the Jolie in exchange for my unbiased review.
Like this? Want more of it? Subscribe!
| | | |
| --- | --- | --- |
| Get new posts sent to your inbox! | | |
| Get my sporadic newsletter filled with exlclusive deals, the latest sales and secret bonus giveaway codes. | | |