Want to support my blog? Clear your cookies, click the banner and shop!

Don't miss these great sex toy sales.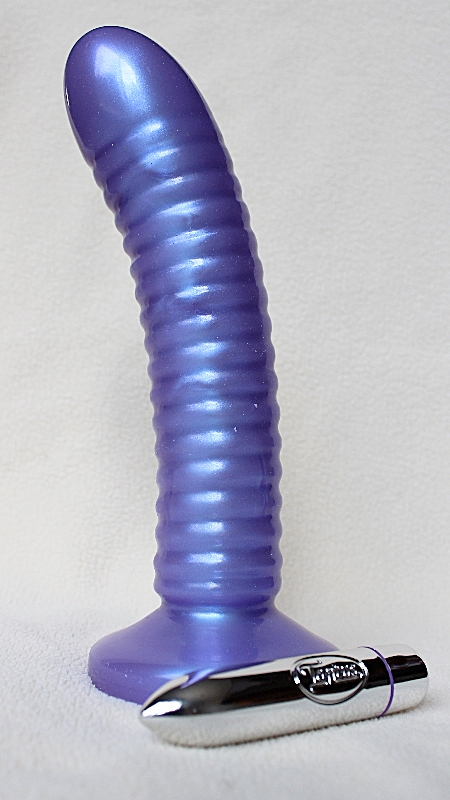 Hang on, it's gonna be a bumpy ride. The Tantus Purr is ribbed for your pleasure and forget about those silly ribbed condoms, this dildo's ribs mean serious business. It makes for a truly special sensation that is still mild enough for those who are new to texture. My vagina is very discerning when it comes to texture. Sometimes she likes it other times, not so much… and I have no idea how she makes up her mind about that but she definitely approves of the Purr.
The Purr is one of Tantus' vibrating dildos. It has a cavity in the base that can accommodate an RO-80 sized bullet. That means the incredible We-Vibe Salsa (or Tango) fits in there and turns this dildo into a vibrating masterpiece. You get the deep rumbling vibration of the Salsa coupled with the undulating ribs and together, it's pretty awesome. Ya know how it feels when you run over the rumble strips on the side of the road? It's kind of like that, only in your vagina (or ass, as the case may be). The Purr does come with a basic bullet vibe but trust me, do yourself a favor and get either the Salsa or the Tango. The Salsa works so well with Tantus' vibrating dildos that they ought to be offered as a set.
The Purr is a nice Goldilocks size for me. It doesn't stretch me like the Duke does but it's not so small that I get bored with it. It's just enough. Size queens, however, might be left wanting. And even though it's not explicitly designed for G spot stimulation like say… Tantus' G-Spot Vibe (Which also rocks, by the way. Review on that one is forthcoming.), it does have a subtle curve that allows the head to just skim my G spot. If your G-spot is stubborn and hard to stimulate then I don't know if the Purr will do it for you but it's still worth the price of admission for the ribs alone. Much like some of Tantus' other sex toys the Purr is made from a firm silicone. There is a slight bit of give yet it's rigid enough to get a nice thrust.
Care and cleaning of this vibrating dildo couldn't be easier. You can simply wash it in antibacterial soap and water or use a toy cleaner. But if you're sharing or using it anally and vaginally then you'll want to sanitize it. You can accomplish this by boiling it for about three minutes (never letting it touch the sides or bottom of the pot and make sure to remove the vibrator) or you could bathe it in a 10% bleach solution. Tantus doesn't give you a storage pouch for the Purr but ziplock bags are an inexpensive way to safely store it. You just want to make sure that it is completely dry before you seal it up in the bag.
You get a fair amount of drag with this dildo but it's nothing a little lube can't fix. Water-based lube is usually recommended for silicone sex toys because some silicone-based lubes can damage some silicone toys. But I and others have successfully experimented with silicone lube on our silicone sex toys and it is possible to use them together. You just always want to do a small spot test in an area that won't be inserted into the body. If the lube on the test spot gets gummy and sticky, scrape the lube off and wash well. It's also probably a good idea to retest whenever you buy a new bottle of lube, even if it's the same brand, because they could change the formula.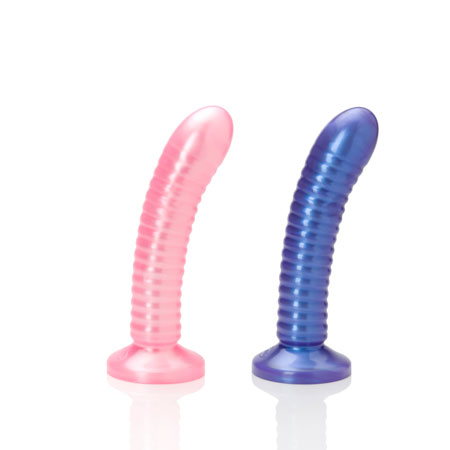 As with all their products, the Tantus Purr is nonporous, hypoallergenic, body safe and phthatlates free because it is made of their premium platinum-cured silicone (and nothing else). This dildo comes in two iridescent colors: Purple Haze and Pink Pearl. It is 8" long end to end with 7 insertable inches. It is very slightly tapered from the head to the base and the maximum girth is 1.5". The base is 2.75" across and that makes this dildo safe to use anally and it's also harness compatible.
I don't always enjoy textured sex toys but the Tantus Purr agrees with me. The ribbing does provide very obvious stimulation but I think it's still gentle enough for someone who is just starting out and is curious about texture. It's nicely sized but there are times I do want more girth and for that Tantus has plenty of alternatives. Tantus toys will last you many years with proper care so, when you buy their products you're not only spending your money wisely, you're also investing in the healthy pursuit of pleasure.

Tantus provided me with the Purr in exchange for my unbiased opinion.
Like this? Want more of it? Subscribe!
| | | |
| --- | --- | --- |
| Get new posts sent to your inbox! | | |
| Get my sporadic newsletter filled with exlclusive deals, the latest sales and secret bonus giveaway codes. | | |