Want to support my blog? Clear your cookies, click the banner and shop!

Don't miss these great sex toy sales.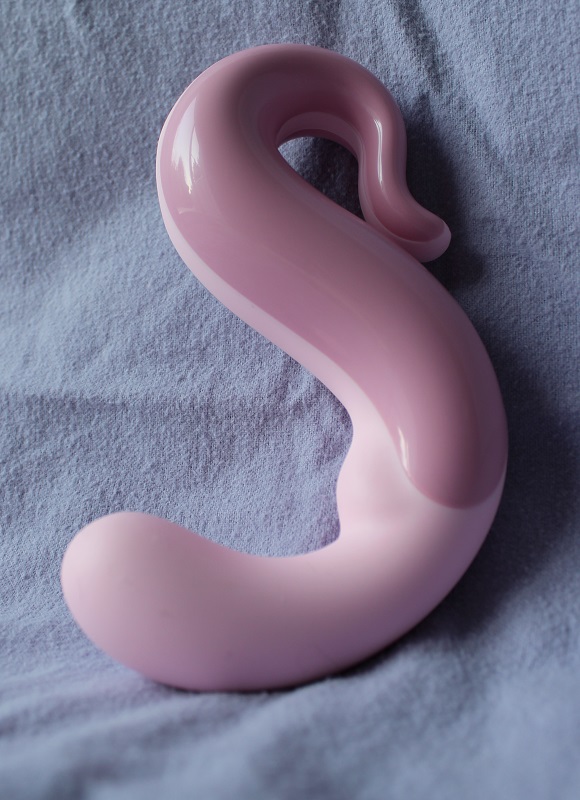 The Fun Factory Delight confuses my vagina/vulva/clitoris. They don't quite know what to make of it and frankly, neither do I. Fun Factory calls the Delight, "the Rolls Royce of vibrators". Based on that analogy, I imagine trying to drive a Rolls is a bewildering experience that leaves you wondering: what's it all for? I don't get it. I really don't. Is it supposed to be a dual stimulator? I think it is but… how?
When I go for G-spot stimulation, it misses my clit entirely and when focused on my clit, it misses my G-spot. The only way I've figured out how to use it is to insert it, laying the handle portion against my body, then rocking it ever so slightly, grinding it against my clit. And where my clit makes contact on the Delight is just no good at all. It's halfway up the handle, well away from where the vibration is concentrated. And that leads me to another problem. I assume that this vibrator has one motor and it is located somewhere near that little hump and that's where you feel the strongest vibration. So, I don't get strong vibration at my G-spot or my clit. Speaking of that weird little hump… my best guess is that it was meant to be a clit stimulator but they missed it by about 1 3/4", based on my anatomy.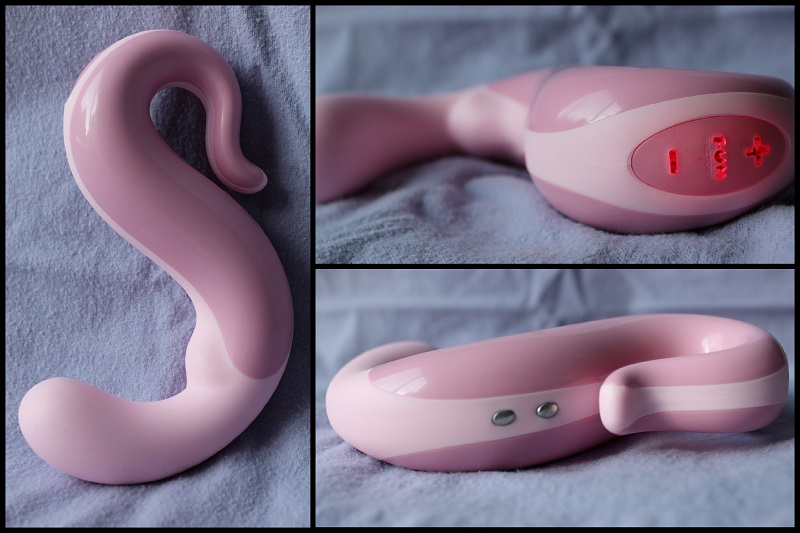 So OK, it doesn't work for dual stimulation, like at all. Maybe it works as strictly a G-spot vibrator? Uhm… no. The insertable portion is rather skinny (1 1/4" in diameter) and it doesn't have any sort of G-spot targeting head. To make matters worse, it's made of silicone that is rather bendy so, I can't apply any really good pressure. About the only thing that's been done somewhat correctly, is the curve of it. But then to get it in the neighborhood of my G-spot, I have to push back (away from me) on the handle and that leaves my clit out in the cold. So, maybe I could use a clit vibe in conjunction with the Delight? Nope. That doesn't work for me either because there's just not much room left between it and my body.
I had a really hard time figuring out how to write this review. I feel like the Delight is well made but poorly designed and executed. And I have no idea who I could recommend it to. I guess if you like grinding vibrating things into your clit, with a little bit of simultaneous internal stimulation that doesn't do much then it might be just the toy for you. I can only write from my own perspective and for me, this vibrator just doesn't work… at all. Then again, I guess you shouldn't be influenced by my opinion alone because there are some reviewers out there who do like it, illustrating once again just how different our bodies really are.
So, you know that I don't like it and and why. If you're still interested, here are the details:
The Delight is made of nonporous, phthalates free, body safe materials like plastic and silicone. The handle is plastic and the insertable portion is silicone with a matte finish. That means you can clean this vibrator with antibacterial soap and water or a toy cleaner. If you need to sanitize it, mix a 10% bleach solution in a spray bottle and mist the vibrator, allow it to dry and then rinse with water. The Delight is splash-proof not waterproof so, don't submerge it. Cleaning this vibrator is complicated by the fact that the silicone portion is flexible and when bent, opens up a seam between it and the plastic where all kinds of gunk can accumulate and it can be really hard to clean it out. In fact, when I use it, I can hear sort of a faint sputtering sound from the lube that's gotten into that seam. And speaking of lube, it's probably best to only use water-based lube with the Delight since some silicone lubes can damage some silicone toys.
There are two metal contacts on the back of the handle that magnetically connect to the charging cord. The average charging time is 6-8 hours but I can't find any information on how much run time you get from a full charge. Stand-by is three months.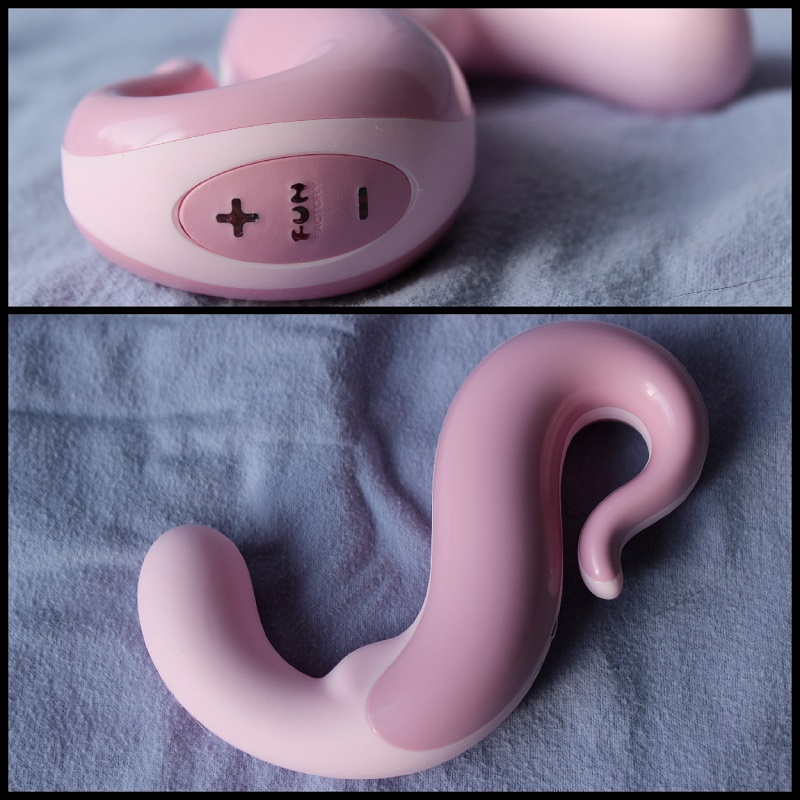 There is one large button with + at the top and – at the bottom. Press and hold the + to turn it on. If you continue to hold the + side of the button, the vibrator will ramp up through 8 levels of steady vibration. From there, you can release the + and then press and hold it again and it will go into the patterns, of which you get three variations of escalation and pulsation. To turn it off, you have to press and hold the – and wait for it to descend all the way down to the lowest steady vibration and then release and press again to turn it off. In other words, you don't really have a quick shut off with this vibrator. The vibration is fairly rumbly at the lower range and gets a bit buzzier as you increase the intensity. I think the Delight might be slightly louder than many of my other vibrators. The tone of it sounds quite different and reminds me of my husband's hair clippers. The Delight comes in the 5 color combinations below.

The very minimal instructions in the manual warn you, rather humorously, against using the Delight anally with a picture of an ass with an X marked through it. I'm not really sure why you couldn't use this vibrator anally. I would think the severe curve is enough to prevent it from slipping into the rectum. But you probably wouldn't want to use it that way since fecal matter could possibly get into that seam I mentioned.
So, I was pretty disappointed and frustrated with the Fun Factory Delight. This is my first Fun Factory toy and I was really excited about trying it because I've heard so many good things about them. I mean, they are the innovators behind the pulsating, thrusting technology of the Stronic Eins, Zwei, and Drei. Unfortunately, I feel like they missed the mark with the Delight. But not every toy is right for everybody or, every body and there are people out there who do enjoy the Delight. It just didn't quite work out for me.
But I tell ya what… if you want some really mind blowing, squirt inducing dual stimulation, get yourself a We-Vibe Tango and an njoy Pure Wand. Since acquiring those two toys and using them together, my orgasms haven't been the same. Or, if you really want vibrating G-spot stimulation get the awesome LELO Mona 2 and add the We-Vibe Tango for dual stimulation. Talk about intense!
Thanks to the awesome gals over at Sensual-Intelligence for giving me the chance to try the Delight. I had it on my wish list and they were so generous to offer it to me in exchange for my honest opinion. Please consider making your next sex toy purchase from them, using one of my affiliate links. By doing so, I'll make a small commission at no additional cost to you and that helps to sustain this blog. You'll also be supporting a small, independent retailer with a commitment to selling only body safe, environmentally sound products. Plus, they have free shipping to Canada on orders $49+ and free shipping to the US on orders $99+

Like this? Want more of it? Subscribe!
| | | |
| --- | --- | --- |
| Get new posts sent to your inbox! | | |
| Get my sporadic newsletter filled with exlclusive deals, the latest sales and secret bonus giveaway codes. | | |