Want to support my blog? Clear your cookies, click the banner and shop!

Don't miss these great sex toy sales.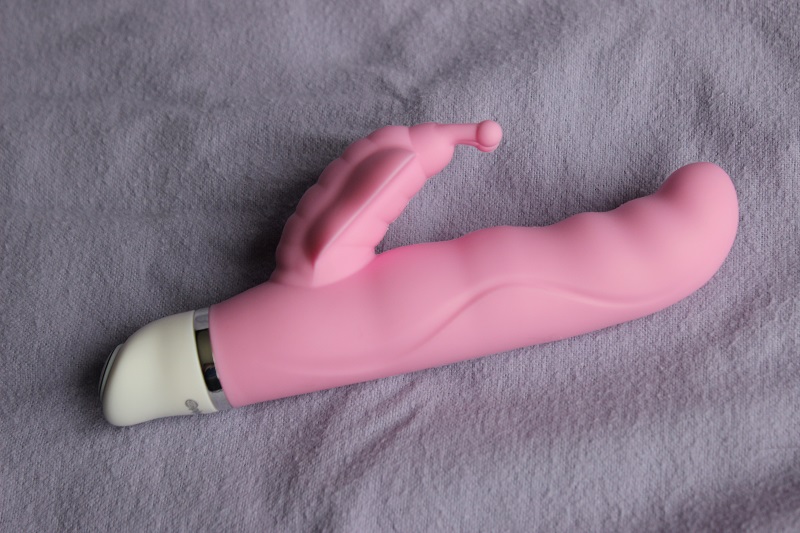 Something about the Le Reve Sweetie Butterfly was oddly familiar. I had this vague sense of déjà vu. My vagina knew something was up. It had been here before. Then it dawned on me that I'd reviewed another vibrator by a different manufacturer that was suspiciously similar to this one. I went to the drawer relegated to toys I never use and there it was – the doppelganger. Holding them side by side, it was obvious that they were basically the same design with subtle variations. I turned them both on and scrolled through the functions. My suspicions were confirmed.
The main difference between the two, besides color scheme, is the shape of the clit stimulator. All else is nearly identical. This is neither good nor bad, it's just something that I thought I should point out since I instantly recognized the similarities. The Le Reve Butterfly has a slightly rippled shaft. The other is totally smooth but I didn't really notice much of a difference. Which one to choose really would depend mostly on the shape of clit tickler you found most appealing… the butterly-ish one or the whatever-the-hell-that-is one.
So, much of what I stated in that other review pretty much applies here. Probably the most important point being that this design just doesn't work well for me. Just as before, the clit stimulator hits me too low and misses my clit so, I really don't get much out of it. That's just a problem I've had with dual stimulating vibrators and it's something particular to my anatomy. Would this vibrator fit your anatomy? I have no way of answering that. Buying a dual stimulator or rabbit style vibrator is always going to be a bit of a gamble. Vulvae are all built so vastly different that it's impossible to create a dual stimulator that will work for every body.
Aside from the issue of compatibility with the anatomy, I really can't give this vibrator a great recommendation, mainly due to the fact that it's pretty weak. I guess for a vibe powered by 2 AAA batteries, it's not that bad but still… it wouldn't rock my world even if it did fit my vulva. Now, if you're extra sensitive and you're not looking for crazy powerful vibrations, this might be a selling point for you. But I can only enthusiastically recommend something if I loved it or… even liked it. And this vibrator just doesn't meet that standard for me.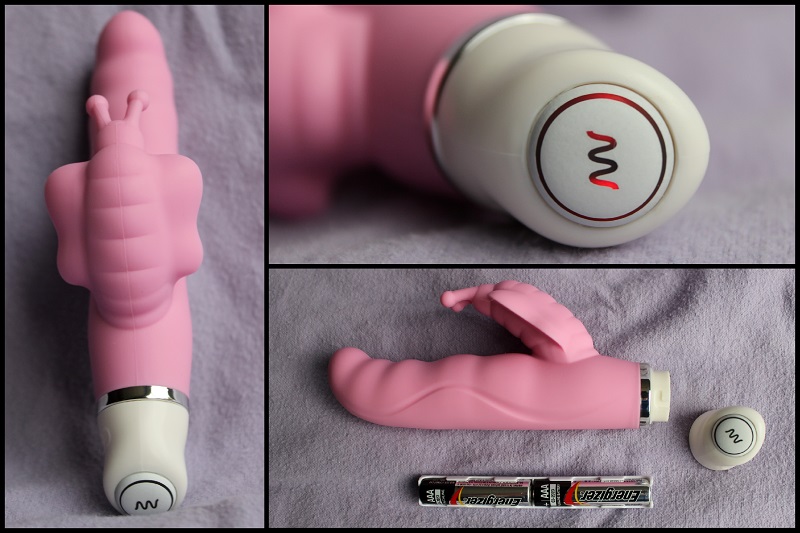 The Le Reve Butterfly has two motors but they are not independently controlled. That feature is kind of rare though and when you do find it, you're looking at something in a much higher price range. As mentioned, it requires 2 AAA batteries and they are inserted into a tray which slides into the battery compartment and the cap twists shut.
This vibrator comes in one color scheme, pink and white, and it's made of medical grade silicone and ABS plastic, which are body safe, phthalates free materials. Since it's waterproof and made of nonporous materials it can easily be cleaned with antibacterial soap and water or, you could use a toy cleaner. If you need to sanitize this vibrator you can bathe it in a 10% bleach solution. As usual with silicone toys, your safest bet is to use water-based lube because some silicone lube can damage some silicone toys. I have successfully experimented with silicone lube on silicone toys but it always requires a spot test.
This vibrator has 7 functions consisting of 3 levels of steady vibration and 4 patterns of escalation and pulsation. There is a single push button that steps through each function. To turn it off you press and hold for a couple seconds. It is 6" long and 1" in diameter. You have about 2" of shaft before the tip of the clit stimulator. The stimulator is kind of butterfly shaped and the antennae protrude out to touch the clit. The packaging is basic and a storage pouch is not included but I just use ziplock bags for toys that don't have their own pouch.
The Le Reve Sweetie Butterfly just really isn't my thing. It doesn't line up right with my anatomy and the vibration isn't nearly as strong as I'd like. It's very similar to that other vibrator I reviewed and that one didn't work out for me either. It is made of body safe materials, which is one of my requirements but I still can't give it a great recommendation. I suppose if you're looking for something with weaker vibration and smaller girth then this vibrator might work out for you if, you lucked out and it fit your anatomy. If you want to check out something from Pipedream that I really liked, read my review of the Ceramix No 5. Granted, it doesn't vibrate but it's pretty great in many other ways.
Update: Before you consider buying Pipedream products, please take a moment to read this.

Pipedream provided the Le Reve Sweetie Butterfly in exchange for my unbiased opinion.
Like this? Want more of it? Subscribe!
| | | |
| --- | --- | --- |
| Get new posts sent to your inbox! | | |
| Get my sporadic newsletter filled with exlclusive deals, the latest sales and secret bonus giveaway codes. | | |