Want to support my blog? Clear your cookies, click the banner and shop!

Don't miss these great sex toy sales.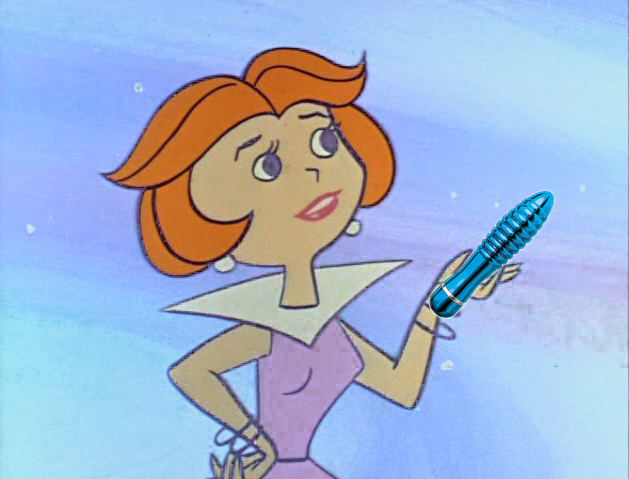 The Pure Aluminium Large Blue Vibrator is absolutely gorgeous. It has that retro-futuristic look to it that inspired the image above. It looks like it belongs in her hand, doesn't it? And based on looks alone, I love it. Based on function, I want so badly to love it more than I do. If you put me on the spot about it, I'd say I strongly like this vibrator but I wish it had more power.
First of all, just look at it and take it all in – that stunning blue, the ribbing, the cool sleek aluminium. I really wanted this vibrator to be perfect so I could love it unconditionally. But sadly, it wasn't meant to be. The first time I used it, I was overwhelmed by the ribs and underwhelmed by the vibration. Those ribs really mean business. I thought since I enjoy the Tantus Purr with its ribbing that I would also like the Large Blue's but I found out real quick that there's a difference between silicone ribs and aluminium ribs. It actually kind of hurts a little at first when I'm thrusting with it. It's not bad enough that it makes me want to stop using it but it's enough that I notice it and hope it's just a matter of needing to warm up. However, it didn't subside… until a curious thing happened. When I turned on the vibration, even on low, the discomfort from the ribs suddenly vanished. Weird right? I'm thinking the vibration is enough to relax my muscles to a point that it all starts to feel pretty good.
I say it feels pretty good and not out-of-this-world-great because this vibrator disappoints me in terms of power. It has three speeds (no patterns) and even the highest setting isn't enough for me. Internally, I can feel the vibration fairly well, it's just not powerful enough to really wow me. The oddest thing is that the vibration feels stronger inside me than it does when I use it on my clit, which is totally backwards for me. So, unfortunately it's not strong enough to bring me to orgasm when I use it for clitoral stimulation. I really wanted to feel the vibration strongly concentrated in the very tip so I could rub my clit with it but it's not there. You really feel the vibration strongest about half way in the ribbed portion. So, I thought of trying something else. Instead of the tip, I tried rubbing the ribs up and down my clit and while the ribs felt pretty good, the vibration still wasn't enough to get me off.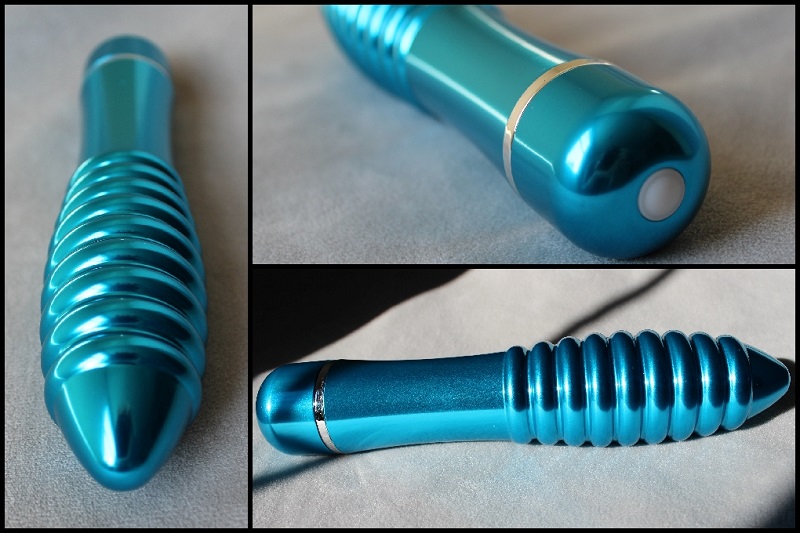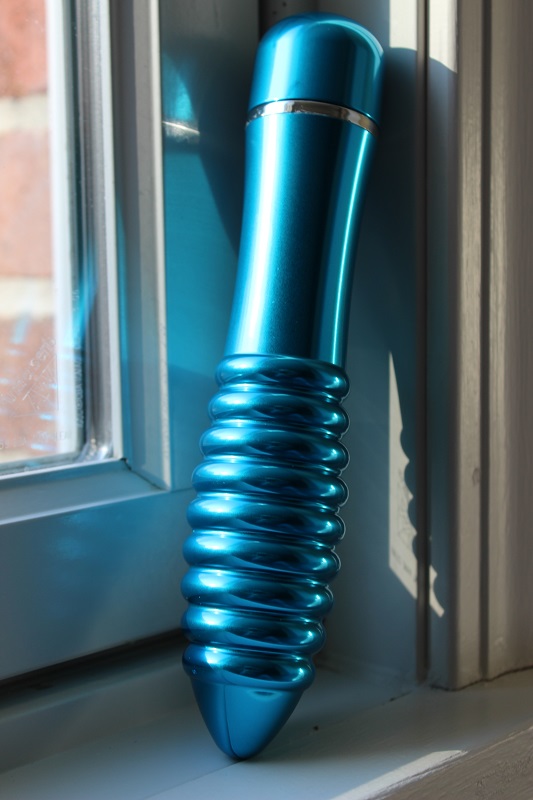 Don't let me scare you away from this vibrator though. It is going to be strong enough for some, I just want power queens to be aware that this isn't worth their time, unless you're really intrigued by the ribs. I really should have known what to expect because SheVibe rates the vibration strength a two out of four. Meaning, it's not terribly weak but not awesomely powerful either. And I have to agree with their assessment. That said, if you're as enchanted by its looks as I am and you don't need very powerful vibration, I think you could be pretty happy with the Large Blue.
As its name would imply, this particular vibrator only comes in one color, blue. It's interesting what Pipedream has done with the Pure Aluminium line. For each color there are three sizes that are similarly shaped but not exactly so. Of course, I went for the large and even though it's made of unyielding aluminium, it doesn't feel overly large to me. It's about 7" end to end and you could insert 6" until you reach the cap. It is 1.5" in diameter at the thickest point.

As mentioned before, it has three speeds and no patterns, which is fine by me. It's rare that patterns really do much for me. Operation is simple with a small button located on the end. Push to turn it on. Push again to cycle from low to medium then to high. Push once more and it turns off. You don't have a quick shut off on this vibrator. You have to cycle through to get there.
The Large Blue uses 2 AA batteries and the end cap unscrews to reveal the battery compartment. There is an O-ring that makes this vibrator waterproof when the cap is securely screwed shut. That not only means you can take it into the tub or shower but it makes cleaning a lot easier too. The anodized aluminium is a nonporous, body safe, phthalates free material. To clean it you can wash it with antibacterial soap and water, a toy cleaner or to sanitize, bathe it in a 10% bleach solution. Aluminium is nice because you can use any lube you prefer and it also holds temperature very well. You can cool this vibrator in the fridge or heat it up in warm water. When I use it at room temp it feels quite cold to me and is a bit of a shock until it warms to my body temperature.
The packaging is basic and similar to Pipedream's packaging for their Icicles and Ceramix lines. You don't get a storage pouch but there is a large chunk of foam that holds the vibrator securely. SheVibe rates this vibrator a 2 out of 4 on volume and I'd say that's pretty fair.
The Pure Aluminium Large Blue Vibrator is certainly easy on the eyes but its power disappoints me. The ribs inflict their own brand of stimulation that is almost too much for me at times. This vibrator will be strong enough for some people, I just wish it had more. If you think the Pure Aluminium Large Blue Vibrator is right for you, please consider purchasing it from my sponsor and affiliate, SheVibe. I'll earn a small commission on the sale at no extra cost to you and that helps me to continue blogging and reviewing.
Update: Before you consider buying Pipedream products, please take a moment to read this.

SheVibe provided the Pure Aluminium Large Blue Vibrator in exchange for my unbiased review.
Like this? Want more of it? Subscribe!
| | | |
| --- | --- | --- |
| Get new posts sent to your inbox! | | |
| Get my sporadic newsletter filled with exlclusive deals, the latest sales and secret bonus giveaway codes. | | |