Want to support my blog? Clear your cookies, click the banner and shop!

Don't miss these great sex toy sales.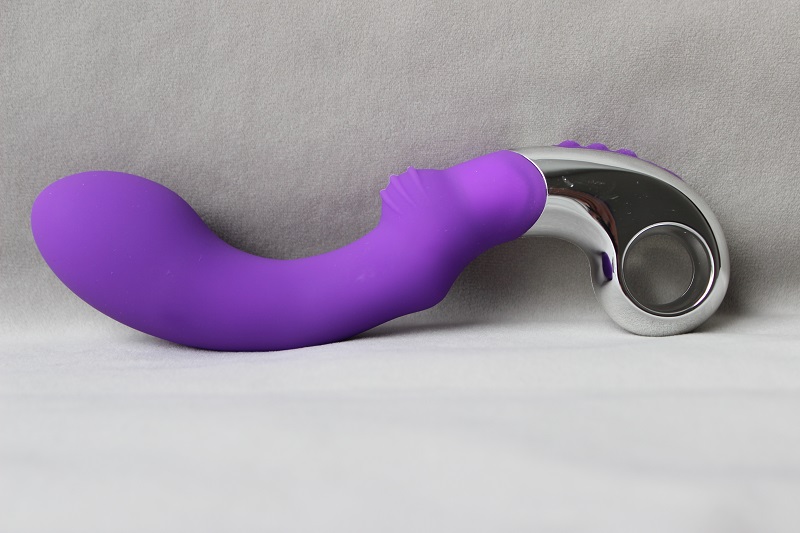 You're probably not going to believe me but the Embrace G Wand is from Cal Ex and it's… good. Alright, I guess I shouldn't give Cal Ex such a hard time but I was totally surprised by how much I like the Embrace G. It's true, they can make some, how do I say it, less than thrilling toys but what they've done with the Embrace G gives me hope. It reminds me a lot of their luxury brand, Jopen. It is priced a bit higher than a lot of their other toys but I think that's for good reason.
When I saw the Embrace G, I immediately thought of one of my favorite sex toys, the Jopen Key Comet Wand. The head on the Embrace G isn't as pronounced and bulbous as the Comet's and the curve is a little different but there's a resemblance and that's probably why I was so curious to try it.
The Embrace G doesn't entirely work for me in all the ways I think it was intended to but I still really like it for the stimulation I can get out of it. It has three motors. That's right, three. One feels like it's near the end, one in the middle of the shaft and one in what I assume is supposed to be a clitoral stimulating hump. The hump doesn't work for me at all. This vibrator doesn't fit my anatomy in a way that I can get G spot stimulation while also getting clitoral stimulation from the hump. I'm just not built that way. I suppose maybe there are some women who could achieve it but the thing is, to get the hump to reach my clit, I have to pull up on the handle. This forces the head down and away from my G spot. Conversely, to get G spot stimulation, I have to push down on the handle but that pulls the hump far away from my clit. That's OK though because with the handle pushed down, giving me G spot stimulation, there's plenty of room for me to add a clit vibe to the mix if I want to. So, I forgive the Embrace G for not working with my anatomy exactly like I think the designers intended it to.
Since I can't achieve dual stimulation with the Embrace G, you might be thinking that the extra two motors are a total waste and I would think so too, if I hadn't felt this vibe for myself. There's something very interesting that happens with all three motors running. They start to resonate back and forth and this creates a sensation that is different from other vibrators I've tried. It's this resonating effect that won me over. So, even though the vibrator in the clitoral hump isn't touching me anywhere when I use the vibrator, it adds to the unique sensation I get from these resonating vibrations that travel entirely through it. The middle vibrator feels like it hits me right at my vaginal entrance and that also produces sensations that I don't get from other vibrators. So, I guess you could say I'm a big fan of the triple motors.
Internally, this vibrator feels great. The vibrations have a nice tone and aren't too buzzy… and then there's that incredible resonating effect. The vibration is fairly strong as well but to put it in perspective, I wouldn't say they're quite as strong as the LELO Mona 2. But this is definitely not a sad little wimpy vibrator. I wouldn't like it as much as I do if it were. The real surprise is, as much as I like to use this vibrator internally, I think my clit likes it even more. I'm not talking about using the clitoral hump. I use the head of this vibrator on my clit and it feels fantastic. I know I keep going on about it but, it's that resonating vibration from the triple motors that really gets me.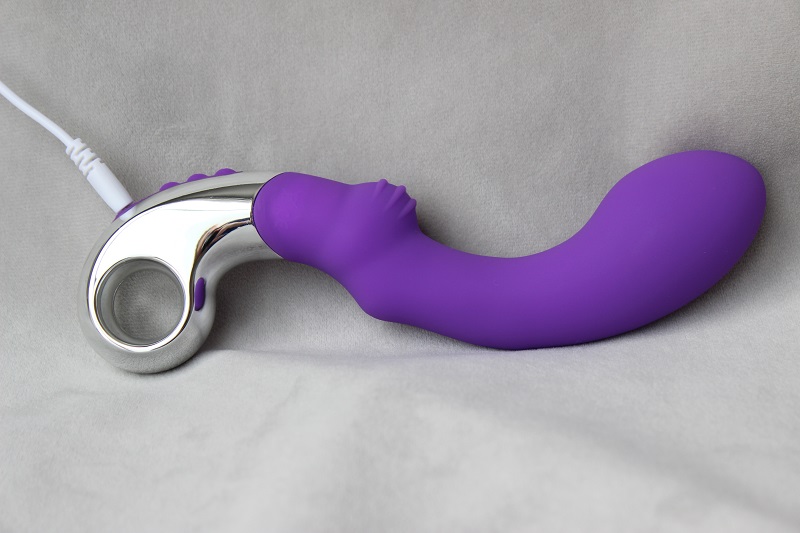 Now I know I've said more than once that I prefer more focused, pin point vibration on my clit and you're probably thinking there's no way I could get that out of the head of this vibrator which is, decidedly not pointy. When a vibrator is strong and rumbly enough I can touch it very lightly to my glans and it feels like I'm getting pin point stimulation. Since my clit prefers a light touch, this works for me but I think if you like to apply pressure to your clit, you could easily do that with this vibrator as well.
The Embrace G has 7 functions: 6 patterns plus steady vibration that has 6 levels of intensity. One thing you can't do with this vibrator, that I think was a missed opportunity, is control the three motors independently. Say for instance, you want to turn off the motors in the hump and in the middle, leaving the one in the tip running. You can't do that. They are all running at the same time and you can't independently control the intensity of each vibrator either. They're all going to be running at the same intensity. To add such sophisticated controls would no doubt, increase the price of this vibrator and I don't know that those functions are totally needed but I know many of you would probably be wondering if this vibrator had those capabilities.
The first three patterns are the only time the three motors work independently of each other but you have no control over that. Instead, they are three speeds of the motors pulsing in succession – 1, 2, 3, 1, 2, 3… And for some odd reason, it really reminds me of this. My mind makes bizarre associations sometimes. The other three patterns are combinations of pulses and escalations with all three motors vibrating in unison. You can adjust the intensity of the patterns which is a feature that you normally only find on more upscale vibrators. The patterns are fun and all but where this vibrator shines is with all three motors running steadily and the intensity turned all the way up; producing that resonating effect I won't shut up about.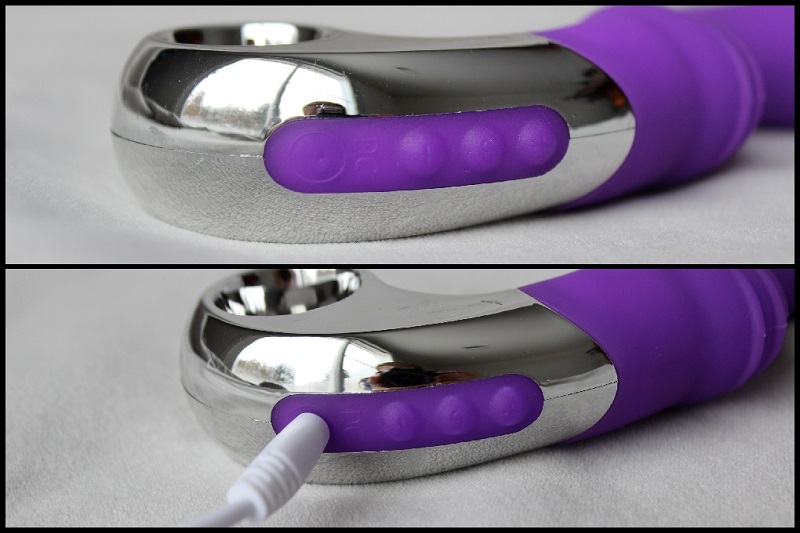 There are three buttons. Press and hold the middle button to turn it on. Then press and hold the + button to increase intensity. Press and hold the – button to decrease intensity. You can also quickly press the buttons to change the intensity incremenatlly. To cycle through the functions, press the center button repeatedly. To shut the vibrator off, press and hold the center button.
The Embrace G is waterproof so it's easy to clean and safe to use in the bath or shower. You can use antibacter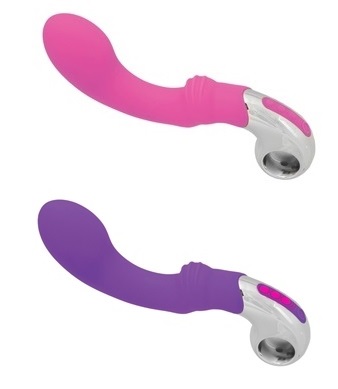 ial soap and water to clean it or a toy cleaner. To sanitize it, you can bathe it in a 10% bleach solution. This vibrator is made of plastic and silicone which are body safe, phthalates free, nonporous materials. The rule of thumb for silicone sex toys is to use water-based lube and the instruction sheet specifies it. It comes in two colors – wait for it…. pink and purple! The Embrace G is 1.5" in diameter at the thickest point and measured along the inside curve, it is 4.38" long from the tip to the clitoral hump.
This vibrator is USB rechargeable which is great if you like to charge your sex toys through your computer. I really don't care for it so, I use a USB to A/C adapter (which is not included). You're supposed to fully charge the Embrace G before your first use. While charging, the indicator light flashes and when charging is complete, it glows steady. It takes about 2 hours to reach a full charge and from that it will run on high for 2 hours and low for 5 hours.
The packaging is more substantial than a lot of Cal Ex products but you don't get a storage pouch. There is a foam insert with a place to hold the vibrator and the charging cord. If you find the box takes up too much room to store it in, you could always just use a ziplock bag.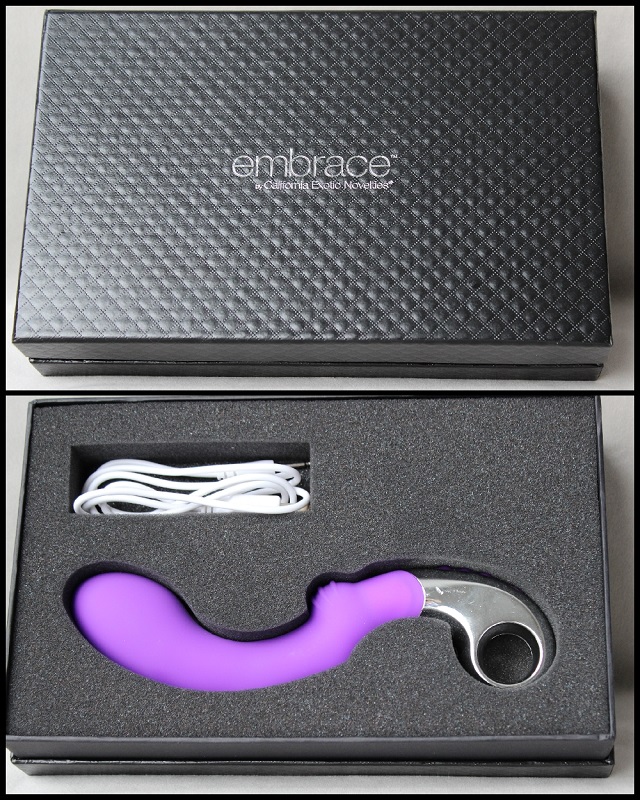 I have to give Cal Ex credit on this one. The Embrace G Wand produces a unique resonating vibration from its three motors and my body really seems to respond to it. It doesn't quite work out as a dual stimulator but it gives me nice G-spot stimulation. I also love how it feels when I use the head of it on my clit. I have no reservations recommending this vibrator and I think it can suit a wide range of preferences.

Best Female Vibrators provided the Embrace G Wand in exchange for my unbiased review.
Like this? Want more of it? Subscribe!
| | | |
| --- | --- | --- |
| Get new posts sent to your inbox! | | |
| Get my sporadic newsletter filled with exlclusive deals, the latest sales and secret bonus giveaway codes. | | |