Want to support my blog? Clear your cookies, click the banner and shop!

Don't miss these great sex toy sales.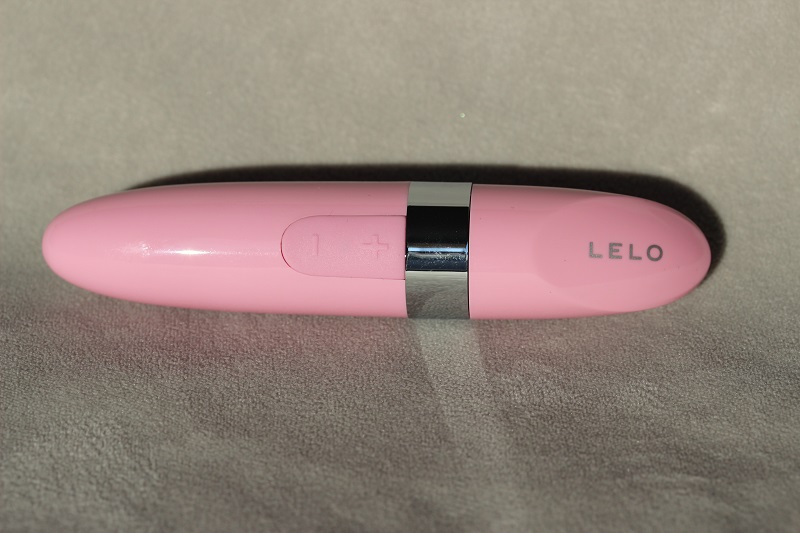 "I want my Salsa." That's what I kept repeating in my head as I used the LELO Mia 2 for the first time. I actually longed for it… yearned for it but I was determined to finish the session with the Mia 2 and eventually, I did get there but the journey wasn't nearly as much fun and reaching my destination wasn't as satisfying as when I use my beloved Salsa.
I guess I was expecting something with more rumble and power, since this is LELO we're talking about here. The Mia 2 feels buzzier than the Salsa, though nowhere nearly as buzzy as some other clit vibes I've tried (like the Pyxis) and slightly less powerful than the Salsa. I mean, it feels alright and all but I'd never choose it over the Salsa, unless maybe when traveling. I guess the advantages that the Mia 2 does have are its travel lock and USB charging. Now, normally I hate USB charging but in this case, with the small (but bigger than the Salsa/Tango) discreet Mia 2, I can see how it would work well for travel, as long as you were bringing your laptop along. If not, you'd need one of those USB to A/C adapters that I'm always recommending for USB rechargeable sex toys.
So far, I've been pretty satisfied with the LELO vibrators I've tried. They do make the epic Mona 2 that I am head over heels for. The Mia 2? I don't love it but I do like it. Had I never felt the Salsa on my clit, I'd probably have a different opinion. I still think it's well worth the money and if I were recommending clit vibes to a friend, the Mia 2 would make the list.
Maybe my obsession with the Salsa clouds my judgment when assessing other small clit vibes but none have quite measured up in terms of strength and rumble. There are some folks out there who really love their Mia 2s and yes, some of them even have Salsas/Tangos of their own. It's OK to really like a sex toy though, right? I mean, you can't fall madly in love with all of them. It's still really great to have toys that you like a lot but don't quite love because variety is the spice of life. And if I found my Salsa dead at an inconvenient time, then I'd be happy that I could reach over and grab the Mia 2 to finish the job.
So, the Mia 2 is a solid, well made clit vibe and I really like it but it would have to be a bit stronger and rumblier to make me love it. That said, I don't think you can really go wrong if you decide to buy it because it is LELO and with that comes quality. They've come a long way since the original Mia, which I've heard was rather weak and not waterproof. Now the Mia 2 is fully waterproof, is more powerful than before and has a couple of additional patterns. The patterns don't do a lot for me. They're the same patterns that can be found on other LELO vibrators and are combinations of pulsation and escalation with the 5th pattern feeling kind of random and all over the place, which is nice if you want to keep your clit guessing. For me though, it's all about the steady vibration cranked all the way up and with that, it is strong enough to get me off so, maybe I shouldn't judge it too harshly.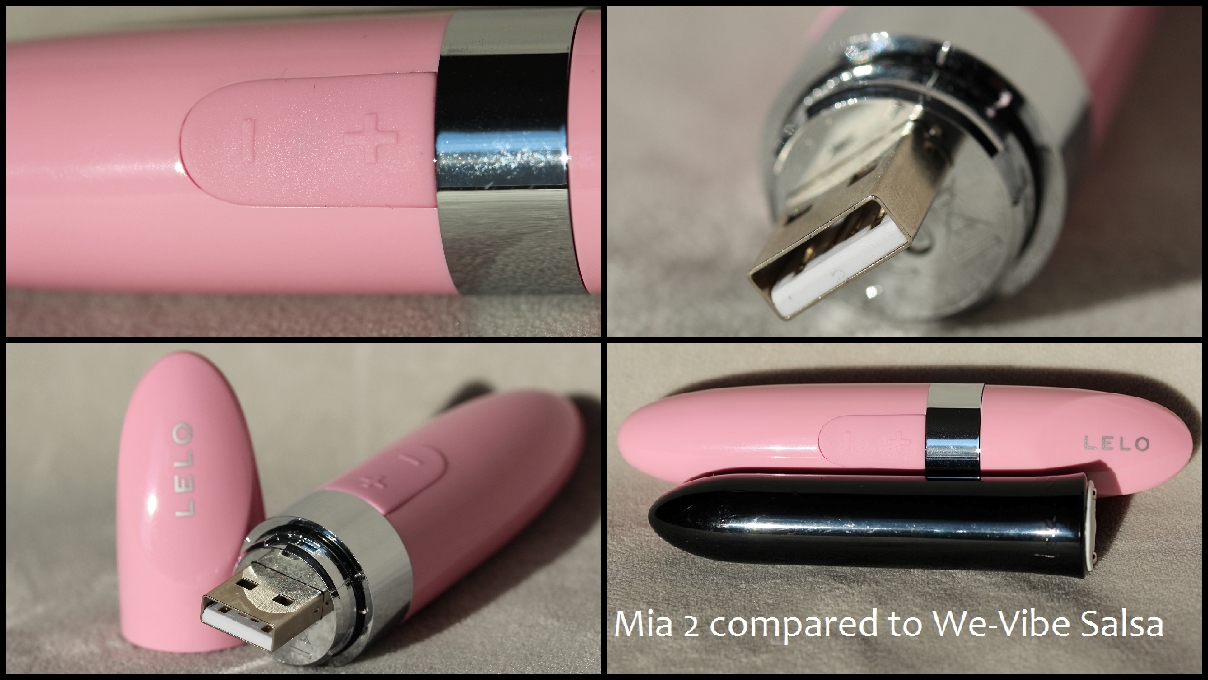 There are two buttons (+ and -). You press and hold the + button to turn it on and continue to hold to increase the intensity, which is continuously adjustable, rather than preset levels. I like that kind of control and it's pretty standard for LELO vibes. From the highest steady vibration you press and hold the + button and that will take you into the patterns, of which there are 5. Press the + button repeatedly to cycle through. To get back out of the patterns, you press the – button and to turn it off, press and hold the – button. The Mia 2 does have a travel lock and it's activated by pressing both buttons at the same time for a few seconds and it unlocks the same way.
The Mia 2 is made almost entirely of glossy hard plastic but the buttons are silicone. These materials are nonporous, phthalates free and easy to clean. You can simply wash the Mia 2 in antibacterial soap and water or you can use a toy cleaner. If you need to sanitize it, you can bathe it in a 10% bleach solution. I bet you could get away with using silicone-based lube if you wanted to. I would have no reservations about doing so but if you're worried about the silicone buttons then water-based lube is always a safe bet.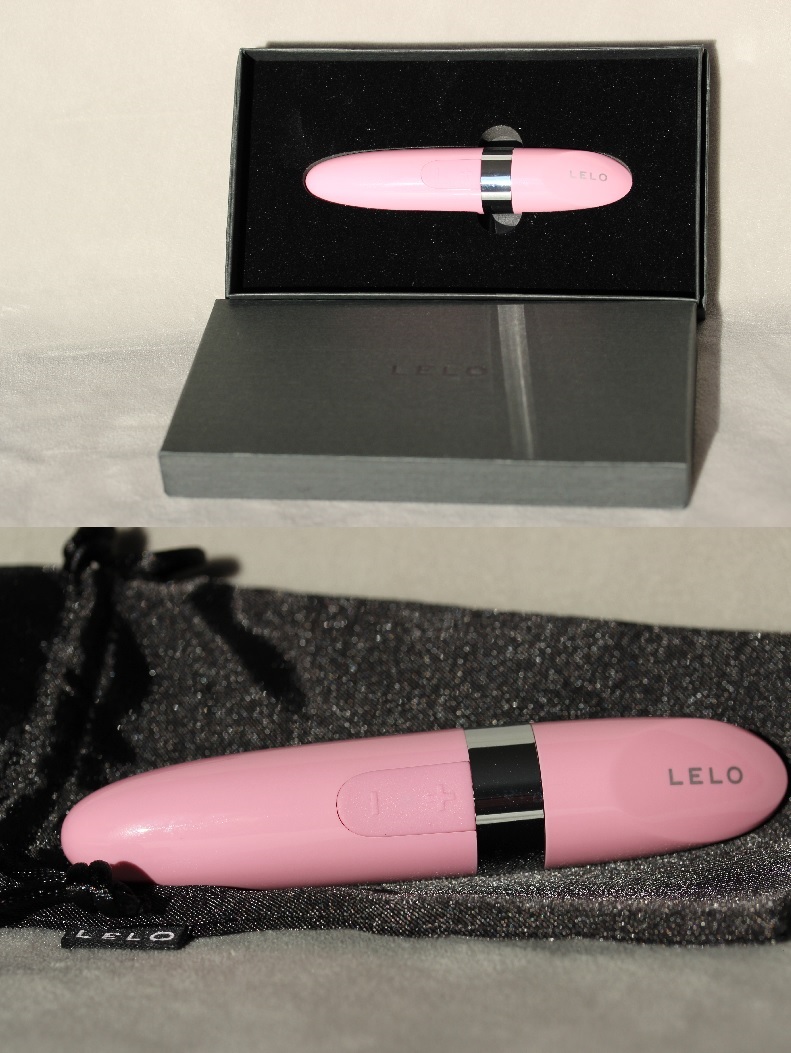 Charging takes about 1 hour and a full charge should give you 1.5 hours of run time. Standby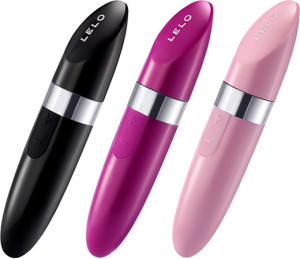 time is 90 days. The light flashes while charging and glows steady when complete. The Mia 2 is a pretty quiet vibrator and you can't hear it behind closed doors. It comes in three colors – black, petal pink and deep rose. Packaging is fairly nice and pretty standard for LELO. You get a black satiny storage pouch and LELO covers the Mia 2 with a one year warranty.
By no means would I banish the Mia 2 off to the drawer relegated to sex toy failures (which I'm running out of room in). Most of the time, it's not going to be the first clit vibe I reach for but it will definitely stay in rotation and I think it's a good back up for my Salsa. I would probably prefer to travel with the Mia 2 rather than the Salsa though, because I feel it's more discreet, has a travel lock and is USB rechargeable. The Mia 2 is a solid little clit vibe. It's not the most powerful I have but it's certainly not the weakest and it gives me orgasms with relative ease. Given all that, I feel confident recommending the Mia 2 to anyone who's looking for a quality clit vibe that's great for travel.

Barbara Kelly provided the LELO Mia 2 in exchange for an unbiased review.
Like this? Want more of it? Subscribe!
| | | |
| --- | --- | --- |
| Get new posts sent to your inbox! | | |
| Get my sporadic newsletter filled with exlclusive deals, the latest sales and secret bonus giveaway codes. | | |