Want to support my blog? Clear your cookies, click the banner and shop!

Don't miss these great sex toy sales.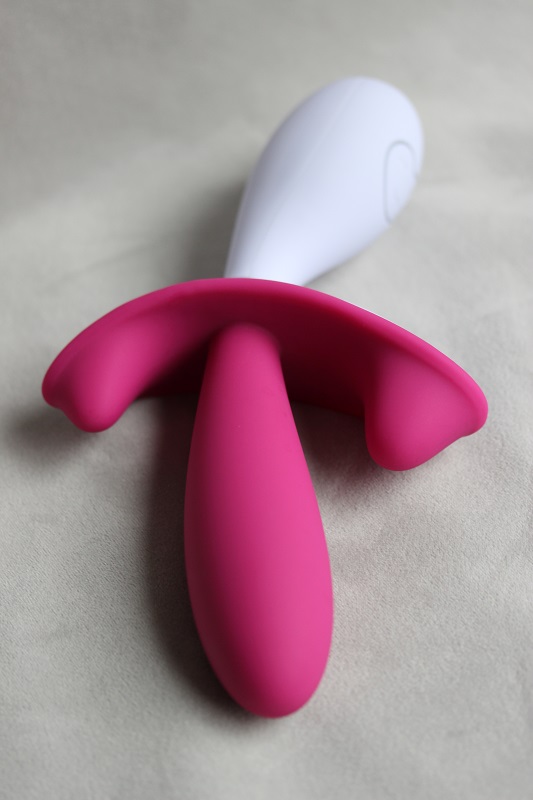 The curse of the high and mighty clitoris strikes again. It sits up there all smug, looking down its nose at any dual stimulator (rabbit vibe) that comes near; just daring it to try to reach up and touch it.  Poor Princess Marie Bonaparte, I feel your pain but I'll begrudgingly keep my clit right where it is, even if it means that dual stimulators will never reach its lofty height. What the hell am I talking about? My clit sits up too damn high for dual stimulators to reach it. Every rabbit vibe I've tried so far hits me way too low, completely missing my clit. Usually I'm just frustrated by it all but this time, it truly saddens me that my anatomy is once again, incompatible with a dual stimulator or rather, in this case, a triple stimulator.
I wanted to love the Lovelife Adventure so bad. I had heard some really good things about it and I'd hoped that this time would be different and this vibrator's parts would line up perfectly with all the parts of me but no such luck. The clitoral appendage of the Adventure just doesn't reach up high enough to touch my clitoris and it's such a damn shame too because this vibrator is hella (Does anyone say that anymore?) rumbly. No really, the Adventure rumbles its ass off.
Speaking of ass, did I mention that the Adventure was a triple stimulator? What does that mean, exactly? Well, let's take a look at what you get. Vibrator for the clit – check. Vibrator for the G-spot – check. Vibrator for the anus – check. Yeah, that's right, this thing kisses your anus (or perineum, depending on how you're built) with a smooch of rumbly goodness. Well, it tries to anyway. Here again, my bits and its parts didn't all line up exactly right. The anal appendage of the Adventure is similar to the clitoral one and it's a little bump that sticks out only about .75 of an inch. Now, maybe my ass cheeks are just a bit too ample but that little anal stimulating bump couldn't quite reach down into my nethers enough to give me the anal thrill that it promised.
So, here I am with this rumbly-as-fuck triple stimulator, trying desperately to get it to rumble at least two out of the three targeted sweet spots and the only part to consistently hit its mark was the head of the shaft. It sort of grazed my G-spot and that felt pretty good but it wasn't enough to take my mind off the fact that I was really missing out on all this vibrator had to offer. Once more, I hung my head in defeat as yet another multi-stimulator failed to measure up to my freakishly proportioned genitals.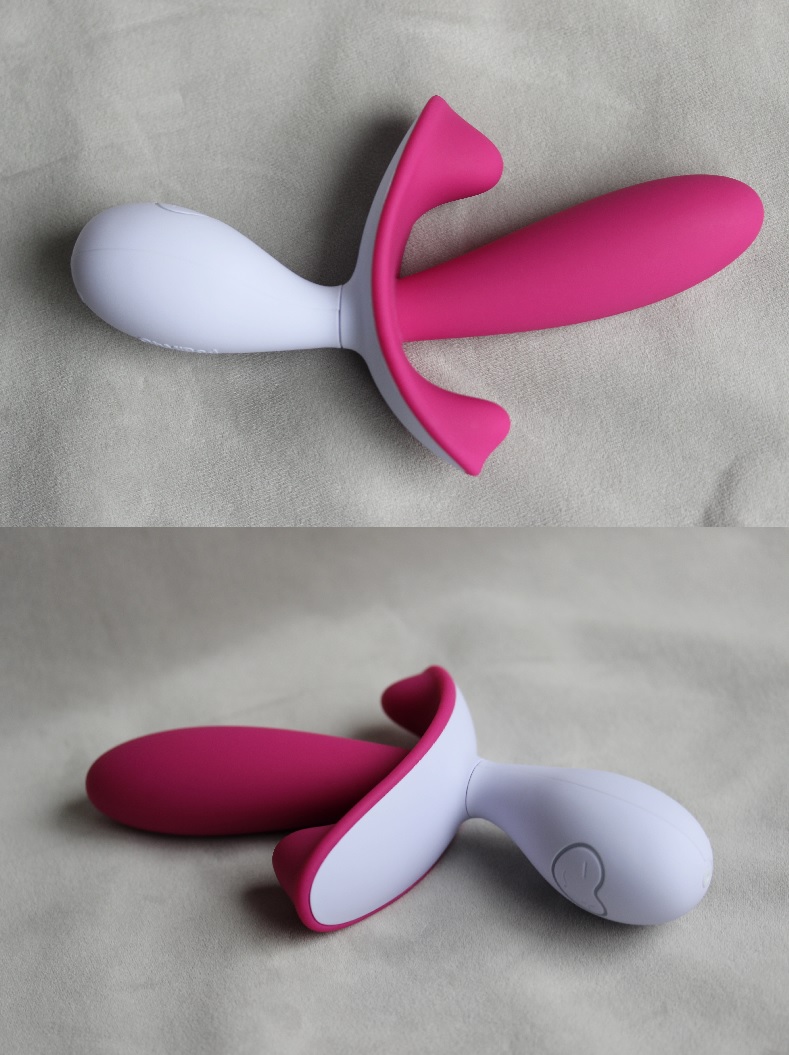 The Adventure just doesn't work for me but I'm not saying it sucks. I think it's a well made, quality vibrator that just happens to be incompatible with my anatomy. Will it be compatible with yours? Fuck if I know. Trying to get these multi-stimulators to fit right is like trying to find the perfect pair of jeans. Except, you can't try the vibrator on before you buy it and you can't return it once you find out it doesn't fit. If you want to take a chance on it and it does fit your anatomy then I think you'll have an awesome experience. I would actually like to see OhMiBod create a regular G-spot vibrator with this motor in it. I've also tried the Lovelife Cuddle and I do like that one but it's not quite as rumbly as the Adventure. So, take the appendages off the Adventure and I think it would be one kick ass G-spot vibe.
The Adventure has 7 modes: steady vibration plus 6 patterns. The button is heart shaped (how cute) and the entire Lovelife line is kind of saccharin sweet but since it was inspired by the creators' enduring romance, I can let it slide… this time. At the bottom of the heart you have a ~ and you press and hold to turn in on. It starts in steady vibration and damn, does it rumble. Press the + side of the heart repeatedly through 6 levels of intensity. Even at the highest intensity, this vibrator is still quite rumbly, making me really wish that it had worked for me. Press the – side of the heart repeatedly to adjust the intensity back down. Pressing the ~ part of the heart will cycle through the 6 patterns of pulsation. You can adjust the intensity of the patterns which is a nice feature not found on many other vibrators. Press and hold the ~ to turn it off.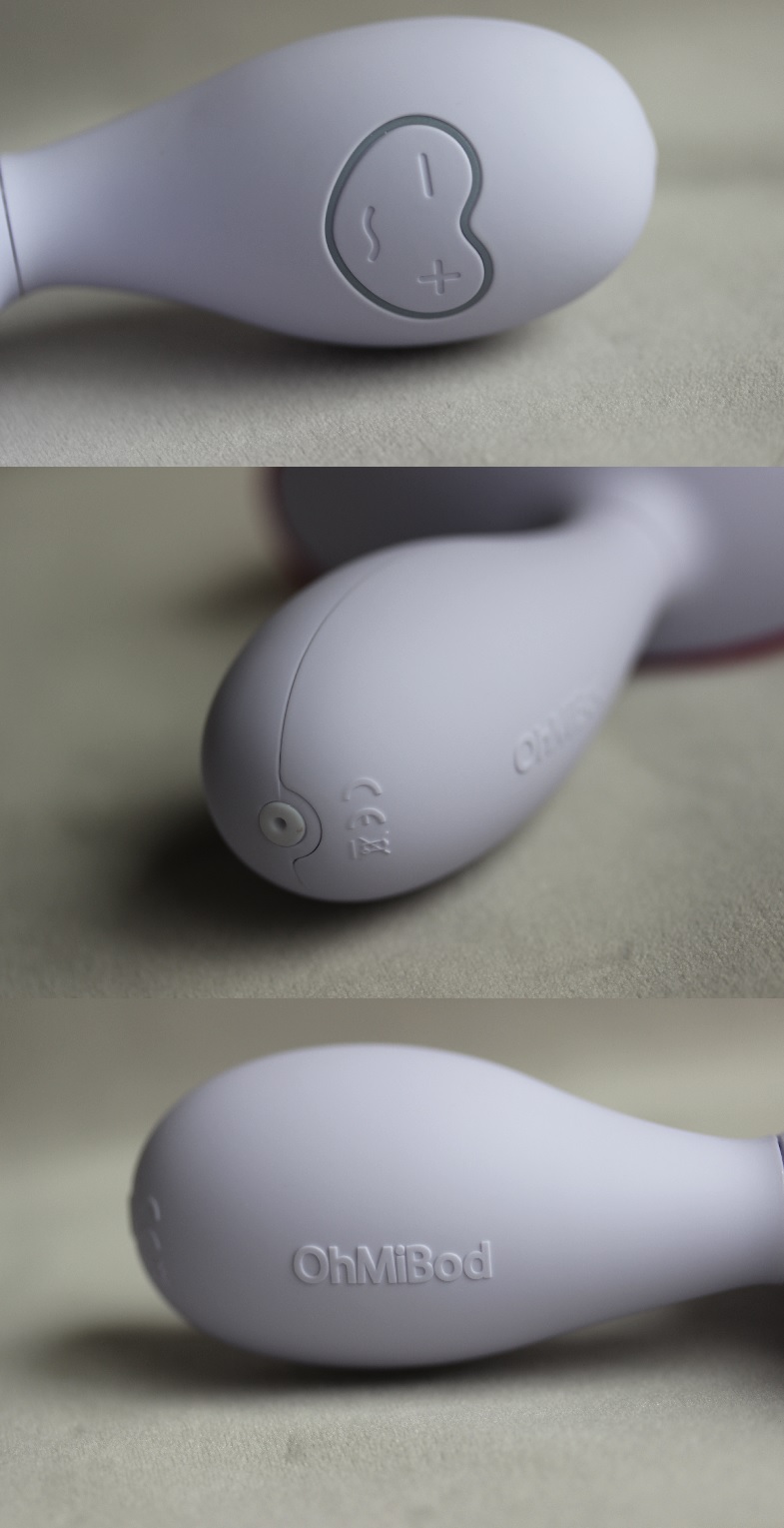 The Adventure is made of plastic and silicone which are both nonporous, phthalates free materials. Unfortunately, this vibe is only splash-proof. I really think OhMiBod should have made it waterproof and I have to dock some points for that. So, don't take it into the bath or shower and only get it wet enough to clean it. It can be washed with antibacterial soap and water or you could use a toy cleaner. If you need to sanitize it, wipe it down with a 10% bleach solution but don't submerge it. The silicone is silky smooth with very little drag but if you do want to use lube, it's probably best to use water-based lube since some silicone-based lube can damage some silicone sex toys.
This vibrator is USB rechargeable and I'll spare you my rant on that but suffice it to say that if you don't want this thing tethered to your computer, you'll have to buy a USB to A/C adapter separately. It takes 2.5 hours to fully charge and that is supposed to give you 1.5 hours of run time. Standby time is 90 days. While it's charging the light around the heart blinks and it glows steady when charging is complete.
The Adventure is about 8.5 inches from end to end. The shaft is around 4.25 inches long but only 3.25 inches are insertable up to the clitoral bump. The shaft is 1.4 inches in diameter at the thickest point.  The packaging is really very nice, if not a little excessive but it is an impressive presentation and the box is sturdy enough for storage. You also get a satiny white storage pouch and OhMiBod covers the Adventure with a one year warranty.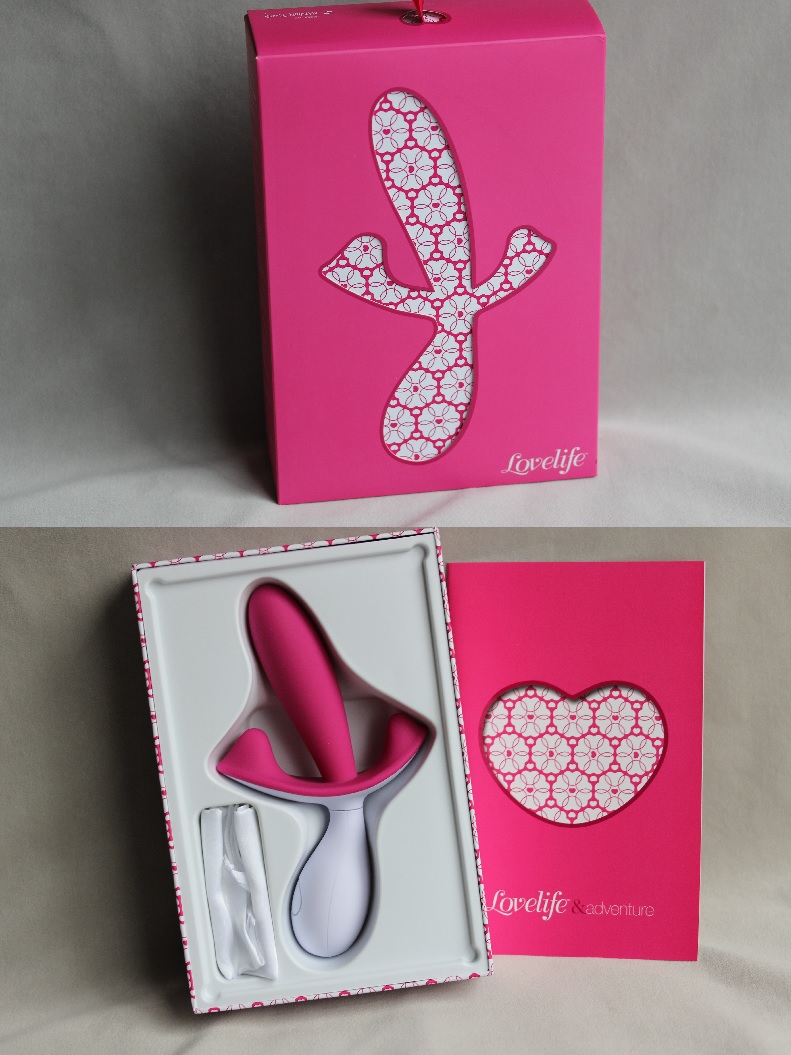 Oh, how I wish the Adventure would fit my body. Usually when a rabbit vibe/multi-stimulator doesn't line up with my bits, I'm just irritated and want to throw it at the wall but this time, I truly feel like I'm missing out on something awesome. I love how the Adventure's vibrations feel. They are deep and rumbly and feel great on my clit when I use the tip of the shaft on it. At least I can enjoy it that way. OhMiBod, if you're listening… please, I'm begging you, make a regular G-spot vibe using the Adventure's lovely motor and I will forever be indebted to you. Seriously though, based on what I'm hearing out there from other reviewers, when the Adventure fits you properly, it's one hell of an experience. Unfortunately, I can't help you figure out if it will fit your anatomy but if you luck out and it does, it will probably be amazing.

OhMiBod provided the Lovelife Adventure in exchange for an unbiased review.
Like this? Want more of it? Subscribe!
| | | |
| --- | --- | --- |
| Get new posts sent to your inbox! | | |
| Get my sporadic newsletter filled with exlclusive deals, the latest sales and secret bonus giveaway codes. | | |