Want to support my blog? Clear your cookies, click the banner and shop!

Don't miss these great sex toy sales.
What I'm about to say borders on the blasphemous. I never expected the Je Joue Uma to virtually usurp two of my favorite vibrators. In fact, I'm still trying to come to terms with it but I think I love the Uma more than my We-Vibe Salsa and LELO Mona 2. I'll wait and give you a moment for that to sink in.
How in the world could the Uma earn my adoration over a top notch G-spot vibe and an equally amazing clitoral vibe? It's all in that rumble. The Uma vibrates at a frequency that I've not felt in other vibes. This baby purrs like a 1960's muscle car. It resonates perfectly with my body for internal and external stimulation. It's so good, I wish I had two of them so I could use them simultaneously… which would undoubtedly be many levels of epic.
The Uma simply doesn't mess around. The vibration is powerful and deeply penetrating. From within, I can feel it radiating all through me, even all the way up into my chest. This thing rumbles me from the inside out. I'm nearly at a loss for words to describe just how much I adore it for G-spot stimulation and yet, I think my clit loves it even more.
Completely effortless orgasms… that's what Uma does for me. And that says a lot when you consider that it wasn't all that long ago that I was damn near totally anorgasmic. How could I not fall head over heels for a vibrator that makes it so easy for me to feel so good? I can even get off with it on the lowest setting which is a deep slow rumble. Yet, the highest setting works equally well and doesn't numb me at all. I truly enjoy this vibrator on all intensities, which is unusual. Time after time, I can attain multiple orgasms with the Uma. This vibrator has earned its spot in the top drawer of my nightstand and only the best of the best go in there.
Most G-spot vibrators and dildos are more rocking toys than thrusting toys for me but the Uma is amazing for thrusting. The angle at which it's bent is just perfect and as I thrust, it pushes against my G-spot and then pulls at it on the backstroke. It's just a glorious sensation. It's perfectly cantilevered so, I don't have to push down on the handle as hard as I do with most other G-spot toys. I can simply thrust with it at my leisure and allow it to work its magic.
I even love the way the handle is shaped and where the buttons are located. It fits perfectly in my hand and allows me to hold it in a position that doesn't strain my arm so, it doesn't cramp up while I'm thrusting, which is what often happens with other toys.
Most of the time, I use my toys solo but I love the Uma so much that I couldn't resist using it with dizzyguy and it works really well. It has a low profile and it's slim enough that I can easily use it on my clit while we have sex.
There is truly not one thing about the Uma that I would change. The only problem I have is deciding if I want to use it internally or externally and I just can't help but switch back and forth. Oh, what I wouldn't give for a second one. Seriously, just thinking about it while I'm writing this is getting me aroused. It makes me want to take a break and go rub one out. How awesome is a sex toy when it can do that?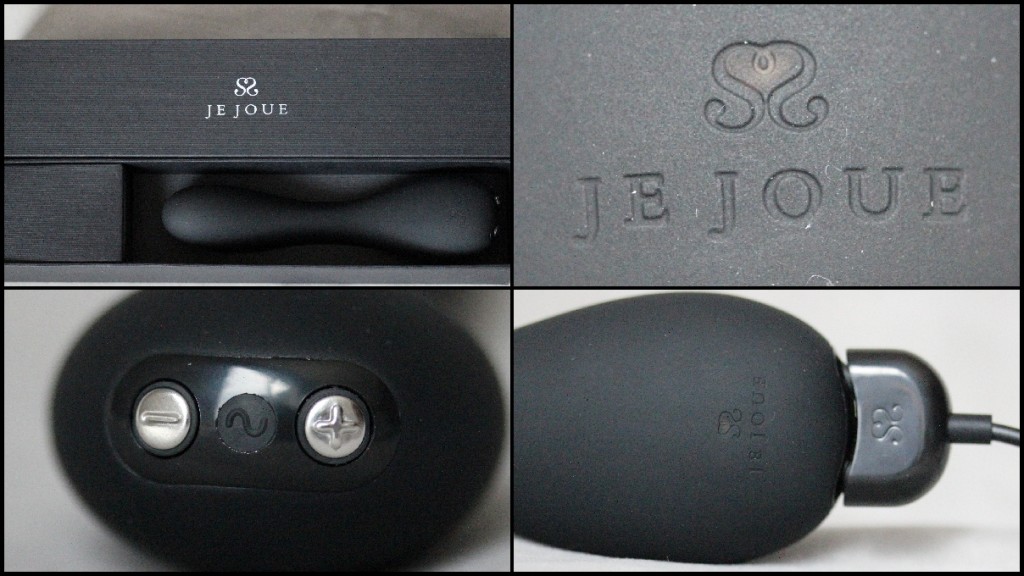 The Uma is absolutely perfect for me in every way. It's exceedingly difficult for me to find anything to complain about but I suppose it might not be large enough for some and I even wonder what it would feel like with a bit more girth. So, if you really need size the Uma might leave you wanting but then, I think it's possible that the vibration is powerful enough to overcome that.
OK, there is something that annoys me. I might be nitpicking and it has nothing at all to do with the vibrator itself but for the price you pay for the Uma, it really sticks in my craw that Je Joue didn't include a storage pouch. I mean really, I shouldn't have to store my beloved, luxurious Uma in a ziplock bag. Come on Je Joue… what's up with that?
There is just one other thing that I think Je Joue could improve upon but it doesn't really bother me because I don't use it. The middle button, that cycles through the patterns, is incredibly hard to press. I have to push on it so hard to get it to actuate that it actually hurts my finger a bit. Since I don't normally get a lot of enjoyment from patterns this doesn't matter too much to me but some folks might find it irritating. I guess on the other hand, it does ensure that you aren't going to accidentally switch modes by bumping the button.
The Uma has 5 levels of steady vibration and as I said before, they all feel fantastic. The lowest steady vibration is one of the rumbliest I've felt. There are 6 patterns of escalation and pulsation. Oddly, the manual states that there are 7 levels of intensity and 7 patterns but the company's website says 5 levels of intensity and I definitely count 6 patterns so maybe they are considering the steady vibration mode as a pattern when they claim there are 7.
There are 3 buttons and operation is pretty straightforward. Press and hold the + button to turn it on. Press it repeatedly to step through the 5 levels of steady vibration. Repeatedly press the – button to step the intensity back down. Press and hold to turn it off. In the middle, there is a ~ button. Press it repeatedly to cycle through the patterns. While on a pattern, you can vary its intensity with the + and – buttons. The + and – buttons take a fair amount of pressure to actuate. You aren't going to feel or hear much of a click. The ~ button is , as mentioned, ridiculously hard to push. The upside is that you aren't going to inadvertently change intensity or patterns and it's highly unlikely that this vibrator will get accidentally activated (which is good since it doesn't have a travel lock).
The + and – buttons also serve as the charging contacts and the charging cord connects via a nice strong magnet. While it's charging, the small red light on the handle of the Uma will flash. When fully charged the light will stay on. It takes 2 hours to fully charge and that is supposed to give you 2 hours of run time.
The Uma isn't what I'd call whisper quiet but it's not going to get the attention of everyone in the house either. On the lower intensities it's OK but on the higher ones, it does get a bit noisy.
Just like everything else about the Uma, the silicone is wonderful. It feels incredible… so soft, velvety and yes, luxurious. It doesn't attract lint much at all and glides sensuously against my skin. Even with minimal drag, I still require lubricant and I use water-based lube, which is suggested in the manual. The Uma is, of course, body safe, nonporous and phthalates free. I wouldn't be reviewing it if it weren't. It's completely waterproof so, feel free to take it into the bath. Cleaning is simple with antibacterial soap and water or, you could use a toy cleaner. If you need to sanitize it, you can bathe it in a 10% bleach solution.

Uma comes in four colors – purple, fuchsia, lilac and black (which I think looks very elegant). It measures about 7.5" end to end and roughly 4.5" is insertable. It is 1.4" in diameter. So, not great for size queens (however, I think power queens will be quite pleased) but it's a manageable girth for most. The box is sturdy and it's obvious by its construction that it's intended for storage but I still think a pouch should have been included, especially for travel. Je Joue covers the Uma with a one year warranty.
Je Joue calls the Uma an "all-rounder" and I totally agree that it's equally great for G-spot stimulation as well as clitoral stimulation. I can't decide which way I like using it more and you might end up yearning for two of them, just like I do. It's not often that I am completely satisfied with something. I am a bit of a jaded pessimist and I can find fault in damn near anything. Yet, I am absolutely delighted with the Uma. The shape, the power, the rumble, the silicone… it's all simply perfection. Not only do I recommend the Je Joue Uma, I say it's a must have and I implore you to get one. If my experience with the Uma is any kind of predictor then I'm really eager to try more from Je Joue.
If you've decided that you need an Uma, and I think everyone does, please consider purchasing it from Sensual-Intelligence. They sponsored this review and I am grateful to them for giving me a toy that I love so much. They offer free shipping to CA on orders $49+ and to the US on orders $99+. That means your Uma will ship for free.  If you purchase it from them, I'll make a small commission at no extra cost to you and you'll be supporting this blog and all that I do here.

The Je Joue Uma was provided by Sensual-Intelligence in exchange for an unbiased review.
Like this? Want more of it? Subscribe!
| | | |
| --- | --- | --- |
| Get new posts sent to your inbox! | | |
| Get my sporadic newsletter filled with exlclusive deals, the latest sales and secret bonus giveaway codes. | | |