Want to support my blog? Clear your cookies, click the banner and shop!

Don't miss these great sex toy sales.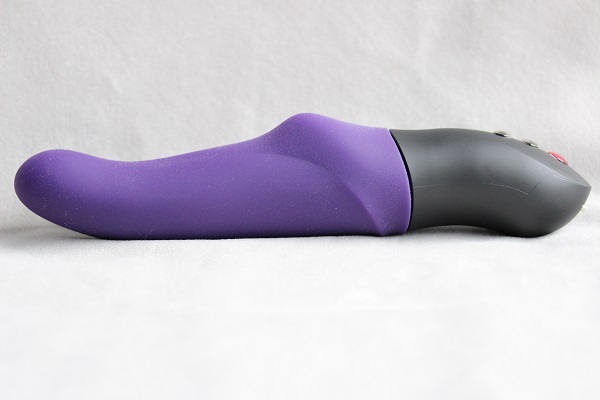 Finally, a company made a sex toy deserving of the label, "innovative". The Fun Factory Stronic Eins is not a gimmick, folks. This thing is truly unlike anything else on the market and it's not just different for the sake of it. The Stronic Eins is a sex toy befitting of the 21st century. I liken it to a carnival ride for my vagina. The first time I used it, I swear my G-spot transcended time and space to another dimension of, "that feels fucking amazing".
Fun Factory created a whole new category of sex toys with the Stronic line. They are not vibrators and feel nothing like vibration. They are pulsators and stimulate with a thrusting motion.  Traditional vibrators use a weighted rotary motor whereas, the Eins uses what Fun Factory calls "Drive Technology", which is a motor rapidly moving a weight back and forth in a linear fashion.
Many have described the Stronic Eins as a Shake Weight for the vagina and even though I've never held a Shake Weight, I'd say that's probably a pretty accurate comparison.  I like to imagine that someone from the company, upon seeing the Shake Weight for the first time, immediately thought of what it would feel like to put one in a vagina.  Then they subsequently rush out to procure one and feverishly begin to reverse engineer it.
It really does simulate the thrusting of sex better than any other sex toy (not counting crazy expensive fucking machines). I wouldn't say it feels just like having PIV1 sex but the motion it similar. Sometimes when I'm going for dual stimulation with powerful G-spot vibes, the internal vibration seems to cancel out the external vibration but I don't get that with the Eins.  There is no numbing effect either because again, the Stronic doesn't vibrate. Rather, it shakes your G-spot into blissful oblivion.
Many have loved the Stronic Eins and its cousins, the Drei and Zwie but the totally unique sensation isn't for everyone. For me though, it was love at first thrust, from the instant I put it into my vagina and turned it on. It quite literally shakes my whole body from the inside out and my G-spot loves the sensation. You really do feel like you're on some kind of thrill ride.
All I have to do with the Eins is lightly hold it in place and push down on the handle slightly, to force it up into my G-spot, and then let it go to town.  In fact, it works best if you just use a couple of fingers on the base to keep it from shimmying out.  If you grip it tightly, it kind of restricts the thrusting motion.  I've read other reviews where it is claimed that clenching around the Eins with their PC muscles also restricts the thrusting but I haven't found that to be a problem.  And I  have some pretty impressive PC muscles… or, so I've been told.  I actually really like how it feels when I clench down hard on it.
The Eins does all the hard work for you. No more arm cramps from thrusting, only to have it give out right as you're about to climax. You can concentrate on using your free hand for some clitoral stimulation and have some fantastic blended orgasms like you've never felt before. I promise you, it won't feel like any other toy you already have.
Unlike traditional vibrators, the Eins feels stronger to me on the lower speeds. When it's on the slow pulsations, it really thumpity-thumps your G-spot. On the higher/faster settings it kind of reminds me of a washer on spin cycle. Also unlike most traditional vibrators, I actually really enjoy the Eins' patterns. There's one I really like that kind of feels like a bouncy ball. I know that sounds strange but it's the best way I can describe it.
I think Fun Factory totally nailed it with the Eins (and it makes up for the Delight). I only have one big complaint and that's the price. Unfortunately, the Eins isn't going to fit into everyone's budget and honestly, I wouldn't even have it if it weren't provided to me in exchange for this review. On the one hand, I can totally understand the high price tag. I'm sure the technology that goes into the Stronic toys isn't exactly cheap and there really isn't anything comparable on the market.
At the same time, $200 is a lot to spend on a sex toy but if you end up loving it like I do, you'll probably feel it was worth it. I say, if you can afford it and want to experience something absolutely new and unique then definitely get it. If it's just too much to spend right now, maybe it's something you can save up for. I can't promise you'll love it. Nobody can do that with any sex toy. But I can promise that it won't be like anything else you've experienced before.
If you're a power queen then I think you're in for a real treat with the Eins. The stimulation is quite intense and might actually be too much for very sensitive types. I think the size is nice at 4.5" long (insertable) and graduating from 1.4" to 1.6" in diameter. For some reason, I imagined it to be much bigger from the pictures I'd seen. I think in reality, it's a comfortable girth for many.
If there is one thing I could complain about, other than the price, it's the silicone. Fun Factory silicone can feel kind of weird sometimes. It has a matte finish but it's not exactly silky like you would expect from matte silicone. When I'm washing it with soap and water, I feel an odd texture but I don't feel it when I'm using it. Once it's all lubed up, it feels OK in my vagina but I think I would prefer a silicone similar to the kind LELO or Je Joue uses. It also grabs quite a bit of lint. Which leads me to my other complaint.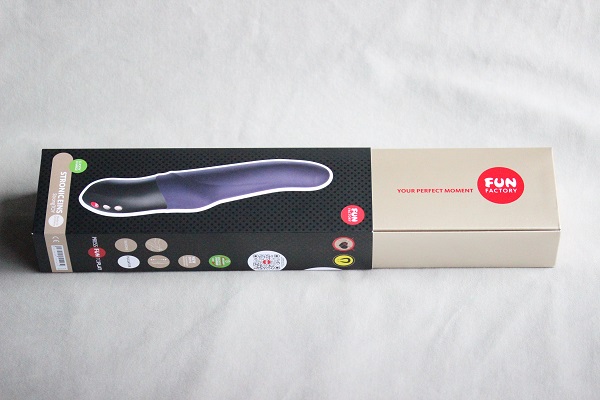 For $200, don't you expect to get a storage pouch? Yeah, me too. It's just like the last high priced luxury toy I reviewed… no storage pouch included. And for something that attracts so much lint, it's kind of a necessity. The box isn't even all that sturdy and I couldn't see it standing up to storage for very long. It just seems kind of cheap that I have to put my high end, totally innovative, luxury sex toy in a ziplock bag. Come on Fun Factory, you gave me a pouch for the Delight but not for the Eins? What were you thinking?
The Stronic Eins is made of body safe, phthalates free silicone and plastic. It's fully waterproof so you can make bath time, fun time. This also makes it easy to clean. Soap and water is usually enough. You could also use a toy cleaner. If you need to sanitize it, you can wash it in a 10% bleach solution. It's advisable to use water-based lube with the Eins and the manual recommends it. Some silicone-based lube can damage some silicone toys so, if you don't want to risk it, stick with the water-based lube.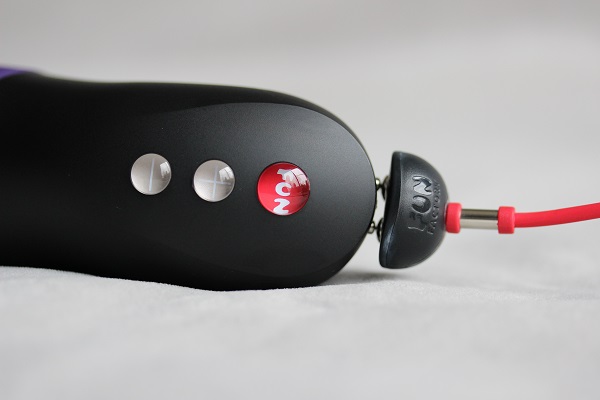 The Eins charges through a magnetic connection to contacts at the base of the handle. The magnet is fairly strong and not as fiddly as some I've seen with other toys. It is USB rechargeable but does not come with an A/C to USB adapter so, if you don't want to charge it on your computer, you'll have to pick one up.  Or, if you have one from some other portable gadget, you could use that. While it is charging, the buttons light up in succession and turn off when it is finished. The manual states that a full charge is reached in 16 hours. Yep, you read that right. I guess that's from a completely dead battery because when I received mine, it only took a few hours to fully recharge.
The various modes of the Stronic Eins. Please ignore the lint.

There are three buttons. One that has the Fun Factory logo and the other two are (+) and (-). You press and hold the logo button to turn it on. It starts off in kind of a mid-speed pulsation that Fun Factory calls, "Perfect Start". You press the (-) button repeatedly to go from "Perfect Start" to "Rattle","Gallop" and to "Dirty Dancing", which are slower, thuddier (I'm making that a word because it should be.) pulsations. Also, starting from the "Perfect Start" pulsation, you can press the (+) button repeatedly to go from "Samba", "Rumble", "Quicky", "Roller Ball", "Vienna Waltz" and finally, to "Rumba". Press and hold the logo button to turn it off. The travel lock is engaged by pressing the logo button and the (-) button simultaneously for 5 seconds. To unlock it, press the logo button and the (+) button together for 5 seconds.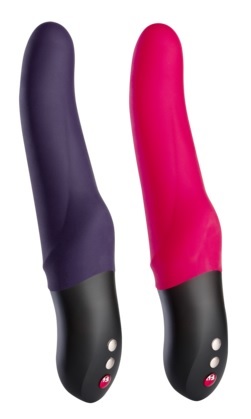 I think the Stronic Eins is a lot quieter than most of my traditional vibrators. It's more of a clip-clop sound than a buzz.  Or as another reviewer put it, it sounds kind of like a distant helicopter.  It comes in two colors – dark violet and pink. The Eins contains strong magnets and the manual warns that it could interfere with pacemakers. You also want to keep it away from computers or other media with magnetically recorded data. Fun Factory covers the Eins with a 2 year warranty.
The innovative vision and technology behind the Stronic Eins makes me proud of my German heritage. Fun Factory thought outside the box to invent their line of pulsating, thrusting sex toys. The sensation is completely unique and I personally love it. I think it's really going to satisfy those who are looking for something powerful. For me, it's awesome combined with clitoral stimulation and it gives me some intense blended orgasms. It is expensive but for the experience you get, I think it's worth it. So, if you can afford it, I definitely recommend that you take your vagina on a thrill ride with the Stronic Eins.

Good Vibrations provided the Fun Factory Stronic Eins in exchange for an unbiased review.
Like this? Want more of it? Subscribe!
| | | |
| --- | --- | --- |
| Get new posts sent to your inbox! | | |
| Get my sporadic newsletter filled with exlclusive deals, the latest sales and secret bonus giveaway codes. | | |