Want to support my blog? Clear your cookies, click the banner and shop!

Don't miss these great sex toy sales.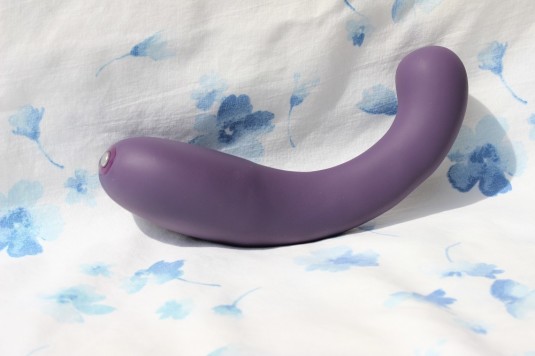 Dear Je Joue, I don't know how you do it but it seems like you make vibrators meant just for me. I fell instantly in love with the Uma and it's one of the few sex toys that made me wish I had another one just like it. Why in the world would I want 2 of the same vibrator? As a backup, maybe? Well, that's part of it but the Uma's vibrations are so deep and rumbly and I love how it feels for G-spot stimulation as well as clitoral stimulation.
I could think of nothing more toe curling-ly good than to wield the power of two Umas (Umi?) at the same time. But since I've already reviewed it, I thought I should try something new and it seemed like the next logical step was to procure a MiMi. I thought that it might have the same deep rumbly vibrations as the Uma but in a compact clitoral vibe size. While the MiMi is a great vibe (a review of it should be coming soon), it wasn't quite the clitoral Uma substitute I hoped it would be. And that's what led me to the Je Joue G-Kii. Would it be similar enough to the Uma to allow me to achieve my masturbatory dream?
The G-Kii is an intriguing vibrator that's unlike any other that I've seen. It has an adjustable G-spotting curve. It really is a pretty ingenious design. Initially, I thought there must be some kind of bendable wire inside that gave it the adjustability. Instead, it has two joints that lock into place at various angles to achieve either an extended subtle curve or a very tight curl. When tightly curled, it's meant to be used as a dual stimulator, where the tip would be stimulating the G-spot while the handle end curves around to rest on the clitoris. Consistent with some of my other experiences with dual stimulating vibrators, this didn't work out very well for me but that's really more a matter of my particular anatomy and how I prefer to masturbate. It's very possible that this vibrator could work out well as a dual stimulator for others though.
So, if it didn't work as a dual stimulator then why do I still love it? Because it's an amazing G-spotting vibrator with vibrations that are very much like the Uma's… but not quite. The G-Kii has dual motors, one near the tip and one near the handle (for the dual stim application). You might think that since I can't use it as a dual stimulating vibrator that the dual motors don't matter but they do. They matter a lot. I've noticed that there's an effect that happens with vibrators having more than one motor. Often, the vibrations harmonize together creating a unique resonating frequency that my body really responds to. And it responds to the G-Kii in a big way. It's not that the vibrations are super powerful (they aren't wimpy either) but it's just something about the resonating vibration that really does it for me.
The first time I tried the G-Kii, I used it internally, while using the Uma on my clit and it was everything I imagined it would be. I used the G-Kii the way I normally do with G-spotting vibes. I pushed the handle down, forcing the tip up into my G-spot. From there I would rock it a little or even just hold it still, applying steady pressure. In addition to creating that resonating vibration that I love so much, the motor near the handle gives me strong vibration closer to my vaginal entrance which is oh, so nice.
With the combination of these two vibrators, I was able to achieve a mind blowing blended orgasm in an uncharacteristically short amount of time. I still deal with some of the anorgasmia caused by the medications I take, even though it's been partially reversed. So, it's still very common that I struggle to reach orgasm. Because of this, when I find a toy or, combination of toys, that makes the orgasms come easily, it makes me all kinds of happy. I really can't find the words to describe just how good the orgasms feel from using these two toys. It might not be everyone's cup of tea but it seems to be exactly what my body needs.
After my first spectacular orgasm with the Uma/G-Kii duo, I lay there catching my breath on a thoroughly soaked Liberator Throe. I look over at these two amazing toys that just gave me one of the best orgasms ever and I wondered – if it felt this good using the G-Kii internally and the Uma externally, what would it feel like the other way around? So, I tried it and even though I just had a really powerful orgasm, the duo easily gave me another one. As good as that resonating vibration of the G-Kii feels on my G-spot, I think it might feel even better on my clit. So yeah, HUGE success with the Uma/G-Kii combo.
Having thoroughly rambled on about my use of and adoration for the G-Kii, you probably want to know how it works and stuff. Well first of all, let's talk about that adjustable curve. Some have had a lot of difficulty with the curve adjustment mechanism. It felt pretty intuitive to me but the manual doesn't say anything about how the mechanism works. At times, it might feel like the button is stuck. I mostly notice this in the 1 and 5 positions. All you have to do is, in the 1 position, apply gentle pressure to the tip, pushing it down toward the handle and you'll feel the button loosen up. In the 5 position you do the opposite and slightly pull the tip away from the handle. You should also keep the button pressed until you reach the position you want and then release it and let the mechanism gently click into place. In other words, don't just briefly press the button to unlock the mechanism, then release the button and forcibly push or pull the shaft into place.
Maybe it seemed familiar to me because I vaguely remember some toy I had as a kid that worked the same way but I'm not sure exactly what it was. I even handed it off to dizzyguy, saying nothing, to see if it tripped him up at all and it didn't. The operation of this mechanism really doesn't lower my opinion of the vibrator at all.
The G-Kii has three buttons, not counting the one that adjusts the curve. Press and hold the (+) button to turn it on. Repeatedly press it to step up through 5 levels of intensity. Repeatedly press the (-) to step the intensity back down. Press and hold it to turn it off.
With the middle button, you step through 6 different modes. Press it once and the motor near the handle is on but the one in the tip is off. Press it again and the motor in the tip is on and the one in the handle is off. The 3rd and 4th clicks give you pulsating patterns and on the 5th click, the motors alternate back and fourth. On the 6th click you get another pulsating pattern. Press it one more time and you are back in steady vibration mode. You can adjust the intensity while in any mode by pressing the (+) and (-) buttons. You cannot independently control the intensity of each motor.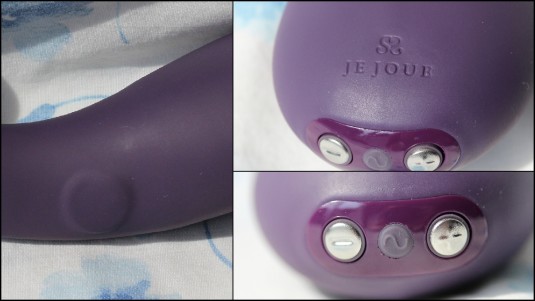 The G-Kii charges through a magnetic connection and the buttons are also the charging contacts. A full charge is reached in 2 hours and that is supposed to give you 2 hours of run time. While charging, the small red light will flash and will stay on when complete.
This vibrator is made of silicone and plastic, which are nonporous, body-safe materials. I think Je Joue has some of the nicest silicone out there. It's similar to LELO's silicone but softer and silkier. It doesn't attract a lot of lint and has very little drag. The manual states that it is waterproof but warns against submerging it for long periods of time (I have no idea what Je Joue considers a long time). It is easily cleaned with soap and water or you could use a toy cleaner. To sanitize it you can use a 10% bleach solution and rinse thoroughly with water. As always, it's safest to use water-based lube with silicone sex toys. If you decide to experiment with silicone or hybrid lube, make sure to spot test first.
When fully extended, the G-Kii is 8.5 inches long and about 5 inches are insertable. The tip is 1.35 inches in diameter and tapers to 1 inch along the shaft, then it begins to flare back out into the handle. It comes in 4 colors: black, fuchsia, purple and lavender. The packaging is fairly nice but you don't get a storage pouch. I think the box is meant for storage but at this price point, you really ought to get a storage pouch. Je Joue covers the G-Kii with a one year warranty.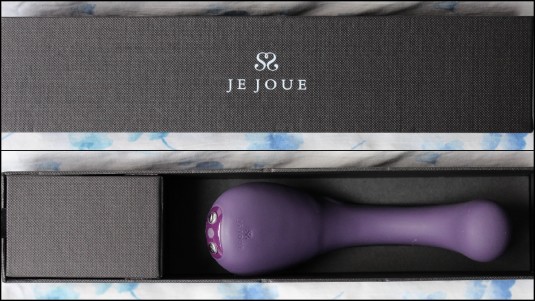 SexnCare made my dreams come true when they sent me the G-Kii. I might not be able to use it as a dual stimulator but as a G-spotting vibrator, it is fantastic. I love it for both internal and external stimulation and will definitely experiment by pairing it up with some of my other vibes and dildos but something tells me my favorite way to use it is always going to be with the Uma. There's just something about the combination of those two toys that gives me exactly what I need for orgasms that I don't have to work very hard for. I'm not saying you have to get both of them because the G-Kii is a great vibe that can certainly stand on its own but I'm just really glad I did.
Sexncare is offering a 20% discount on the Je-Joue G-Kii for the month of June. Use code GK20 at checkout.
Sexncare is a community based, health conscious, online intimacy and wellness boutique and educational resource offering a radical and sex positive alternative to the usual outlets. At Sexncare we have a passion for sex and all manner of sexual and sensual interactions and we delight in the human body in all of its manifestations – all women are beautiful.

SexnCare provided the Je Joue G-Kii in exchange for an unbiased review.
Like this? Want more of it? Subscribe!
| | | |
| --- | --- | --- |
| Get new posts sent to your inbox! | | |
| Get my sporadic newsletter filled with exlclusive deals, the latest sales and secret bonus giveaway codes. | | |