Want to support my blog? Clear your cookies, click the banner and shop!

Don't miss these great sex toy sales.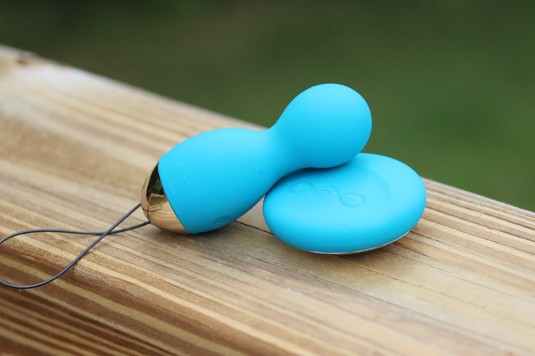 I have to admit, the idea of sticking a radio controlled electromechanical device in my vagina and leaving it there while I go about my business seemed kind of strange at first but now that I've tried it, I think I kind of like it. LELO's Hula Beads are vaginal pleasure beads with a twist, literally… because they rotate while they vibrate. The SenseMotion technology makes using the remote control a lot of fun. They're very comfortable and wearing them makes mundane tasks a little less boring.
Let's get one thing straight right away, the Hula Beads are never going to give me orgasms but to be fair, I require clitoral stimulation for that to happen. If I use a vibrator on my clit while wearing them, it does enhance the orgasm but that's not really how I like using them. I actually enjoy just wearing them while I do other things… like, watching TV or surfing the internet. Cooking, laundry, whatever – it's all more entertaining with the Hula Beads all up in me.
My first thought when I saw the Hula Beads was that they'd be really great for couples to use secretly out in public. The idea of going out in public with a sex toy inserted that can be controlled by a partner appeals to many. I think the Hula Beads are discreet enough for that, especially in an environment with some background noise. The remote vibrates and I assume that's to give the operator some feedback but I think it might be loud enough to blow your cover. Luckily LELO thought of everything. You can turn off the remote's vibration in all three modes by pressing and holding the middle button. You just won't have that feedback that tells you what your partner is feeling.
The Hula Beads' vibrations aren't the strongest you're ever gonna feel but for remote controlled vaginal beads, it's not bad. LELO says that the rotations stimulate the G-spot but it's not quite working out that way for me. The rotations do provide a little bit of a pleasant squirmy sensation but really, my G-spot couldn't care less. I need a lot stronger stimulation and pressure to please my G-spot. They are comfortable to wear for extended periods, they stay in place while I move around and I don't notice the retrieval cord at all.
To begin, you first press and hold the button on the beads until the light comes on. If you want to use them without the remote you press the button again. This mode isn't the most practical because the vibration intensity is fixed but more importantly, you can't cycle through the functions without removing the beads, obviously. After you have turned the Hula Beads on (by pressing the button only once) you can turn the remote on by pressing and holding the (+) button. It can take 5-10 seconds for the beads to detect the remote.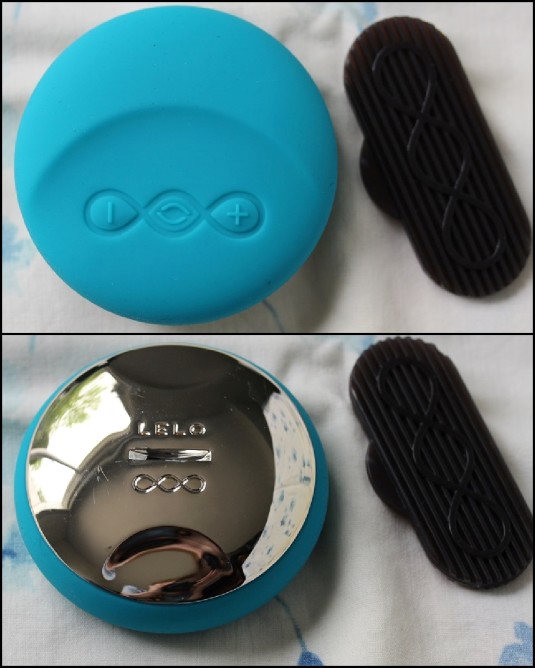 The remote control has three modes of operation. When you press and hold the (+) button to turn it on, it starts in Sensmotion 1. In this mode, steady vibration and rotation speed can be varied by how you hold the remote. Hold it horizontally and the Hula Beads vibrate at 10% intensity. Hold the remote vertically and they vibrate at 100% intensity. Any angle between those two positions gives varying vibration speed and intensity. I really enjoy playing with them in this mode. It's fun to control the intensity this way.
From Sensmotion 1 mode, press the center button and the remote is now in Sensmotion 2 mode. In this mode you shake the remote back and forth and the faster you do it, the higher the intensity. I'm not a big fan of this mode. It's just doesn't work out too well if you're trying to go about your business with these inserted while shaking the remote around all the time. This mode might be better suited for couple's play.
Press the center button one more time and the remote is in pre-programmed mode. In this mode the Hula Beads operate like other LELO vibrators where intensity can be changed with the (+) and (-) buttons. This mode also has 5 familiar LELO patterns and you repeatedly press the center button to scroll through them. When you get to the last pattern and press the center button one more time, the remote goes back to Sensmotion 1 mode. I think it would have been nice to cycle back to the steady vibration in the pre-programmed mode instead. Because if you want to get back to that function, you have to press the center button two more times. In all three modes, if you want to turn the remote's vibration off, press and hold the center button.
In any mode, on any function the rotation and vibration speeds are synchronized. They can't be independently controlled and you can't turn one off and not the other. I think that would have been a nice feature to have. While in any operation mode, you press and hold the (-) button to turn off the remote then the Hula Beads go into stand-by for one hour; remaining receptive to the signal from the remote.
The Hula Beads are nonporous and body-safe as are all LELO products. They're made of silicone and plastic. I wasn't sure what the retrieval cord was made of so I asked LELO and they told me that it was ABS plastic. This confused me because I had no idea that ABS could be flexible like this but indeed it can. It is commonly sold in filament form on spools for 3D printing. They can be washed with soap and water or you could use a toy cleaner. Wash them in a 10% bleach solution if you need to sanitize them.
The beads are fully water-proof so it is safe to submerge them. LELO says that the charging socket is sealed from the internal workings of the beads. It still makes me feel a little uneasy that water can get into the charging socket and obviously, you want to make sure it's completely dry in there when you plug it in to charge. Also, this open socket is a place for lube and body fluids to collect in a location that's difficult to clean. I would really like to see LELO move toward either inductive charging or magnetic contacts to eliminate this problem. LELO claims the remote is waterproof but I had my doubts. However, after thoroughly submerging it for a couple of minutes, it continued to work with no problems and the battery compartment appeared to be dry.
A full charge is reached in about 2 hours and that is supposed to provide 1.5 hours of run time. The light on the beads blinks while it is charging and glows steady when complete. Standby is 90 days. The remote requires 2 AAA batteries and a set is included. LELO says the remote should run up to 10 hours on a set of batteries.

The Hula Beads come in 3 colors – Ocean Blue, Deep Rose and Black. They are 4.25 inches long and 1.5 inches in diameter at the widest point. LELO recommends water-based lube and that's a safe bet since some silicone-based lube can damage some silicone sex toys. The packaging is LELO's standard and it's a nice presentation. The beads come with a storage pouch and a key for opening the remote. You don't necessarily need the key to open it but it makes it easier.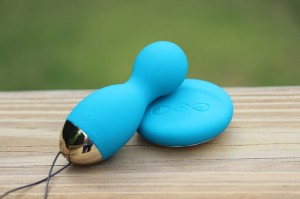 I had mentioned to another reviewer that the Hula Beads made mundane tasks (like cooking) more fun, and she suggested that the LELO Luna Beads could also make mundane tasks more fun and they cost a lot less. That is a good point. The Hula Beads are expensive… maybe even a touch too expensive. I don't have the Luna Beads so I can't make that comparison but they don't do all of the nifty things the Hula Beads do (like vibrate and rotate and operate via remote control). Still, they're going to be in more people's price range and they are highly recommended by reviewers. Despite the high price tag, I still think the Hula Beads are pretty cool but they probably aren't going to be orgasm inducing for anyone but maybe – and that's a big maybe – the most uber-sensitive.
LELO provided the Hula Beads in exchange for an unbiased review.
Like this? Want more of it? Subscribe!
| | | |
| --- | --- | --- |
| Get new posts sent to your inbox! | | |
| Get my sporadic newsletter filled with exlclusive deals, the latest sales and secret bonus giveaway codes. | | |