Want to support my blog? Clear your cookies, click the banner and shop!

Don't miss these great sex toy sales.
Since I totally dropped the ball and forgot to plan a giveaway for my one year blogiversary, which was in March, I've put one together now, in June.  Why June?  Because it was this time last year that Blogger brought the hammer down on sex blogs with affiliate links leaving many scrambling to set up self hosted blogs.
So, it's been one year that I've been self hosted.  Why not celebrate with a giveaway?  I have 4 awesome prizes for you from some equally awesome sponsors.  Make sure you support them because by doing so, you support this blog and I can keep bringing you new reviews and great giveaways.
Winners drawn at random. One prize per person.  Giveaway ends 6/30.  By entering this giveaway, you agree that you are of legal age to purchase sex toys where you reside.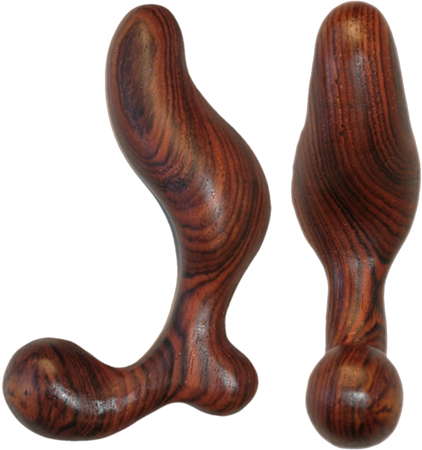 SheVibe has been as awesome as they always are and have sponsored an incredible prize.  Last month I reviewed the NobEssence Seduction and it instantly became one of my favorite dildos.  I love it so much that I asked SheVibe if we could give away something from NobEssence and they offered to donate the Romp.  The Romp has gotten high praise by choosey reviewers and now, you have the chance to own one.

SheVibe is responsible for prize fulfillment and will ship the prize within the US.
a Rafflecopter giveaway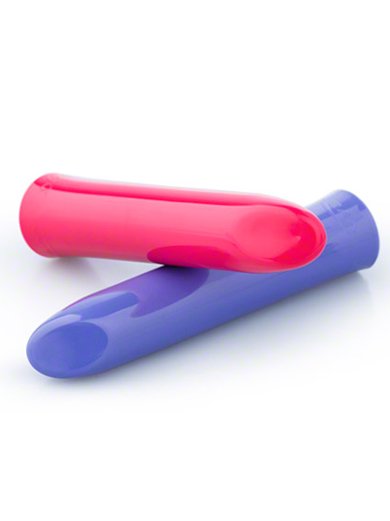 GoodVibes wanted to help me celebrate by donating a We-Vibe Tango, one of the most beloved bullet vibes in existence.  I don't have the Tango, yet, but I have the Salsa (its cousin) and it is one of my all time favorite vibrators.  I think everyone should own a Tango.  It's simple but very effective and it's surprisingly powerful and thuddy for its size.  Plus, it fits into toys with bullet cavities.

GoodVibes is responsible for prize fulfillment and will ship to the US and CA.
a Rafflecopter giveaway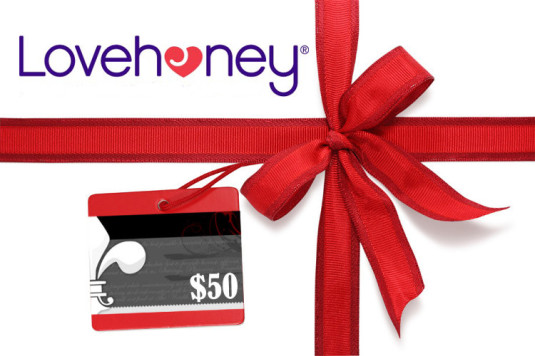 Lovehoney stepped up and offered to donate a $50 gift voucher which will allow the winner to buy whatever they want.  Who doesn't love that?  

The voucher is for the US Lovehoney website and they will ship to the countries listed here.
a Rafflecopter giveaway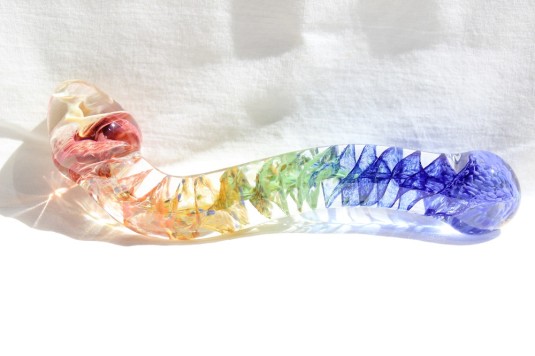 Matthew Healy is a truly gifted glass artist and he has an Etsy shop, Ttamage, that opened in 2009.   I reviewed one of his pieces last year and it's a beautiful one of kind glass dildo.  He has kindly donated another one of kind piece to my blogiversary giveaway.  Make sure you stop by his Etsy shop.  I'm sure you'll find something you love.
This glass dildo is about 7.75 inches end to end, measured along the curve.  The pointed head is 1.31 inches in diameter.  The shaft is .92 inches in diameter.  The rounded ball end is 1.23 inches in diameter.
I am responsible for shipping this prize and I will pay for shipping within the US.  Outside the US, winner pays shipping.
a Rafflecopter giveaway
Like this? Want more of it? Subscribe!
| | | |
| --- | --- | --- |
| Get new posts sent to your inbox! | | |
| Get my sporadic newsletter filled with exlclusive deals, the latest sales and secret bonus giveaway codes. | | |