Want to support my blog? Clear your cookies, click the banner and shop!

Don't miss these great sex toy sales.
I know, I know… I sound like a broken record but I love the Je Joue Uma. When I got the Uma, all I could think about was having two of them so I could use them both for dual stimulation. But since I'd already reviewed the Uma, I figured I should try something new so, the next logical step seemed to be getting the MiMi. I was hoping the MiMi's vibrations would feel the same as Uma's and I could use it on my clit while I used the Uma internally. Unfortunately, the MiMi didn't quite live up to my expectations. It's a great clit vibe but it's no substitute for the Uma.
The MiMi's vibrations do feel a lot like the Uma's, only they're not quite as intense and they're focused differently. Plus, I don't think the shape is the best for me. I can have orgasms with it but it's not as easy as with other vibes. I actually had to change my style a little to get the MiMi to work for me. Ordinarily, I prefer to lightly stroke my clit with a vibrator. I'm not normally one to go for a lot of pressure. However, this is exactly what I have to do with the MiMi. At first, I thought that using the thin edge of it to lightly stroke my clit would be the way to go. But the vibration isn't concentrated as strongly on the edges. The vibration is strongest on the broad flat surface so, if you like that sort of stimulation then the MiMi would be great and it does work well when applying pressure.
So, even though I have to masturbate with it differently than I normally do, it does get the job done and I do think it is a good vibrator for those who like broad stimulation and pressure. It just wasn't as Uma-like as I'd hoped it would be. The vibration is very deep and rumbly and they don't dampen a lot under pressure. And this is the perfect combination for a lot of people, it's just not exactly what I was hoping for with the MiMi. I wouldn't say I'm totally disappointed with the MiMi, I was just looking for a very specific kind of stimulation. But all is not lost, I was actually able to achieve the dual stimulation I was looking for with the combination of the Uma and the G-Kii. So far, all of the Je Joue products I've tried are high quality vibrators with a rumbly kind of vibration that I haven't felt from other vibrators. It's that unique rumble that made me fall in love with the brand – and I am quite fond of their uncommonly silky soft silicone as well.
The MiMi fits nicely in the hand. You are going to feel the vibration in your hand but it wasn't something that bothered me. There is absolutely no squish to the MiMi, it has a silicone skin over hard plastic. Je Joue has recently released the MiMi Soft and the tip on that one is squishy.
The controls and functions are pretty much the same as the Uma. You have three buttons. Press and hold the (+) button to turn it on and repeatedly press it to step through 5 levels of intensity. Repeatedly press the (-) button to step the intensity back down. Press and hold to turn it off. The middle button steps through 6 patterns of pulsating vibration. You can control the intensity of the patterns with the (+) and (-) buttons.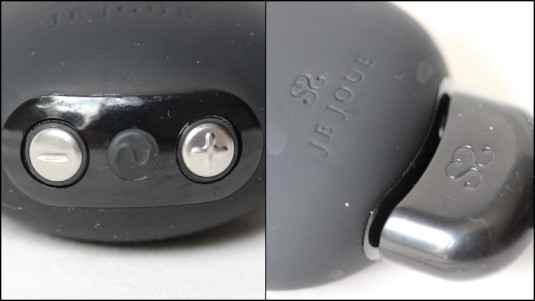 Like the other Je Joue vibrators, the MiMi charges through a magnetic connection to the buttons, which are also the charging contacts. It takes 2 hours to fully charge and that is supposed to yield 2 hours of run time. A small red light flashes while it's charging and stays on when complete.
Je Joue's silicone is some of my favorite of any brand. It's so soft and silky.  It attracts a small amount of lint, as evidenced in my photos (as well as the water spots). The entire vibrator is body-safe and phthalates free. It's waterproof, which makes it easy to clean with soap and water or you could use a toy cleaner. You can sanitize it with a 10% bleach solution and rinse well with water. I always say it's the safest bet to use water-based lube with silicone toys because some silicone-based lube can damage the finish of some silicone toys. However, it's not always the case and I have even successfully mixed the two. If you want to experiment with a silicone-based or hybrid lube, make sure to spot test first.
The MiMi is 3.25 inches long and about 2 inches across at the widest point. It comes in four colors – lilac, purple, black and fuchsia. Mine came in a nice box but with no storage pouch which is really inexcusable for a luxury brand. The new ones come with a blind fold, which is just silly. Hey, Je Joue… Storage. Pouch. The MiMi is covered by a one year warranty.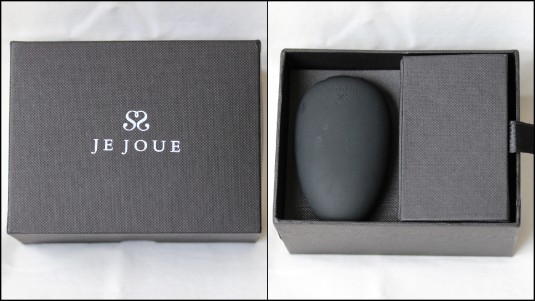 So, the MiMi wasn't the clit vibe of my dreams. To be fair, I was hoping for it to be something other than what it is – an Uma in a smaller package. That doesn't mean it deserves a negative rating. Not at all. If I judge it objectively, it really is a great little clit vibe that's probably best suited for those who like broad stimulation and pressure. The vibrations are nice and rumbly, though could be stronger for my taste. It's nice compact size makes it great for use during sex too. If those are the kinds of things that you look for in a clit vibe then I think the Je Joue MiMi is a solid choice and I feel totally comfortable recommending it.

TabuToys.com provided the JeJoue MiMi in exchange for an unbiased review.
Like this? Want more of it? Subscribe!
| | | |
| --- | --- | --- |
| Get new posts sent to your inbox! | | |
| Get my sporadic newsletter filled with exlclusive deals, the latest sales and secret bonus giveaway codes. | | |