Want to support my blog? Clear your cookies, click the banner and shop!

Don't miss these great sex toy sales.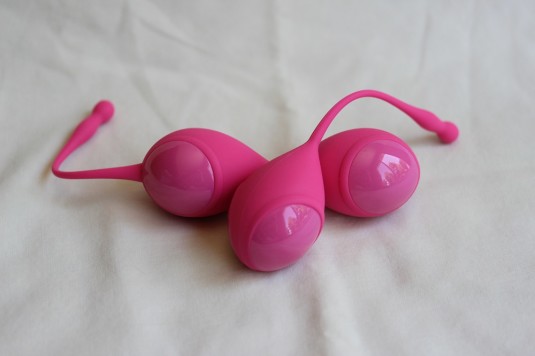 I've been curious about kegel exercisers for awhile now. Admittedly, I don't know a lot about them. From what I gather, they can help tone your PC (pubococcygeus) muscles in a few different ways. They can serve a a reminder to actually do your kegels and provide some resistance to the muscles when you clench around the them. Many kegel balls have smaller inner balls that bounce around inside creating small vibrations that some manufacturers say, will induce small muscle contractions that help tone the PC muscles over time. And some are weighted to provide a challenge to the muscles when you must concentrate on clenching to keep them in place.
Kegel exercisers are not necessarily designed to bring pleasure or induce orgasms though some people do find wearing them quite pleasurable. So, why is it important to have toned PC muscles anyway? Toned pelvic floor muscles can help prevent urinary incontinence but also… can lead to more powerful orgasms and who doesn't want that?
I've had my eye on a few different kegel exercisers and expected that my first set would probably be the LELO Luna Beads since I've read so many favorable reviews for them. Then I came across this review for the Tracey Cox Toner Set and it convinced me to give them a try. Based on what I read there plus the reviews on Lovehoney, I really expected to be able to feel the vibrations from these as I move around but surprisingly, I feel absolutely nothing. I can jump up and down and shake my ass but there's just no sensation there. I've tried wearing them in the car, driving over bumpy roads and still nothing. That doesn't mean that this isn't a good set of toner balls. It just means we're all different and I don't happen to feel it.
The good news is, they're very comfortable. In fact, I can totally forget they're even in my vagina at times, especially since I don't feel any vibration, but they do help remind me to do my kegels when I notice them. It doesn't feel more difficult to clench around these toner balls than it does with nothing in my vagina but in theory, they're supposed to be providing some resistance to make it a bit more challenging. I really haven't had them long enough or used them enough to determine if they've toned my PC muscles at all. Like any kind of exercise, it takes time to see results.
I got the set that includes the single toner ball and the double. I'm not sure if the double is supposed to be more challenging than the single or what. I don't notice much of a difference really but prefer wearing the double toner balls. You can also buy the double toner balls on their own or, if you prefer, the single toner ball.
I think these toner balls are well made and a great value for the price. They're made of body safe, phthalates free silicone and plastic. The only thing I'd change is the retrieval cord. It's made of stretchy silicone and I don't really think that's a great idea. Though it hasn't happened to me yet, I can imagine it wouldn't be difficult for the cord to slip from your fingers as you're pulling on it and snap back like a rubber band against your vulva. And the thought of that is well… unpleasant.
You can easily clean the Tracey Cox Toner Balls with soap and water or a toy cleaner. To sanitize them, you can use a 10% bleach solution and rinse well with water. Water-based lube is recommended for these toner balls since some silicone-based lube can damage some silicone sex toys. The packaging is minimal but both the single and double set come with storage pouches. One thing I don't really understand is the wasteful plastic tray that the double balls were packaged in. It doesn't really seem like it has any kind of functional use. I guess it's just there to keep the toner balls stationary in the box but the single ball didn't have one and it seems unnecessary. They only come in pink and the balls are about 1.5" in diameter.
I don't think you can really go wrong with these toner balls, especially for the price. Just because I don't feel the vibrations doesn't mean you won't. In fact, many claim that they do. Based on comfort, I give them a very high rating and I think most will find them comfortable to wear. If you're curious about kegel exercisers then I think this is a very good set to start with.
Side note: Don't let the fact that this product has a sexpert's name on it persuade you to get it. This happens to be a decent quality product at an attractive price but that can't be said for all sexpert branded sex toys. In fact, I wasn't impressed with the last Tracey Cox branded product I tried1. I also wasn't impressed with the book that I read where she refers to the vulva as the vagina and says sperm when she really means semen. I'm not saying that she doesn't know the difference. I asked her about it and she said that she likes to use words that people are familiar with but I feel as an educator, she should be teaching people the correct terms (not that I'm some kind of expert or anything. I'm just sayin').


Lovehoney provided the Tracey Cox Supersex Kegel Toner Set in exchange for an unbiased review.
Like this? Want more of it? Subscribe!
| | | |
| --- | --- | --- |
| Get new posts sent to your inbox! | | |
| Get my sporadic newsletter filled with exlclusive deals, the latest sales and secret bonus giveaway codes. | | |