Want to support my blog? Clear your cookies, click the banner and shop!

Don't miss these great sex toy sales.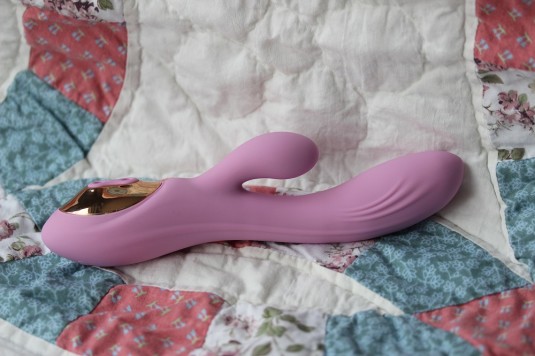 The affordable, body-safe rabbit vibrator with strong rumbly motors is a somewhat mythical creature. I haven't yet seen proof that they exist but I keep looking because ever since that TV show about women having sex in city, that made the rabbit vibe wildly popular, it continues to be a toy a lot of people want. Having tried a few, I really don't know what all the fuss is about. You often have fit problems where its parts and your parts just don't line up.
Personally, based on all the dual stim vibes I've tried, I'd rather just go at it two handed, even though I have found a dual stimulator that fits my anatomy – the Jopen Vr 5.5 – I'm still gonna go for the dildo or vibrator in one hand and a clit vibe in the other. No rabbit vibe has even come close to giving me the kind of orgasms I get using two separate toys. But as a reviewer, I feel it is my duty to keep trying dual stimulators because you never know, there might be one out there that convinces me that masturbating one handed is the way to go. So, in my search for that affordable, body-safe rabbit vibe, I gave the Cal Ex Entice Vivien the chance to wow me.  And it did not.
The first time I tried the Vivien, I walked away thinking… eh, not so bad but not so great. It doesn't fit my anatomy quite right. I have to sort of smoosh my bits down with my fingers to get the clit arm to touch me where I want it to. It did manage to get me off but that isn't necessarily the yardstick by which I measure the merits of a sex toy.
The second time I tried didn't go as well as the first. Maybe because I was noticing all the things I don't like about it. The way the Vivien fits me, the clit arm clamps down a bit too hard and it's uncomfortable. I think it would be better if it flexed more easily. But that's not the worst thing about this vibrator. No, the worst thing is the weak and buzzy vibration. It's that annoying, prickly feeling, surface level vibration. This is one of those toys where I'm thoroughly convinced that's it's not worth trying for a third time. It wouldn't change my opinion.
Most folks with a vulva that I've talked to tend to prefer strong rumbly vibrations that penetrate deep down to stimulate the internal parts of the clitoris and I am no exception. Weak, buzzy vibrations piss me off and often give me that itchy sensation or make just me numb. I haven't yet heard anyone say that they prefer weak and buzzy vibrators but if you do then you might like this one, provided it fits your anatomy and with rabbit vibes, that's always a crap shoot.
I think Cal Ex had the chance to make this a decent affordable, body-safe rabbit vibe but the motors are where they failed. They just don't provide the kind of stimulation that I think most folks are looking for. It does have a lot of things going for it though – independently controlled dual motors, body safe silicone and plastic construction and it's rechargeable. But none of that really matters if the vibration doesn't feel good. So, I guess my quest for the elusive affordable, body-safe, rumbly rabbit vibe continues.
This is the point where you can stop reading if you don't like weak and buzzy vibrators but on the off chance that someone does, I'll give you some of the particulars.
The Vivien has two buttons to independently control the motors. You press and hold to turn them on and keep pressing to cycle through three levels of steady vibration and 5 patterns. Press and hold to turn the motors off. The packaging states that this vibrator is supposed to warm up to 104°F. I guess I kind of notice it a little but it's not anything that really improved the experience. I wonder if it's just the motors radiating heat and they decided to call it a feature.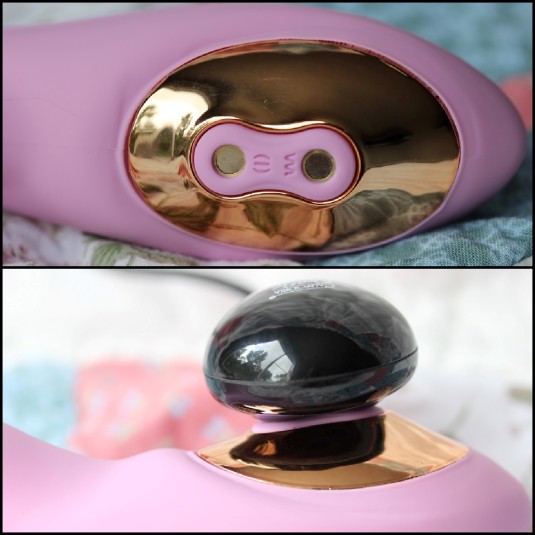 The USB charging cable magnetically connects to the buttons through which the vibrator is charged. When charging a light that's kind of hard to see because it's under the large-ish magnetic connector comes on. There is no documentation about charging time or run time.
You can clean this vibrator with soap and water or a toy cleaner. Sanitizing can be accomplished by cleansing in a 10% bleach solution and rinsing well with water. As with all silicone sex toys, it's safest to use water-based lube because some silicone-based lube and some silicone toys are incompatible.
Let's see, what else?  It's waterproof, comes in pink, raspberry (purple) and purple and does not have a storage pouch.
So, it looks like I'm going to have to keep on searching for that affordable, body-safe, rumbly rabbit vibe. Not so much because I really want one since, like I said, I think two handed masturbation works way better anyway and that's what I would recommend to my readers. But I know folks out there want rabbit vibes so I'd like to be able to find one I can recommend1. Unfortunately, the Entice Vivien isn't that rabbit vibe but I'll let ya'll know if I find one.

California Exotic Novelties provided the Entice Vivien in exchange for an unbiased review.
I can recommend the Vanity Vr 5.5 but it's not exactly what I'd call, affordable. ↩
Like this? Want more of it? Subscribe!
| | | |
| --- | --- | --- |
| Get new posts sent to your inbox! | | |
| Get my sporadic newsletter filled with exlclusive deals, the latest sales and secret bonus giveaway codes. | | |