Want to support my blog? Clear your cookies, click the banner and shop!

Don't miss these great sex toy sales.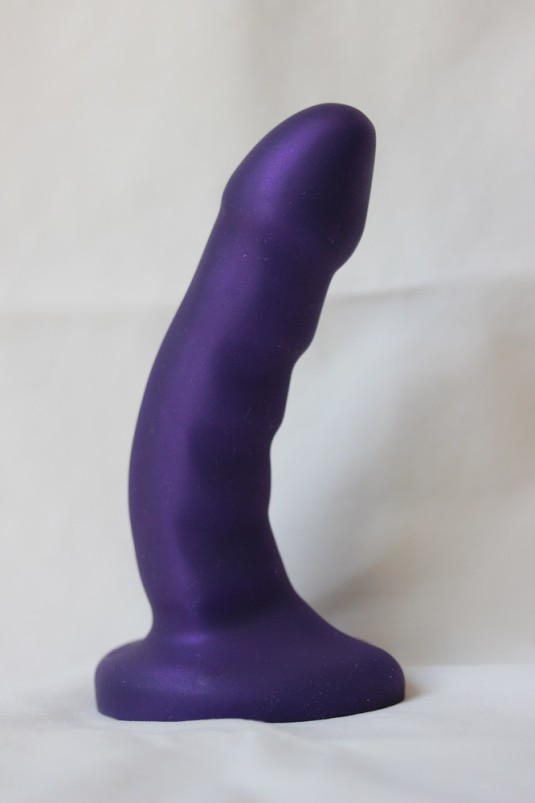 Looking for a great thrusting dildo? I think I might have one for you. The Tantus Curve makes me want to thrust with reckless abandon. The finish makes it glide more easily than some other Tantus toys I've tried and I think the size and shape are pretty much perfect, though it may not be large enough for some.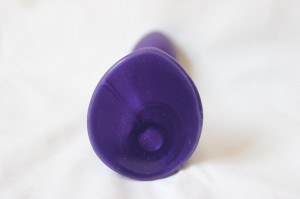 The reasonable girth and tapered head make it so much easier to thrust with. Don't get me wrong, I love a big bulbous head and can sometimes crave more girth but toys like that aren't always the best for me to thrust with. The Curve's finish has quite a bit less drag than glossier Tantus toys so, the lube lasts longer. It also has a teardrop shaped base that is easy to hold on to and sort of gives you a reference to keep the dildo angled properly. Sometimes I find that dildos with perfectly round bases can tend to twist around a bit as I'm thrusting so I'm constantly readjusting. But with the teardrop shaped base, all you have to do is keep the point facing toward your G-spot and you'll get maximum stimulation with every stroke.
As far as G-spot stimulation goes, the Curve feels milder than other toys I have. It's a fairly firm silicone but obviously nothing like more rigid materials that can give me more intense stimulation. And since the head isn't extremely pronounced, it doesn't put as much pressure on my G-spot as some other toys like the much thicker Duke with its massive head. But I can't thrust as freely with the Duke as I can with the Curve because of all that girth. So, it really all comes down to the mood I'm in and the kind of sensation I feel like having and it's oh so nice to have options. And maybe your G-spot doesn't need such extreme stimulation. In that case, I think you'll really enjoy the Curve.  It might also be great for prostate stimulation though obviously, I can't speak to that since I don't have one of those.  Its base makes it safe for anal and it's harness compatible. So, this could potentially be a good pegging dildo.
Like everything that Tantus makes, the Curve is made of the highest grade, premium silicone, which means it's body-safe, phthalates free and nonporous. It's also easy to clean. Soap and water are usually fine but if you need to sanitize it, you can use a 10% bleach solution and rinse well with water. Silicone dildos can also be boiled for a couple of minutes but just make sure that it doesn't touch the sides or bottom of the pot. Most of the time you probably want to stick with water-based lube with silicone toys because some silicone-based lube and some silicone toys are incompatible. But since Tantus uses such high grade silicone, you can sometimes get away with using silicone-based lube. If you want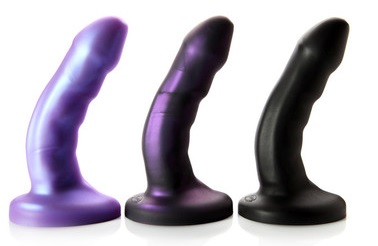 to try it, just make sure you spot test a small area on the base. If the spot gets tacky then you shouldn't use that lube with this toy.
The Curve is 6.88 inches long and 6 inches are insertable. It is 1.47 inches in diameter at the thickest point. It comes in three colors – Purple Haze, Midnight Purple and Black. You don't get a storage pouch with it but ziplock bags are a great, low cost storage solution.
For every mood, there is a dildo and I think Tantus probably makes one to satisfy whatever desire you might have. For me, the Curve is great for thrusting and provides more subtle G-spot stimulation. If I want a bit more intense stimulation, I can opt for the G-Spot vibrating dildo.  If I really want to be filled and stretched, I can use the Duke or if I want some texture, I grab the Purr.
If you like having options, now is a great time to pick up some Tantus toys because through the end of the month EVERYTHING is 30% off with code: WETNWILD. If you would kindly clear your cookies and click through one of my links to make your purchase, I'll earn a small commission at no extra cost to you and that helps me to keep this blog running so, I can continue bringing you new reviews and great giveaways.

Tantus provided the Curve in exchange for an unbiased review.
Like this? Want more of it? Subscribe!
| | | |
| --- | --- | --- |
| Get new posts sent to your inbox! | | |
| Get my sporadic newsletter filled with exlclusive deals, the latest sales and secret bonus giveaway codes. | | |