Want to support my blog? Clear your cookies, click the banner and shop!

Don't miss these great sex toy sales.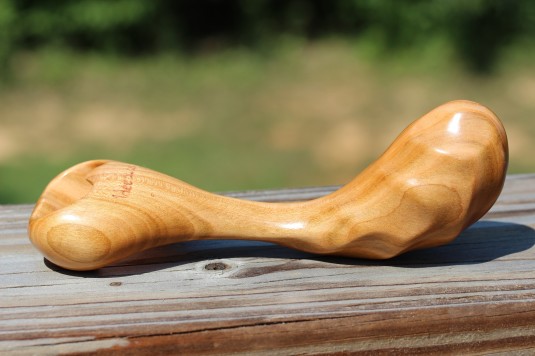 This gorgeous, one of a kind dildo came to me all the way from France, with love. It's really more than just a dildo though – more like a sensual erotic sculpture. It's the meticulously handcrafted work of the Artist behind Idée du Désir (translated: Idea of Desire). Unquestionably, it is beautiful but it's so much more than that. The Structured Orchid, as it's called, massages my G-spot in such wonderful ways that it keeps me coming back for more. Its form is so perfectly organic; allowing the full spirit of the French Cherry it's made of to really shine though. It's been the only dildo I want to use since I received it and it has earned its rightful place on my nightstand.
Normally, I'm a little leery of wooden sex toys. You can't always know if the finish that was used is body-safe and sometimes, it's not even waterproof. The Artist has assured me that the finish he uses for his sculptures is body-safe and phthalates free. It's safe for wooden dishes that come into contact with food and it's used on wooden children's toys so theoretically, it should be safe for sex toys. The only thing that is not known about this finish is whether or not it is nonporous.
The Artist tells me that it can be cleaned with a mild bleach solution but if the finish is porous then even this will not fully sanitize the dildo. For this reason, I have to recommend that you use a condom if you're going to use these dildos anally or if you share them with others. So far, it does appear to be waterproof as I've washed it many times and I've observed no problems with the finish. However, the instruction sheet says that you shouldn't soak the dildo but it has been my understanding that if the finish is waterproof, it should be able to withstand soaking for a short time. That said, it's probably best to follow the instructions and avoid soaking it.
The Artist has many years of industrial woodworking experience and his skills translate beautifully to carving these sensual sculptures. He offers two variations of this dildo. One is the Skin Orchid, which  is completely smooth and the other is the Structured Orchid, which I have, and it has subtle ridges wrapping around the head of the dildo that provide a gentle texture. The Artist creates his sculptures from several types of wood (birch, cherry, walnut, and olive), all of French origin and he applies 7 layers of finish to each piece.
He even creates dildos made of two different types of wood together and this is something I haven't seen anywhere else. Both Orchid dildos come in the Harlequin option and I would love to have the Harlequin Skin Orchid. He accomplishes this patterned effect by gluing layers of the two different woods together, forming a block. He then carves the sculpture from that block, resulting in these stunning pieces.
You might have noticed that the Orchid dildo strongly resembles the very popular NobEssence Fling, right down to the finger holes. While I'm sure the Artist got some of his inspiration from the Fling, his pieces do have their own unique personality and he further sets them apart with the Structured and Harlequin versions.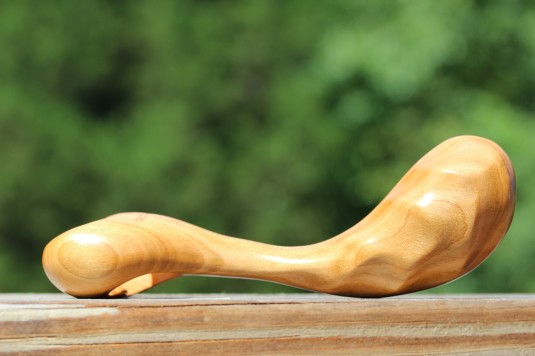 So, how does the Structured Orchid feel? Incredible. No really, I love everything about it. It targets my G-spot perfectly and it's a comfortable yet filling size. The finger holes make this dildo a joy to use. It's so ergonomic and feels completely natural while thrusting with my fingers in the holes. Well, thrusting isn't exactly the right word. I actually rock this dildo up and down rather than thrust it in and out. This is how I normally use G-spot dildos like this. Sometimes, I like to just push down on the handle and apply constant pressure against my G-spot, not moving it at all, while I use a clit vibe. Then, as I start to orgasm, I rock the handle up and down and this leads to some mind blowing blended orgasms… the kind that seem to go on forever and makes me glad that I remembered to use my Liberator Throe. But how you use it is totally up to you and some might enjoy thrusting with this dildo. That's when those gentle ridges will really come into play, giving you the additional sensation. I'm not sure I get the most sensation from the ridges with the way that I use it, which probably means I'd love the Skin Orchid just as much as this one.
Since these are handcrafted, there will likely be some slight differences in size and shape and that's what is so charming about having a handcrafted dildo like this. It is yours and yours alone. Nobody else will have a dildo exactly like yours. I'm sure the Artist does try to keep the measurements as consistent as possible from one piece to the next and my Structured Orchid measures 8.25" total length, about 6" insertable up to the handle and 1.75" in diameter at the thickest part of the head. If these dimensions aren't perfect for you, the Artist does take custom orders.
As stated, the finish on my Structured Orchid is proving to be waterproof, which makes it easy to clean with soap and water or, a mild (10%) bleach solution can be used. The words "idée du désir" are engraved near the finger holes. I thought that this might be a place for lube and body fluids to get trapped but it really only takes a bit of extra care to thoroughly clean. You can use any kind of lube you want with these dildos, which is another advantage of a properly finished wooden sex toy.
My Structured Orchid arrived surprisingly fast, considering it came to the US from France. I really expected it to take much longer. A nice white satin storage pouch was included along with a small packet of lube plus care and cleaning instructions. The storage pouch is not padded so you'll want to be careful because the finish can be compromised if the dildo is dropped. The Artist sells the Structured Orchid in French Cherry for €85.00 which converts to $112US and this is comparable to other artisan crafted wooden sex toys I've seen.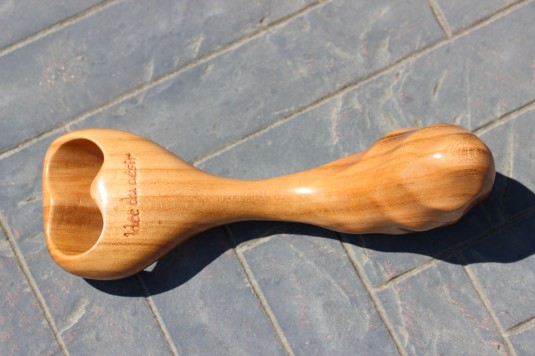 I am hopelessly infatuated with the Structured Orchid. It's as functional as it is beautiful. It's like it was custom made for my G-spot and with it, I achieve some really intense blended orgasms. I love knowing that the Artist's hands have created this dildo with my pleasure in mind and there's a unique natural warmth that comes from wooden sex toys. They're also delightfully rigid yet, incredibly light weight.
This dildo hasn't been put away in its pouch since I got it as I'd rather have it sitting out on my nightstand where I can see it. It seems like I'm always picking it up just so I can fondle it. It's as though it calls out to me, begging for my attention. This lovely dildo easily belongs amongst my favorite sex toys and I haven't been interested in using anything else since I got it. I do enthusiastically recommend the Structured Orchid to anyone with a G-spot, who can appreciate its individual character and charm.

Idée du Désir provided the Structured Orchid in exchange for an unbiased review.
Like this? Want more of it? Subscribe!
| | | |
| --- | --- | --- |
| Get new posts sent to your inbox! | | |
| Get my sporadic newsletter filled with exlclusive deals, the latest sales and secret bonus giveaway codes. | | |