Want to support my blog? Clear your cookies, click the banner and shop!

Don't miss these great sex toy sales.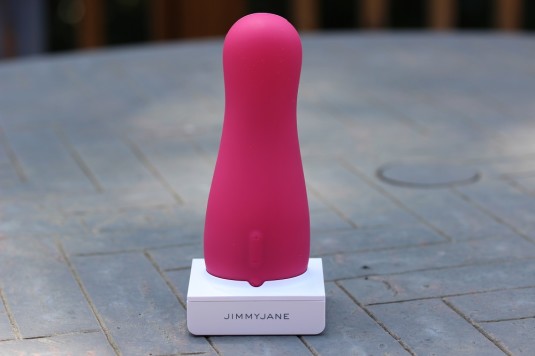 Part of me didn't want to like the Jimmyjane Form 4. Let's face it, they can be kind of pretentious, with their 4 hour flight on a private jet for $35,000 and the battery operated vibrator made of platinum and encrusted with diamonds for a mere $3,500.  But despite the fact that I was already somewhat biased against the company, I could not help myself from falling madly in love with this vibrator.
I don't even know exactly what it is that makes me love it so much. All I know is that there's something special about the vibration that can coax the orgasms out of me so easily that I am amazed each and every time it happens. Maybe it vibrates at just the right frequency to resonate with my sacral chakra or something. Hey, anything's possible.
It's so perfect for me that I begrudgingly accept its flaws. Well, besides the high price tag there is really only one glaring flaw. I just can't wrap my head around the fact that Jimmyjane would manufacture a luxury vibrator with such a horrendous seam. This seam… it cheapens the toy so much. I have far less expensive toys that are seamless so, I really can't understand why Jimmyjane would think it's OK to have such an ugly, distracting seam on a toy that costs so much. And I hate like hell that I have to say that because I DO love this vibrator so very much.
So, I think we've established the fact that I really hate the seam but what do I love about the Form 4? Everything else! The vibration and the shape are perfect for me. It's not the most powerful vibrator I own and it's not the rumbliest. But there's just something about the vibration that feels incredible on my clit. The orgasms are effortless and I enjoy getting there so much more than with other vibrators. With other vibrators, it feels good but I'm really focused on getting to the orgasm as fast as possible. With the Form 4, I like to linger awhile and enjoy myself, slowly building up to some really fantastic orgasms.
It's tough when I love a toy that costs as much as the Form 4. Of course, I want to shout from the rooftops about how good it feels and tell everyone that they must have one. But the high price tag throttles me back a bit because I know it's a large chunk of change for many people. I'm not even sure I would have ever paid that much to buy one for myself but now that I know how great it works for me, I'd definitely spend the money to get another one if someone broke into my house and stole it. The problem is, it's very likely that someone is going to hate a toy that I love.
So, who should probably not get this vibrator? Maybe people who require uber-powerful vibration. The Form 4's vibration is in no way weak and it has plenty of power for me but it's not the strongest vibrator I've ever felt. Some have described the vibration as buzzy and that surprises me because I don't think it's buzzy at all. It's certainly not the rumbliest clit vibe out there but again, there's just something about that vibration that feels different from other vibrators I've tried. Whatever it is, it's just right for me and I hope that it's just right for anyone who buys it on my recommendation. Because I do recommend it… despite the stupid seam and the price. As someone who often struggles to have orgasms, when I find a vibrator that makes it easy, it becomes very special to me and so it is with the Form 4.
The Form 4 has 5 levels of steady vibration and 3 patterns of pulsation and escalation. You select the patterns with the (~) button. It remembers the mode you were in when you shut it off. You can adjust the intensity of the patterns with the (+) and (-) buttons. The travel lock is engaged by pressing the (+) and (~) buttons at the same time. It is unlocked the same way.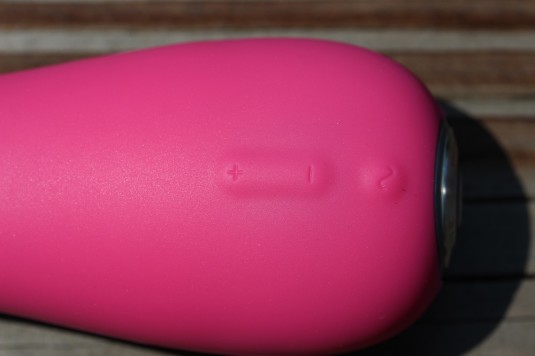 The motor is located near the tip so you feel the vibration where it's supposed to be. The shape of this vibrator works incredibly well for me. The tip nuzzles down between my labia and while it's not exactly pin-point stimulation, it does feel very focused and concentrated, rather than broad and diffuse. It's very comfortable to hold but you do feel the vibration quite a bit in the handle. It's not enough to really bother me though. I don't think the noise from this vibrator is anything out of the ordinary and if you're using it in a room with the door closed, you should be fine.
It takes 8 hours to fully charge but you won't know if it is by looking at it on its charger because the light just stays on continuously. You have to remove it from the charger and the light will blink three times if it's fully charged, two times if it's partially drained and once if it needs to be recharged. The packaging says that a full charge gives you up to 7 hours of run time but Jimmyjane's website says 4 hours of run time. Outlet adapters for the US, EU, UK and AU are included. I like how it sits in its charger but you do have to place it just right for the contacts to connect.
The Form 4 is fully waterproof so feel free to use it in the bath. It's easy to clean with soap and water. If you need to sanitize it, you can use a 10% bleach solution, rinsing well with water. Despite the seam, I do really like the feel of the silicone. It's powdery soft will minimal drag. As with all silicone sex toys, it's safest to use water-based lube since some silicone-based lube can damage some silicone toys.
I do need to address the marketing of the Form 4 because I don't want my readers to be misled. Jimmyjane claims that it is flexible and conforms to the body but it absolutely does not, at all, in any way. It's as rigid as the day is long and it certainly does NOT do this. I have no idea where they came up with that. They also claim that it's great for G-spot stimulation. I'm not really sure how. The shape and size are in no way optimized for G-spot stimulation. Yes, you could insert the Form 4 into your vagina but I don't really see the point of doing so. You only have about 3.5" to insert at a girth of about 1.4". So, let's call it what it is – a clit vibe. That's it, nothing more and nothing less.
When you spend this much on a vibrator you expect to get a storage/travel pouch but with the Form 4, you do not. Jimmyjane ought to be ashamed of themselves for that but they aren't the only company to sell luxury toys with no pouch. The packaging is nothing to write home about and I suppose you could use it for storage but I don't think it's ideal. At least they are giving you a long warranty period of 3 years.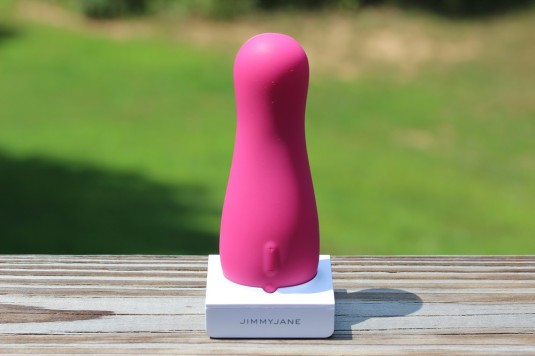 Yes, the Jimmyjane Form 4 costs a small fortune and yes, it does have a ridiculous seam but I adore it anyway. It's the kind of sex toy that I daydream about and I get all tingly thinking about how good it feels. It's so disheartening when you masturbate a desperately long time without being able to reach orgasm and that's probably why I'm so fond of the Form 4. I know that when I use it, I'm pretty much guaranteed to have an orgasm and sometimes even multiples. How could I not love it?
Update: Since writing this review, the price of the Form 4 has come down quite a bit so, that's pretty great! You can buy yours through my affiliate links within the review.
The Jimmyjane Form 4 was provided in exchange for an unbiased review by a company no longer in business. 
Like this? Want more of it? Subscribe!
| | | |
| --- | --- | --- |
| Get new posts sent to your inbox! | | |
| Get my sporadic newsletter filled with exlclusive deals, the latest sales and secret bonus giveaway codes. | | |