Want to support my blog? Clear your cookies, click the banner and shop!

Don't miss these great sex toy sales.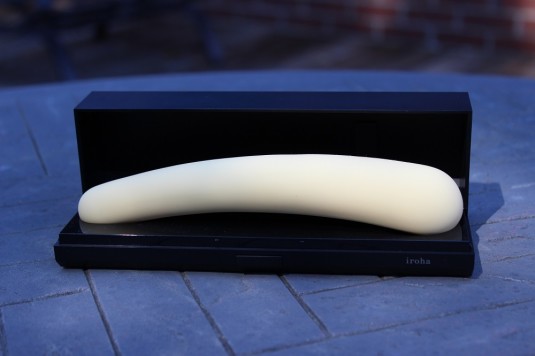 It's the kind of vibrator you can cuddle with, sort of like a comforting plush teddy bear – but thankfully nothing like this. It's soft, squishy… marshmallow-y and feels just like the previously released squishy Iroha vibes. And these vibrators feel like nothing else on the market. I reviewed the Iroha Midori and it took me awhile to warm up to it. I couldn't get off with it right away but I thought that it might have just been my uncooperative clit. So, I kept trying and eventually my clit did grow to like it.
I didn't have that problem with the Iroha Mikazuki. I liked it right from the beginning. I think it has more to do with its shape than anything else because the vibrations feel exactly like those of the Midori. The difference is that the vibration is more concentrated down into the slender tip of the Mikazuki and that shape makes my clit very happy. It's like a plush vibrating finger that I can use to stroke my clit just the way it likes.
The previous Iroha vibes were chubby rounded little things, while the Mikazuki is long and lean and I like its form a lot more. This is a vibrator that gives me orgasms with relative ease but its not one that I'm compelled to rant about like a mad woman. It's not that kind of vibrator for me. It's nice and makes me feel good but I'm not madly in love with it.
This doesn't mean there's anything really wrong with it but generally the vibrators I go crazy for are stronger and have more rumble. The Mikazuki's vibration is a bit on the buzzier end of the spectrum but not so much that it's unpleasant. It really could stand to be more powerful to suit my tastes but it's probably strong enough for anyone who doesn't consider themselves a power queen.
I don't know if Iroha intended the Mikazuki to be used internally but it's pretty much useless for that and I knew it would be. I didn't expect this to be anything other than a clit vibe. Sure, you can use it vaginally but it's totally boring, for me anyway. So, why is it so long if it's not great for internal stimulation? Well, I like it because you can grip it far enough away from the center of the vibration that your hand doesn't absorb a lot of it. You don't dampen the vibration from holding it, though you can still feel the vibration in your hand but that happens with most vibes. The length of it allows me to hold it in a comfortable position and angle that works really well for the way I masturbate. It's fabulous for dual stim because neither the vibe nor your hand gets in the way of the other toy you're using.
There is really only one thing that sets this vibrator apart from others and that's Iroha's unique squishy material, which they accomplish by wrapping a layer of silicone over elastomer over presumably, plastic1. When I first opened up the Mikazuki's charging case, I was nasally assaulted by a very strong chemical odor. This is likely from the elastomer and it does dissipate after awhile. I don't smell it at all now. This was also an issue with Iroha's previous vibrators but they said they had fixed it. It doesn't appear that they did because the Mikazuki really reeks when you first open it up.
There's something else unique about the material Iroha has used with these vibrators. I don't know what kind of magic it is but they've managed to create silicone that doesn't attract lint. It's powdery soft and stays really clean and everyone likes a clean sex toy.
The functions on this vibrator are pretty simple. You have three levels of steady vibration and one pulsating pattern (which does nothing for me). I like to start on low steady, tease myself a bit then step up to medium and sometimes I can climax there but if I don't, I can increase it to high and that usually does the trick. Like I said, the vibration is kind of buzzy but it's a weird kind of buzzy. It's hard to describe but it's not that annoying surface level, prickly, numbing buzzy vibration. There is a more pleasant tone to it.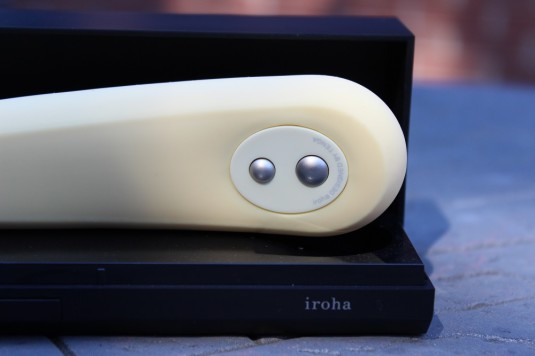 This vibe has two buttons, one slightly larger than the other. You press and hold the larger one to turn it on. Keep pressing the larger button to step through low, medium and high steady vibration and then the pulsating pattern. You can step through the functions in reverse by pressing the smaller button. You press and hold the smaller button to turn it off.
I love how Iroha incorporates the charging into the storage cases. The previous ones looked like cute little transparent display cases but the storage/charging case for the Mikazuki is opaque and it's an excellent storage solution.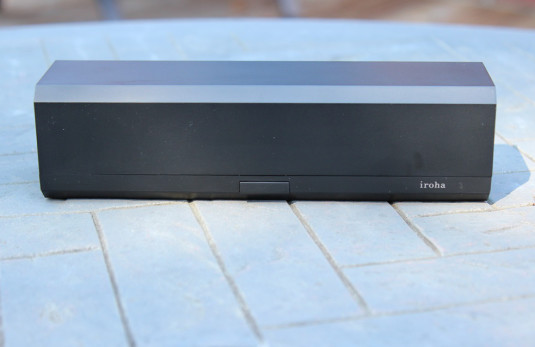 You charge the Mikazuki by placing it in its case so the buttons align with the charging contacts. Then you connect the USB cable either to a USB port or to a wall outlet via the adapter that is included. While charging, a light on the case will come on and it goes off when charging is complete. It takes 120 minutes to reach a full charge and that is supposed to provide 90 minutes of run time.
Iroha makes special mention that the Mikazuki is flexible. I guess it does bend ever so slightly in the middle to a degree that I can't find any use for. They say it is to "accommodate the varying shapes and sizes of female pleasure zones." Uhm, no. This tiny bit of flex isn't anything I think anyone would need or even notice.
Care and cleaning of this vibe is the same as for any other silicone vibrator but for the uninitiated, I'll elaborate. Soap and water is fine most of the time or you could use a toy cleaner. If there is an occasion in which you need to sanitize it, like you're sharing with someone else, you could bathe it in a 10% bleach solution and rinse it well with water. Water-based lube is the safest choice since some silicone-based lube is incompatible with some silicone sex toys. But I'm a huge risk taker and have been using Sliquid Silk hybrid lube with no problem. Always spot test if you're using anything other than water-based lube.
I'm not really feeling the color of this vibe. It's kind of a sickly looking shade of pale yellow-ish. But at least it's not a color that has been done to death. We don't need any more of those.
Almost forgot to mention that the Mikazuki is waterproof. This is a huge improvement over Iroha's Midori which is only splashproof.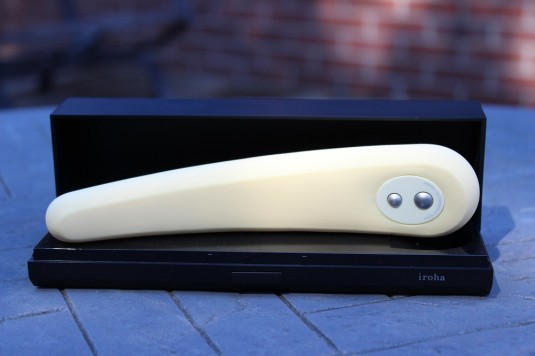 The Mikazuki measures about 7 inches end to end. There are 5 inches from the tip to the buttons. The diameter at the tip measures .92 inches and the shaft increases in size to 1.27 inches at the widest point just before the buttons.
And lastly, as you would expect from any luxury sex toy, the Mikazuki is backed by a one year warranty.
The Iroha Mikazuki is a nice vibe and it's really the squish factor that sets it apart from other vibrators. I do enjoy it but it's not one that I'm doing back flips over and s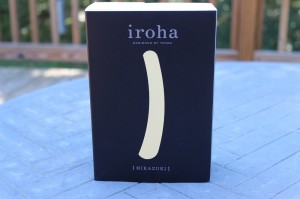 topping people on the street about. It could be that it falls just a bit short of what's required to get me that excited over a vibrator but it's likely to make other folks really happy. There's nothing wrong with this vibe. Nothing at all. I just need something a little different to make me fall madly in love.

Iroha provided the Mikazuki in exchange for an unbiased review.
This vibe does squish to a point but it's not squishy all the way through.  There is a rigid inner core ↩
Like this? Want more of it? Subscribe!
| | | |
| --- | --- | --- |
| Get new posts sent to your inbox! | | |
| Get my sporadic newsletter filled with exlclusive deals, the latest sales and secret bonus giveaway codes. | | |