Want to support my blog? Clear your cookies, click the banner and shop!

Don't miss these great sex toy sales.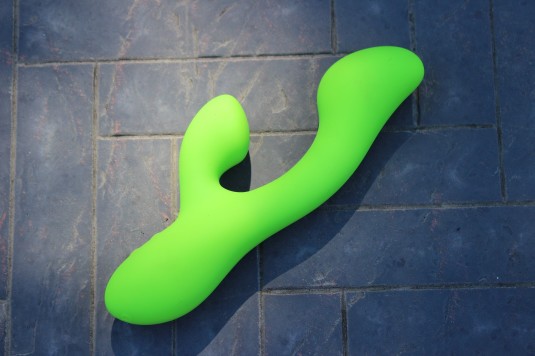 Rabbit vibes can be tricky. So far, no company has been able to make one vibe that fits all vulvae. The few I had tried weren't really working for me because the clitoral arm was always too low. Then I tried the Jopen Vanity Vr 5.5 and it was the first one to fit me properly and I think it's a good solid dual stimulator. Well, now I've found another rabbit vibe that works (mostly) and it's also made by Jopen.
I was looking at the Jopen Lust line because they have some pretty interesting shapes. The L17 looked like something that might fit me so, I asked if I could review it. It fits better than most rabbit vibes I've tried but not quite as good as the Vr 5.5. Still, I can get the L17 to work for me and I do have orgasms with it. Unlike most of my previous experiences, the L17's clitoral arm actually hits me a little too high. I was still able to make the L17 work for me by slightly pulling up on my vulva a bit, bringing my clit in contact with the clitoral stimulator.
What I was not expecting was the ease with which I reached orgasm the first time I used the L17. OK, I was coming off a dry spell – no orgasms for over a week – and I don't know if that had anything to do with it but I gotta say, I'm impressed with this vibrator overall.
The first thing I noticed about the L17 was how nice and rumbly it is. The vibration has a very pleasant tone, even when turned all the way up on high. Next, I discovered that the two motors aren't independently controlled (despite Jopen's description)1 and that was kind of disappointing. I'm not sure why they omitted that feature. It's a pretty important feature and it's expected in high end rabbit vibes. So, the L17's two motors are only capable of doing the same thing at the same time. You can't adjust one motor's intensity to low and the other to high, for example. If you need that kind of flexibility then this vibe probably isn't for you. In that case, I'd suggest you take a look at Jopen's Vanity line – but be prepared to spend a lot more money.
I personally don't believe rabbit vibes are really made for thrusting. If you like to use them that way, that's perfectly fine but for me, having the clitoral arm keep constant contact with my clit is essential to reaching orgasm. So, my technique with dual stimulators is to wiggle or pump the handle up and down. This way, I get some movement but the clitoral arm never comes off my clit. When I use the L17 like this, it does consistently give me some satisfying blended orgasms.
The shaft of the L17 is very flexible and complements my wiggle technique nicely. But this also means that you can't put a lot of pressure against your G-spot. I usually like strong pressure on my G-spot but I was still able to enjoy this vibe without it. The vibration is pleasantly deep and rumbly and each motor on its own is moderately powerful but the combination of both motors together makes it feel much stronger.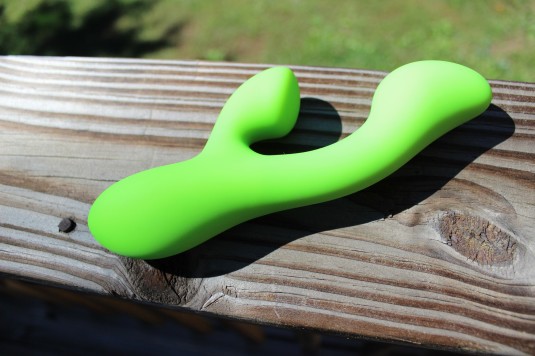 The L17 operates via two buttons. They are unmarked but you briefly press the one closest to the clitoral stimulator to turn it off and on. It will start on steady vibration and you press and hold the other button to incrementally increase the intensity. From there you can press and hold the on/off button to decrease the intensity. If you briefly press the other button, you're transported to a hell known as pattern land, which can be really annoying if you didn't mean to do it and you don't like patterns. If that happens you can either step through all four patterns to get back to steady vibration or you can just turn it off and on again and start all over. You can change the intensity of the patterns by pressing and holding either button. This vibrator does have a travel lock and it is engaged by pressing both buttons for a few seconds. It is unlocked the same way.
I do like the silicone on this vibe. It has a matte finish and is powdery soft. The L17 is waterproof so it can be submerged, making for easy cleaning. Soap and water works well or you could use a toy cleaner. To sanitize it, you can submerge it in a 10% bleach solution and rinse well with water. Water-based lube is suggested with silicone sex toys because some silicone-based lube can be incompatible but I've been using Sliquid Silk hybrid lube with no issues.
It's about 7.5 inches long overall. The length from the tip of the shaft to the clitoral stimulator is 3.75 inches. The head is 1.47 inches at the thickest point. The clitoral stimulator is a blunt round shape that is 1.25 inches across and it rises 2 inches above the shaft.
This vibe features USB charging but it does not come with an outlet adapter so if you need one, you can pick it up here. It takes 2.5 hours to charge and that's supposed to supply 40 minutes of run time on high and 5 hours on low.
It comes in two colors, purple (yawn) and a cheerful shade of green that I know will make some of you very happy.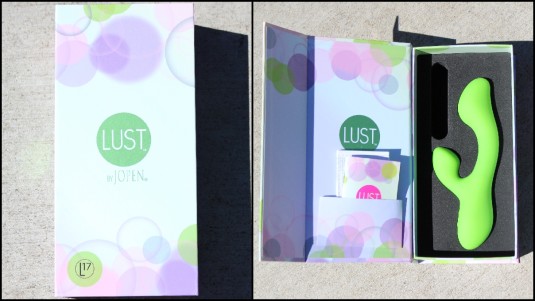 The packaging is fairly nice and sturdy, making it suitable for storage but a storage pouch is not included and the L17 is backed by a one year warranty.
The Lust L17 is a pretty nice rabbit vibe and it's a lot more affordable than anything in Jopen's Vanity line. You get almost all the same features except the independent motor controls. I really wish they would have included that and it's the only complaint I have. It won't fit everyone's anatomy but the clitoral stimulator sits higher than other rabbit vibes I've tried so it might be great for those with wider spacing between their clit and vagina. I like the rumbly vibration and both motors have some decent power. This probably isn't going to be a vibrator that I use all the time because generally, I prefer using two toys for dual stimulation but as far as rabbit vibes go, I think this one's a winner.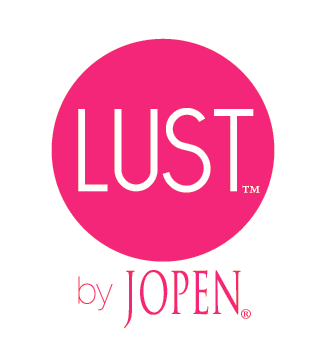 Jopen provided the Lust L17 in exchange for an unbiased review.
I got clarification from Jopen and they say that "independent incremental speed controls" means that "within each function you have the incremental speed control".  When I hear that phrase, it makes me think that each motor is controlled separately but that's not what it means in this case. ↩
Like this? Want more of it? Subscribe!
| | | |
| --- | --- | --- |
| Get new posts sent to your inbox! | | |
| Get my sporadic newsletter filled with exlclusive deals, the latest sales and secret bonus giveaway codes. | | |