Want to support my blog? Clear your cookies, click the banner and shop!

Don't miss these great sex toy sales.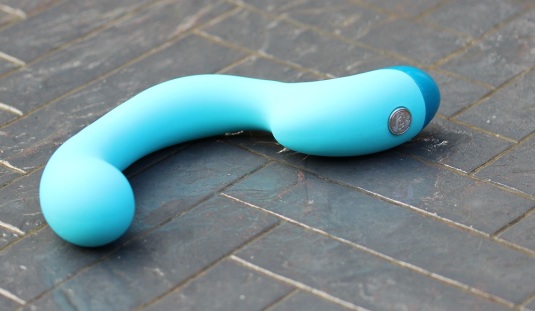 I wanted to try the Jopen Key Skye because it kind of resembles the Key Comet and Comet II, which are not just the best toys in the Key line but among some of the best G-spotting toys, period. It is with a heavy heart that I have to tell you, I didn't much care for the Key Skye. Maybe I shouldn't try to compare it to the magnificent Comet but even on its own merit, I'm kind of bored with it. I don't hate it like this toy but I'm just not at all excited by it.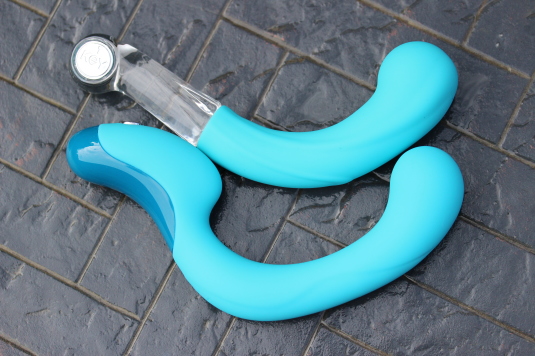 On a positive note, if the bulbous head of the Key Comet (1.63" diameter) is too big for you, then the Skye (1.47" diameter) might be a good choice. But if your G-spot needs deep, strong rumbly vibration, you aren't going to get it from this vibe. The Skye's vibration is pretty much completely opposite of that. As is everything I've tried from the Key line. They all have the same buzzy vibration and they only have one level of steady vibration and then some patterns. That can make for a bit of a snooze-fest.
I think it's a well made toy and all that but it just kind of bores me. Vibration aside, I am able to get some G-spot stimulation by using it to apply pressure. The curve works well for that and I do like the shape. There is a flexible joint in the middle of the shaft that lets you adjust the a curve to a small degree. The handle curves upward which makes it very comfortable to hold onto; I always did kind of wish that the Comet's handle was shaped like that. But the shape is really not enough to make up for the bland vibration. In other words, I don't even like it that much with the vibration turned off.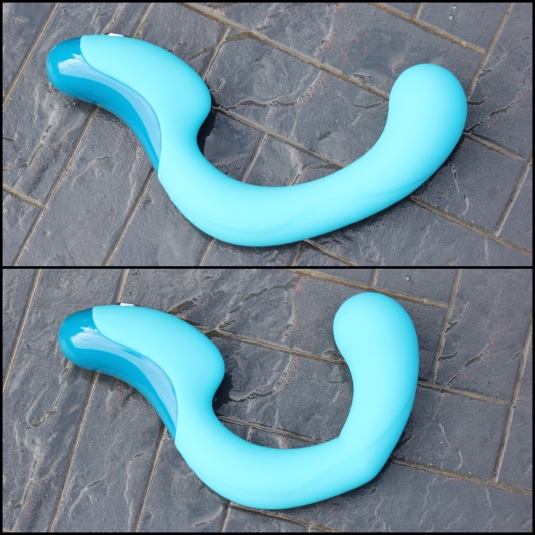 If this review seems dull and uninteresting, then it's a good indication of how I feel about this vibe. I don't love it and I don't hate it. It's hard to write a spirited review about a toy that you feel indifferent about. I'm even bored while I write this review (I hope you haven't fallen asleep reading it).

I'd say it's probably a little more like the Dominos Pizza of sex toys1. It's not great but if you're starving, you'll scarf that shit down and pretend it's not that bad.
I guess if your G-spot is really sensitive and you can't handle strong and rumbly vibrators then this might be right up your alley. Otherwise, don't waste your time with it. Jopen makes some really impressive G-spot vibes from their other lines that I can recommend, though you'll pay more for them2.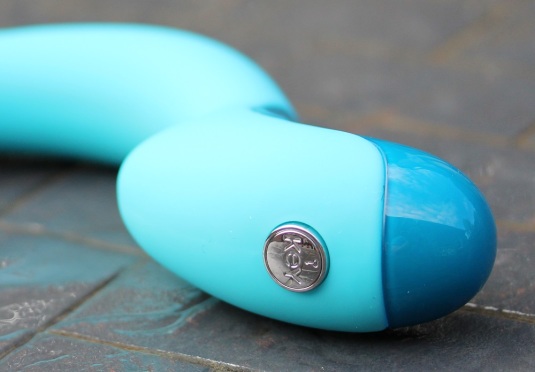 There is a single button that you press and hold to turn the vibe on. Press it repeatedly to step through the functions. The Skye has one steady vibration level and six patterns. I do wish there was an adjustable steady vibration setting since, patterns rarely interest me. This vibe is completely rigid with a layer of silky matte silicone over plastic. So, you can apply some strong pressure against your G-spot if that's what you like, and I do. Some folks have problems with severely curved G-spot toys like this due to how their pubic bone is positioned. I have never had this issue but this is probably one of those toys that will catch on your pubic bone if you're built that way.
It's waterproof and easy to clean with soap and water or a toy cleaner. A 10% bleach solution can be used to sanitize it. Jopen suggests water-based lube and that's because some silicone-based lube can damage some silicone sex toys but I've been using Sliquid Silk and Pleasure Works Please Cream – which are hybrid lubes with a small amount of silicone – and have had no problem.
The Skye is USB rechargeable but it does not come with an outlet adapter so, if you need one, I got you covered. The charging cable connects to the vibe magnetically and I've not had any problem with it becoming disconnected. It takes 4 hours to fully charge and that's supposed to give you 1.5 – 2 hours of run time.
The packaging is fairly nice and sturdy and can be used for storage A storage pouch is also included. You have three color choices (I appreciate the blue) and it's backed by a one year warranty.
I've been reviewing sex toys for over a year now and I think I've gotten to the point where it's not quite so easy to impress me anymore. I mean, a toy has really got to be something  special for me to give it a rave review. The Skye just isn't that special kind of toy for me. Really sensitive types might appreciate its weak buzzy vibration but I don't.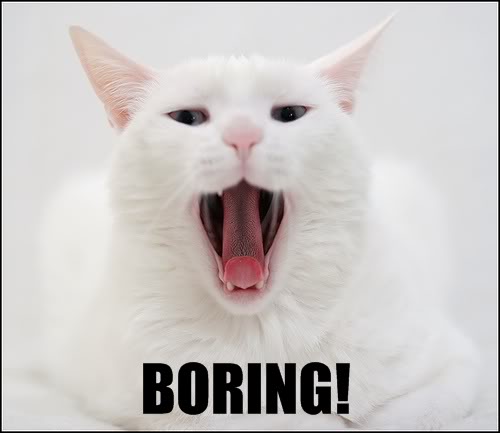 I definitely recommend the Key Comet (no vibration) or the Key Comet II (same exact vibration as this vibe) over the Skye simply because the shape is so much better for grabbing the G-spot. Then again, some folks have had trouble inserting the large round head of the Comet and the Skye is definitely easier in that regard. I really can't tell you to run out and buy this vibe. In my opinion, if you're going to get anything from the Key line, it should be the Comet II. At this point, I think I've pretty much lost interest in the Key line, unless and until they start doing something different with the vibration, like making it stronger and deeper with variable steady vibration.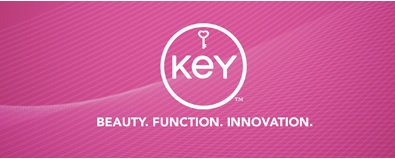 Jopen provided the Key Skye in exchange for an unbiased review.
Sadly and hilariously, as a Twitter pal pointed out, this vibe did not give me an orgasm in 30 minutes or less. ↩
Like this? Want more of it? Subscribe!
| | | |
| --- | --- | --- |
| Get new posts sent to your inbox! | | |
| Get my sporadic newsletter filled with exlclusive deals, the latest sales and secret bonus giveaway codes. | | |