Want to support my blog? Clear your cookies, click the banner and shop!

Don't miss these great sex toy sales.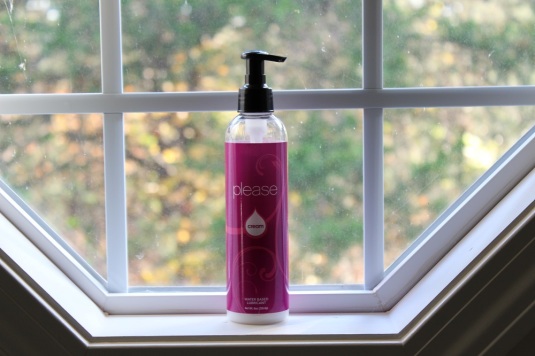 I am in love with this lube. Like, seriously infatuated. Hey GoodVibes, think I can get a 55 gallon drum of this stuff? Pleasure Works Please Cream Lube is in fact creamy (somewhat) and does in fact, please me, very much. The only reason Please Cream Lube was even on my radar is because I heard Redhead Bedhead raving about it. She made it sound good enough to give it a try. Well, she was right, this stuff is all kinds of awesome.
It's a little runny but not much, just more than I expected since it is called Please Cream. I actually wouldn't mind if this lube was a bit creamier and thicker so it would stick to my toys a little better. But I'm really just nit picking here because this lube is still exceptional just the way it is. It does feel more luxurious than a purely water-based lube. Kind of like a decadent skin care cream for your vag… or ass, if that's where you like to put things. I do think the bit of silicone that's in it, makes it last longer. It's been working fabulously with the Marshmallow Tip on my Eroscillator. Together it just feels incredible. So creamy and cushiony on my clit… flittering back and forth. I love it – and I'm getting turned on just thinking about it.
I'm going through this stuff like there's no tomorrow. It's been all I've used with my toys since I got it. I haven't used it during sex with dizzyguy yet but it's on the agenda. We're just so hooked on our fave silicone-based lube that it's hard to try new ones while we're getting it on. But in the name of sex geek science I will make sure we test this lube together and then I will update this review.
The nice thing about Please Cream, besides the creamy, luxurious, oh-so-slippery consistency, is that it's safe even with silicone sex toys. GoodVibes says that since there is such a small amount of silicone in the lube, it won't damage silicone sex toys. But you know what I say… when in doubt, spot test it out. This lube is also compatible with latex condoms. Of course, it's glycerin and paraben free or, I'd never recommend it to you in the first place. It also cleans up a lot easier than a silicone-based lube.
Sorry, I can't give you a taste evaluation. I don't dig lube in my mouth and when it does happen, it's gonna be Sliquid Swirl Blue Raspberry. So that, I won't even do for science1.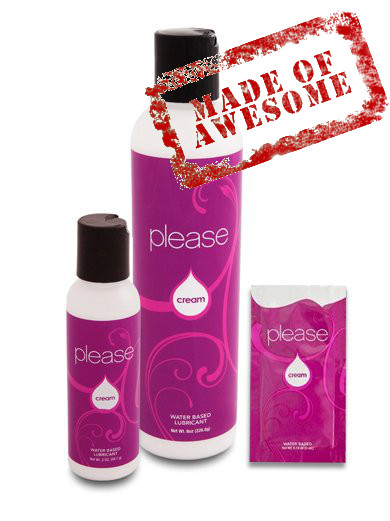 I love this lube with my toys, which will be my primary use for it. I only wish it came in bigger bottles. Like maybe a gallon? The pump is sold separately and is totally worth it2. And I say, go for it and get the 8oz bottle because this stuff is just that good. And if you hate it (not gonna happen) then you can say mean things to me, I'll apologize, and then I'll pay you to ship it to me.

GoodVibes provided the Please Cream Lube in exchange for an unbiased review.
Like this? Want more of it? Subscribe!
| | | |
| --- | --- | --- |
| Get new posts sent to your inbox! | | |
| Get my sporadic newsletter filled with exlclusive deals, the latest sales and secret bonus giveaway codes. | | |